I was recently given the Prada Olfactories iconic scents set as a gift from Prada (I know I must be spending too much money on Prada) I also acquired the 'I love Prada' velcro Saffiano leather patch/badge from the new Prada velcro release. As always lets get into the details of these two rather different items.
To start lets look at the badge, Prada have released a series of bags with velcro sections allowing you to then buy velcro patches that you can customise your new Prada bag with. You can get Prada logos, letters, a rocket, a rabbit etc.. All of which are very cool, however the one that spoke to me was of course the 'I Love Prada' patch, it was like they created it especially for me!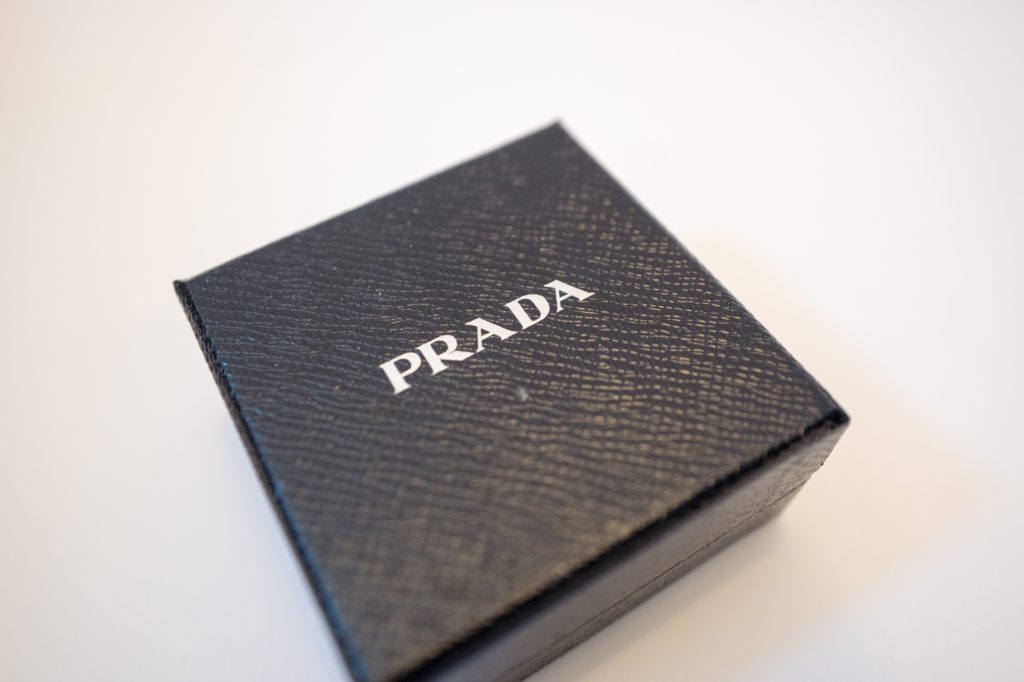 It comes in the standard Prada box.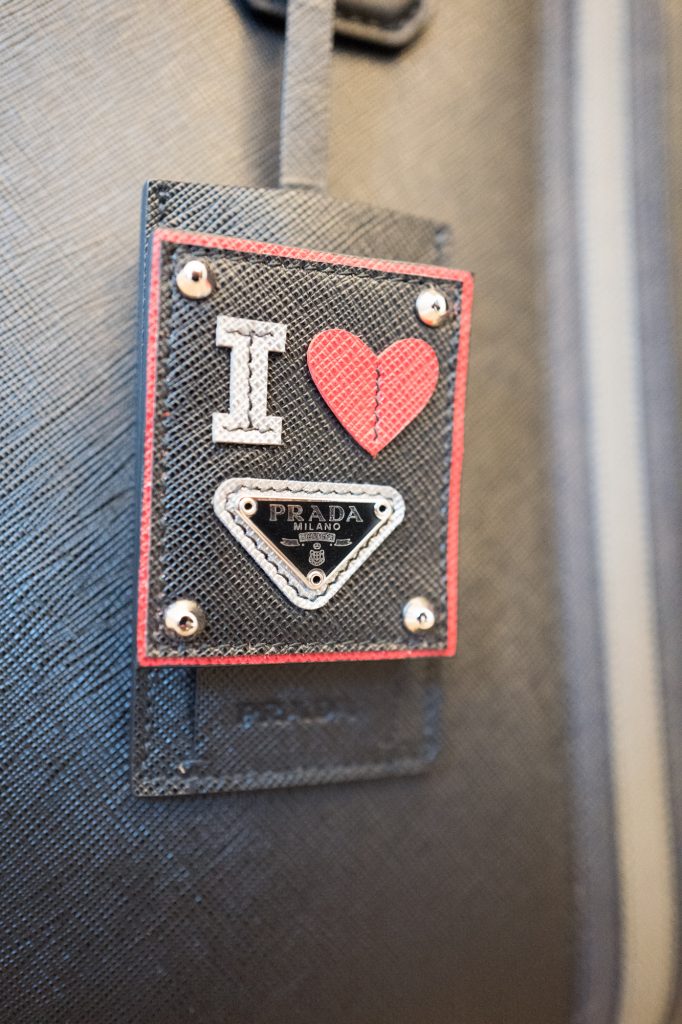 The patch itself is a selection of leather and metal layers creating the final product. All of which are Saffiano leather and of course are very well made. I love the black, silver, red mix of colours.
As I don't own one of there new bags with velcro sections, I thought I would build my own. So by using velcro strips I stuck my badge onto my Prada Saffiano leather tote bag, I used the luggage tag that came with the bag to create this amazing and unique accessory.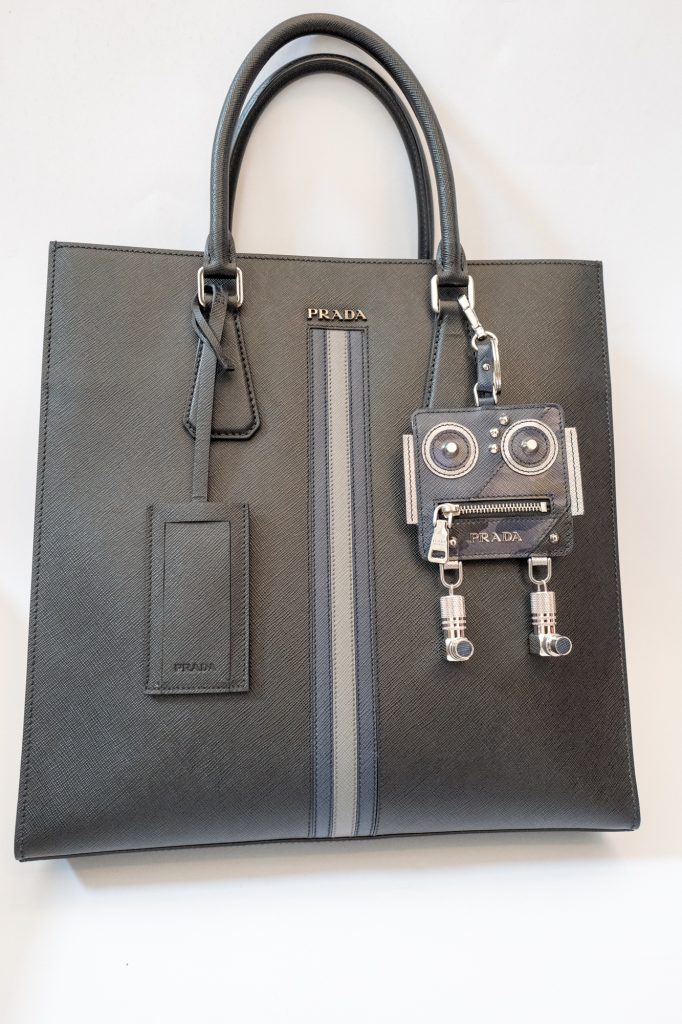 The bag did look like this with one of my amazing Prada robots hanging on one side, I then used the luggage tag to create a base to stick my amazing patch onto. Anyway I definitely love Prada so it is a perfect match!
Secondly lets move onto the Prada Olfactories scent set: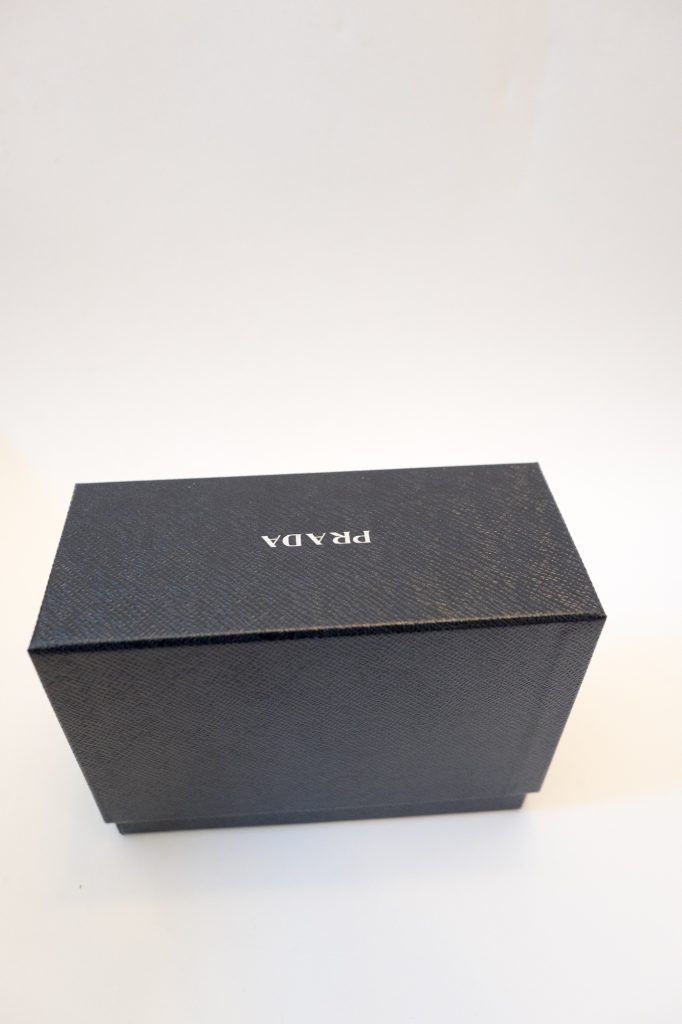 The set was a total surprise, I was presented with this standard Prada box and I thought, hmm what could be inside!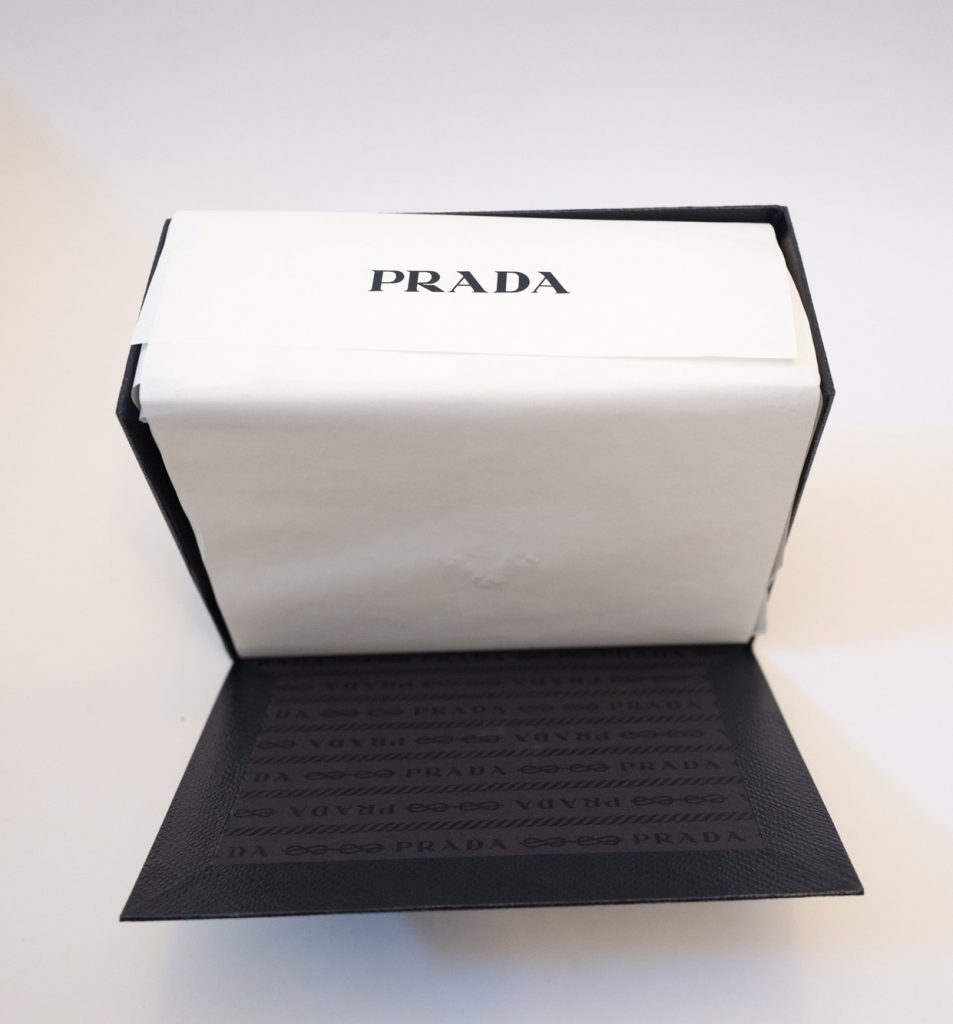 Opening it up reveals the classic Prada logo lining and paper.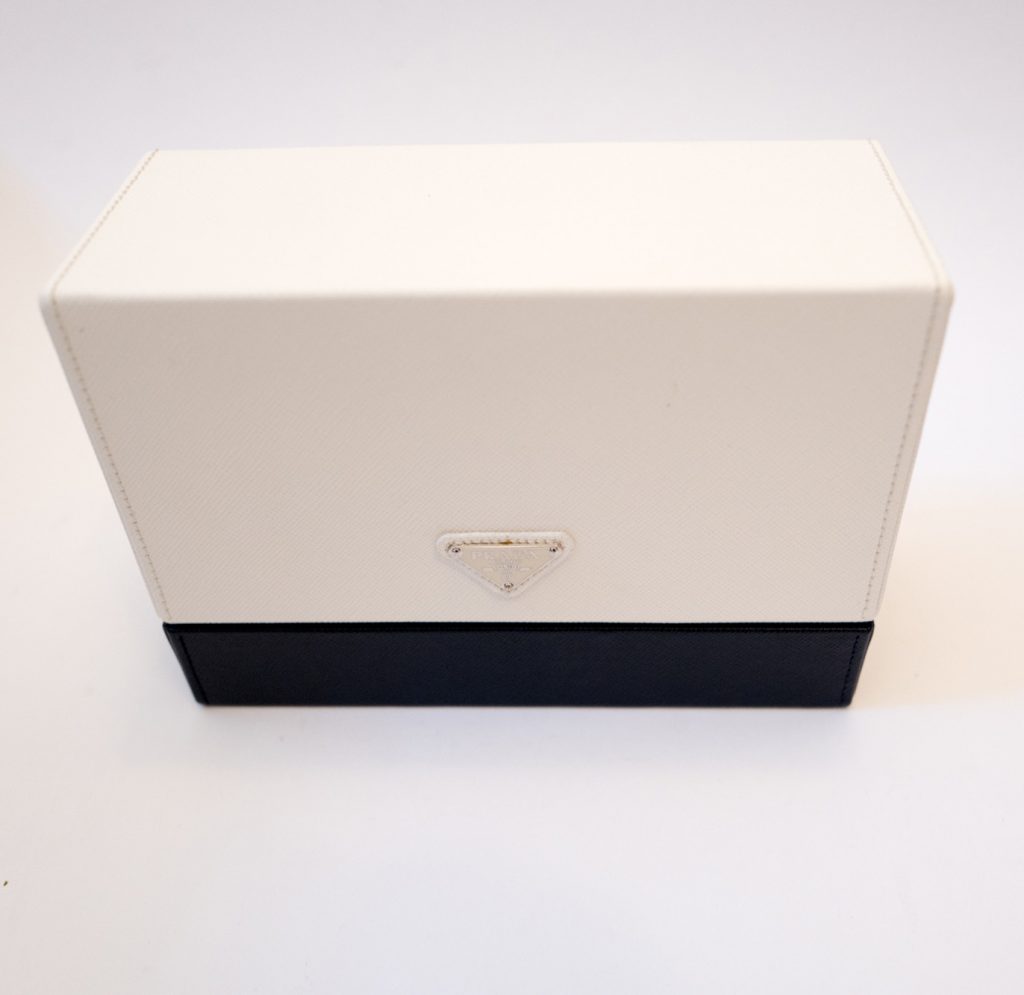 Then there is this beautiful leather box in white with the Prada logo and I knew this was something special!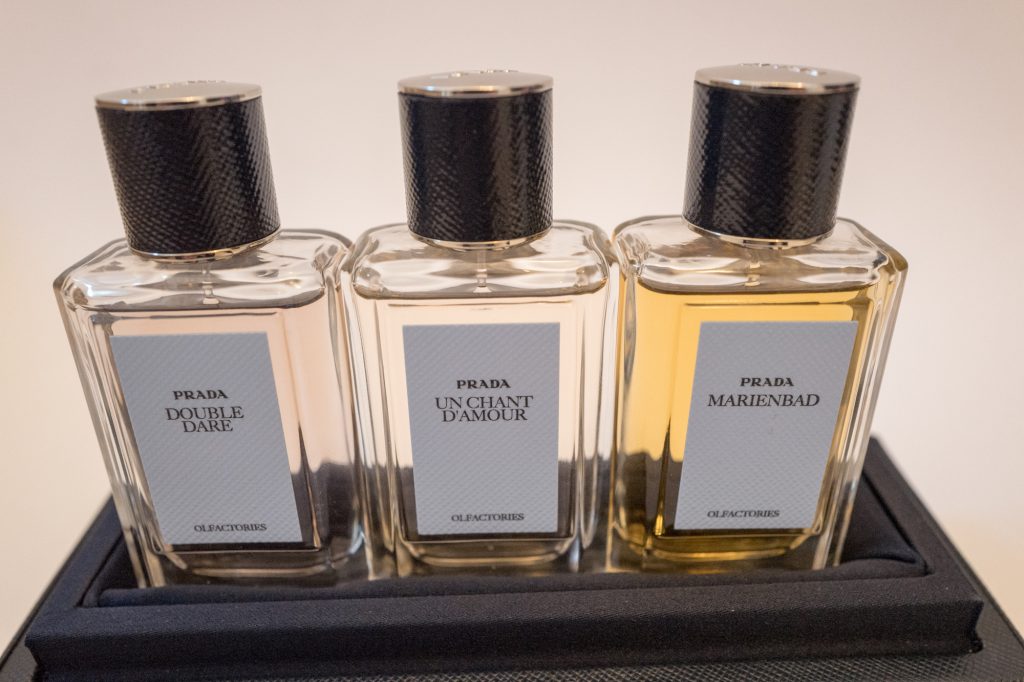 Opening the box up and you are presented with three of the ten Prada Olfactories scents in 30ml bottles.
Prada describes Prada Olfactories as follows:
"Prada Olfactories are potent concoctions of the unexpected, each provoking the surreal, cinematic experience of a partially remembered dream.
Devised as collages of uncanny experiences, they embrace the spirit of mysterious juxtapositions: the feminine faces the masculine, the real encounters the imaginary, the mundane becomes precious.
The ten distinct fragrances trigger the subconscious mind. United by a disregard for traditions, they are sensory fragments — combining contradictory, counterintuitive elements to provoke fantastical thoughts."
Double Dare
"Beyond charted territory, a discreet wilderness flourishes on manicured grounds. Creatures roam in a warm haze of spice and leather. Evolution takes wing. Double Dare is the scent of a rarefied preserve, a balance of the exotic and the exquisite."
Un Chant D'Amour
"A pure white cloud dissolves into layers, revealing the complexity of weightlessness. A glimpse ignites a surge of emotion, giving way to tender immersion. Un Chant d'Amour is the scent of human touch, at once calming and carnal."
Marienbad
"A hotel suspended between Western ease and Eastern ouds. Souvenirs of an elegantly crumbling empire: leather-bound volumes to be devoured with spiced tortes, black coffee, and a view of the Danube. Marienbad is the scent of a charming, baroque escape, otherworldly in its richness."
I'm very lucky to have received this set Prada Olfactories from Prada, and I really like the unique smells that each bottle presents.
I highly recommend you check out Prada Olfactories and the Prada velcro patch selection!