In this review I will look at my Prada robot collection, I have always been a fan of robots and in the mid 2000's Prada released a line of robot key rings / tricks that took the fashion world by storm. Now in 2016-2017 the robots are back so I thought now would be a perfect time to look at my Prada robot collection!  These robots are designed to be worn as bag charms or for your keys or to be worn on your jeans using the belt clip. I use mine on my bags and on my jeans(sometimes at parties). Lets take a look at each one: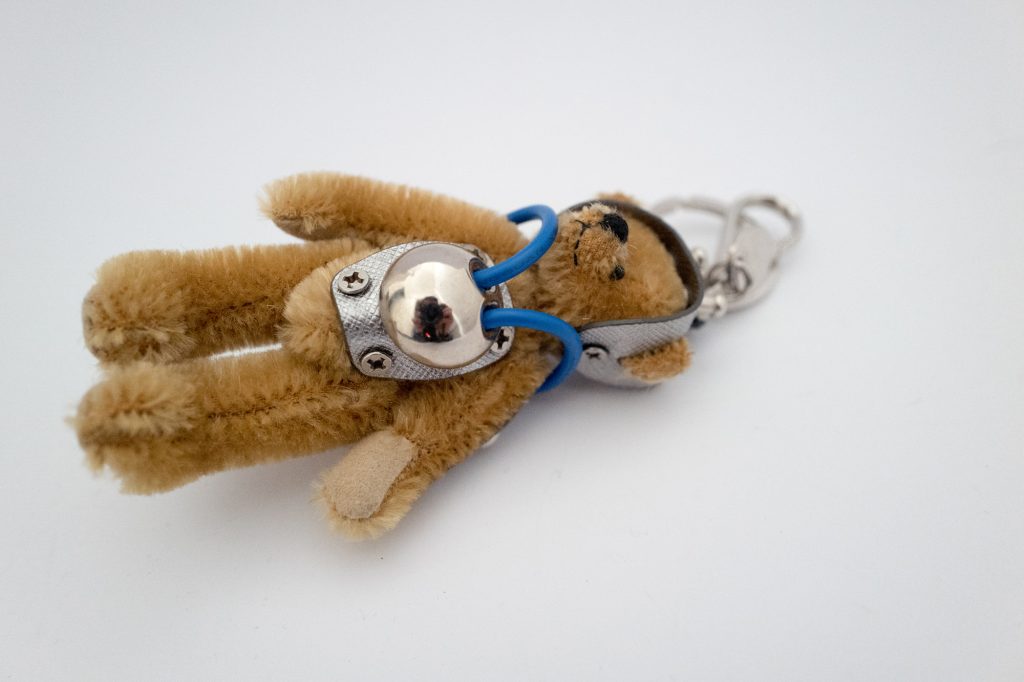 This was my first teddy bear robot I thought from Prada it comes in the classic light brown bear colour with a metal hardware body, I like the silva leather on his head/body and the blue wires really stand out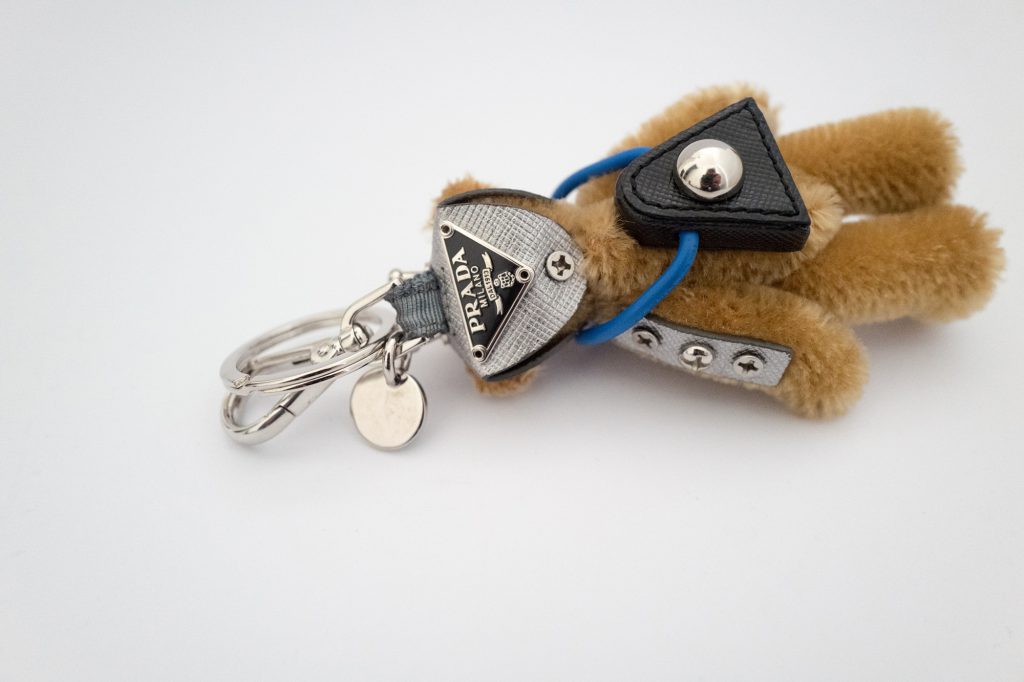 On his arms you will notice more leather and screws, his body has a black leather backpack and his head has the Prada triangle logo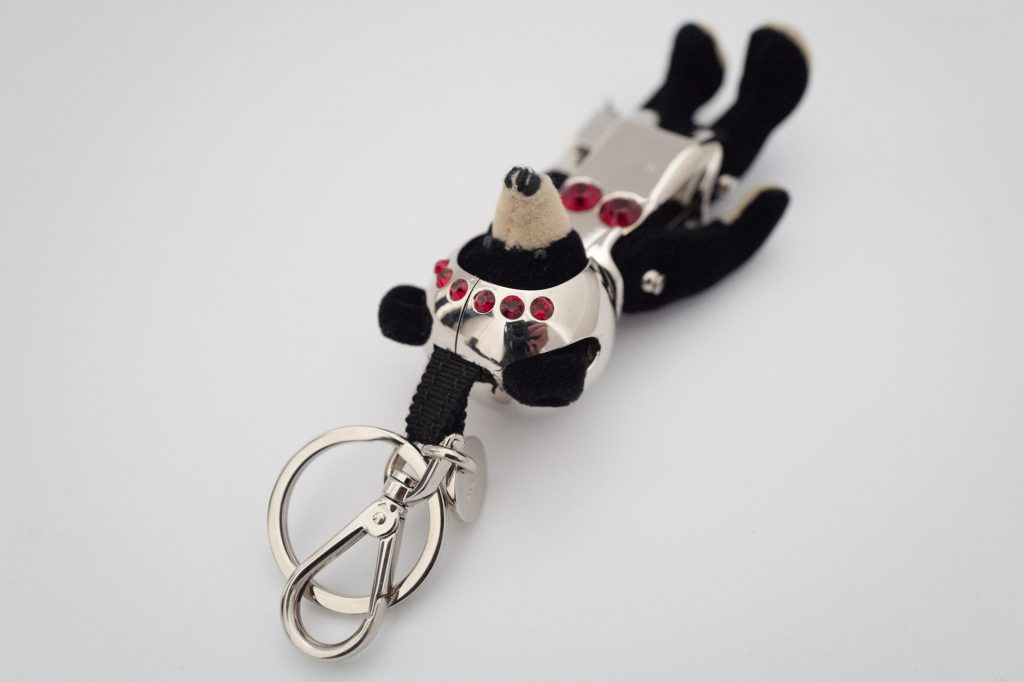 This is a robot that I received as a gift, it looks like it is a girl robot bear in black and most people call it my bondage bear(I dont know why). Anyway this one has metal amour around its body and red gems as a crown on its head and two for the breasts on its chest.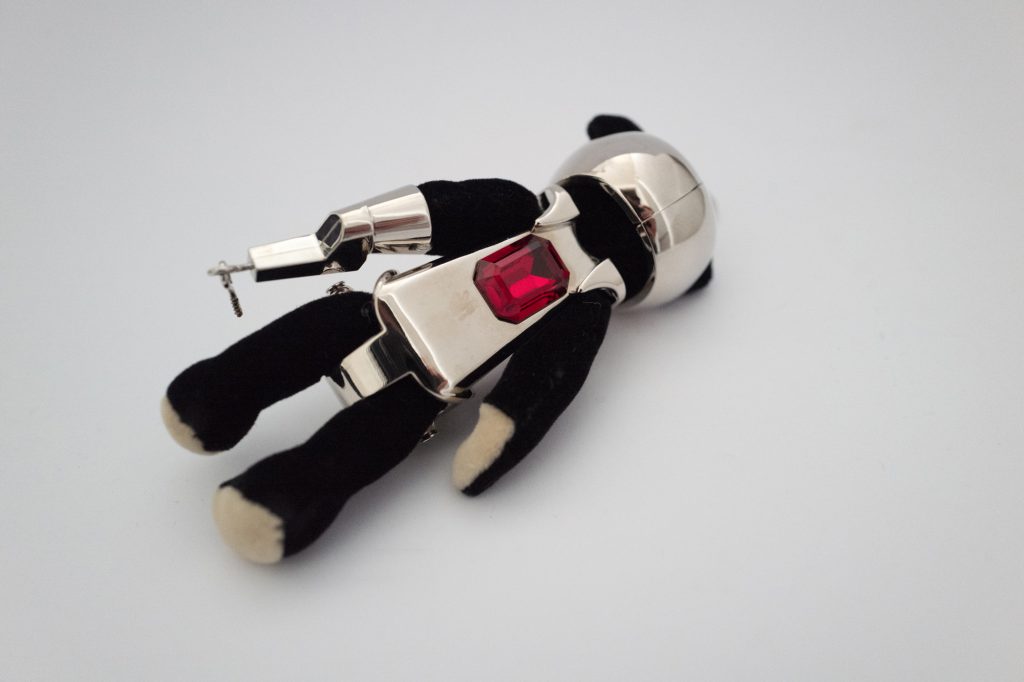 At the back the metal continues and there is another gem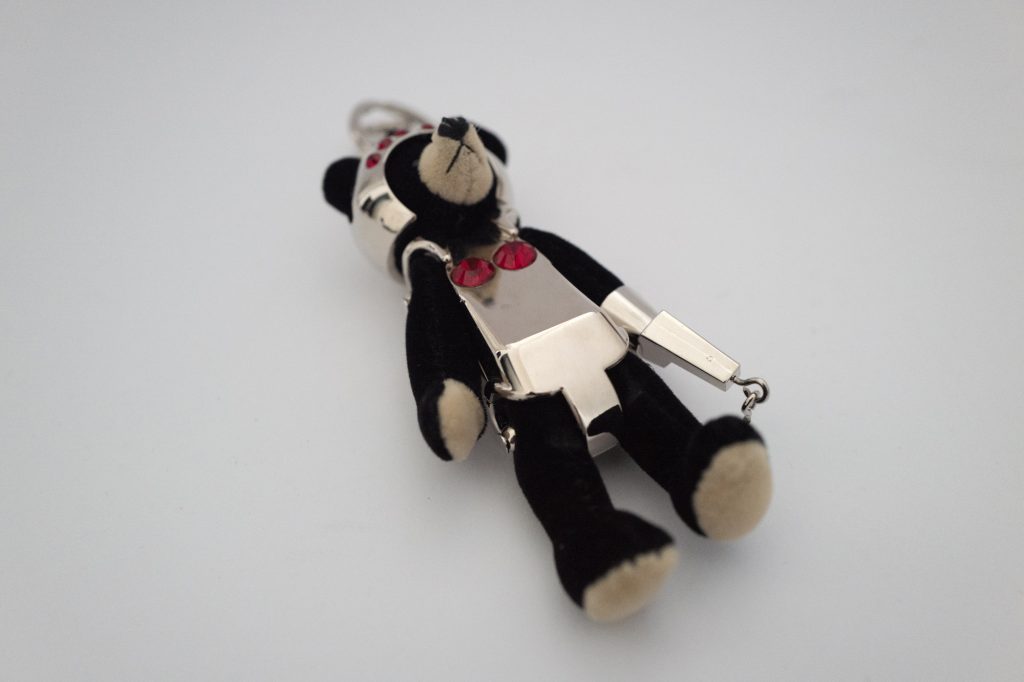 You will also notice that its left arm is also covered in metal.
These are the two Prada teddy bears I own, I do like them but I think the classic robots have the edge for me, now lets take a look at those: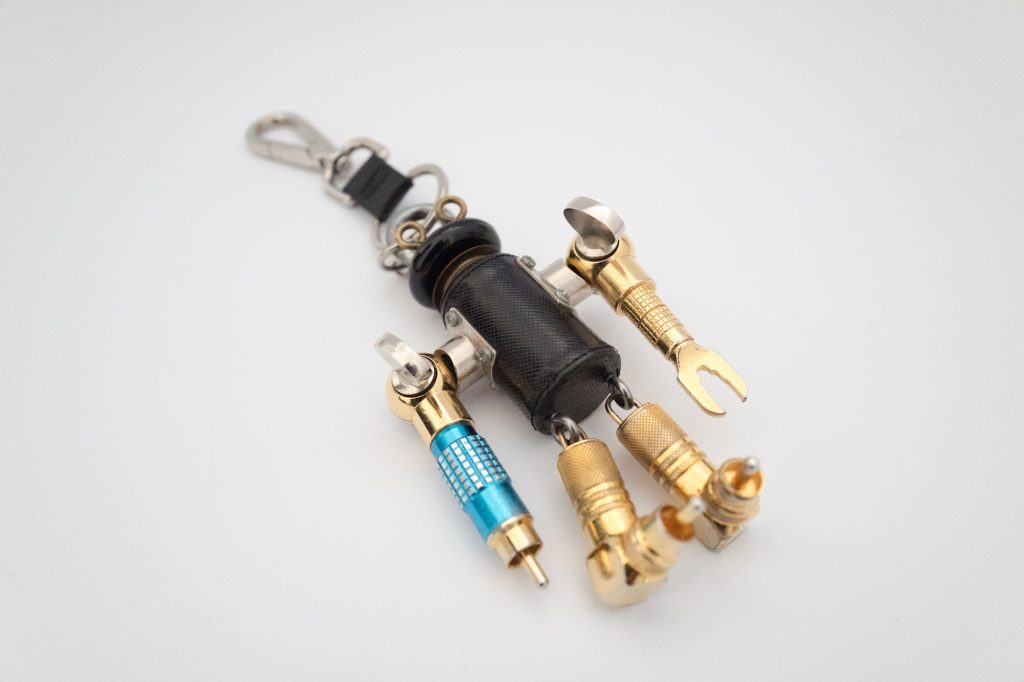 This is my original Prada robot purchased from Harrods around 10-12 years ago. It is quite heavy and very solid, both arms and legs are solid metal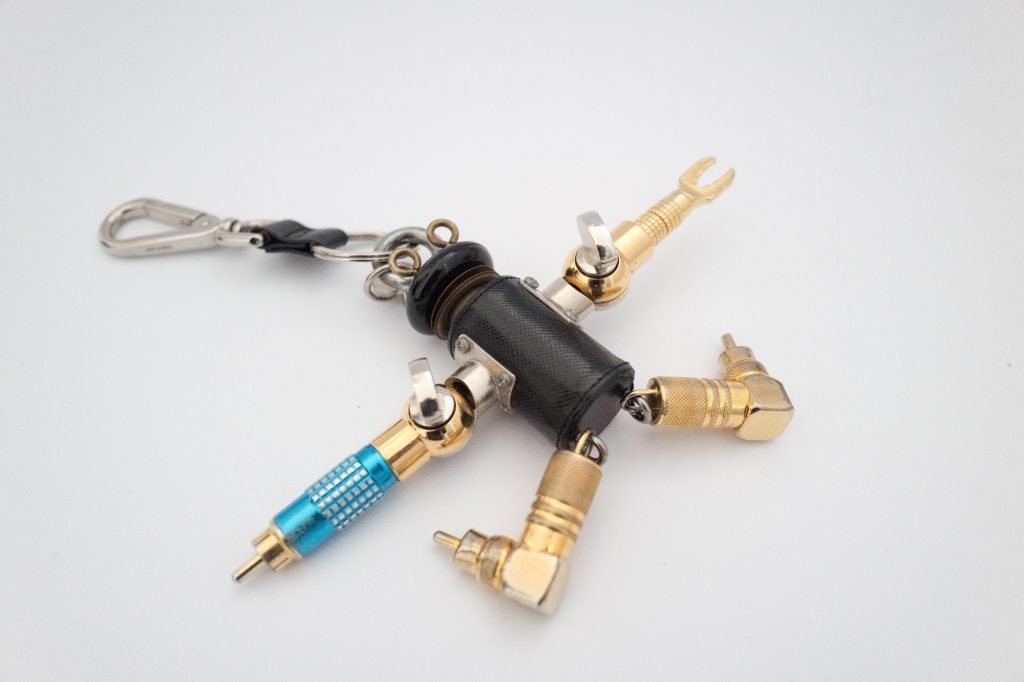 The front has two eyes shaped in circles and the body is covered in classic black Prada leather, the arms move and can be locked into place with the two nobs/ This robot has amazing gold hardware that is made out of stereo parts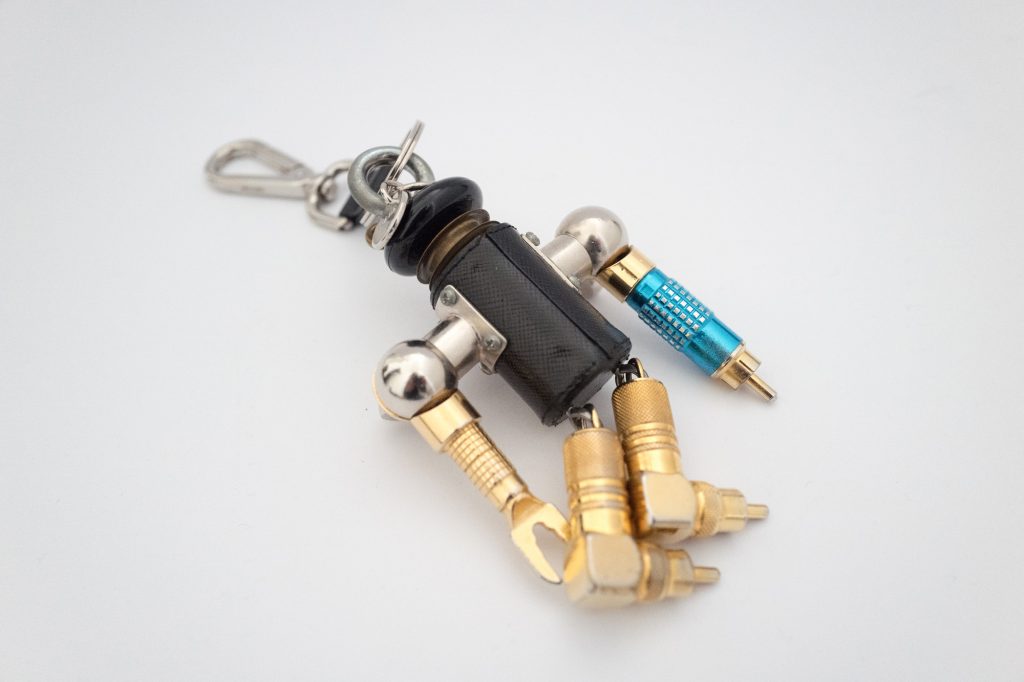 The back is very similar to the front, this is a great robot, but it is a little on the heavy side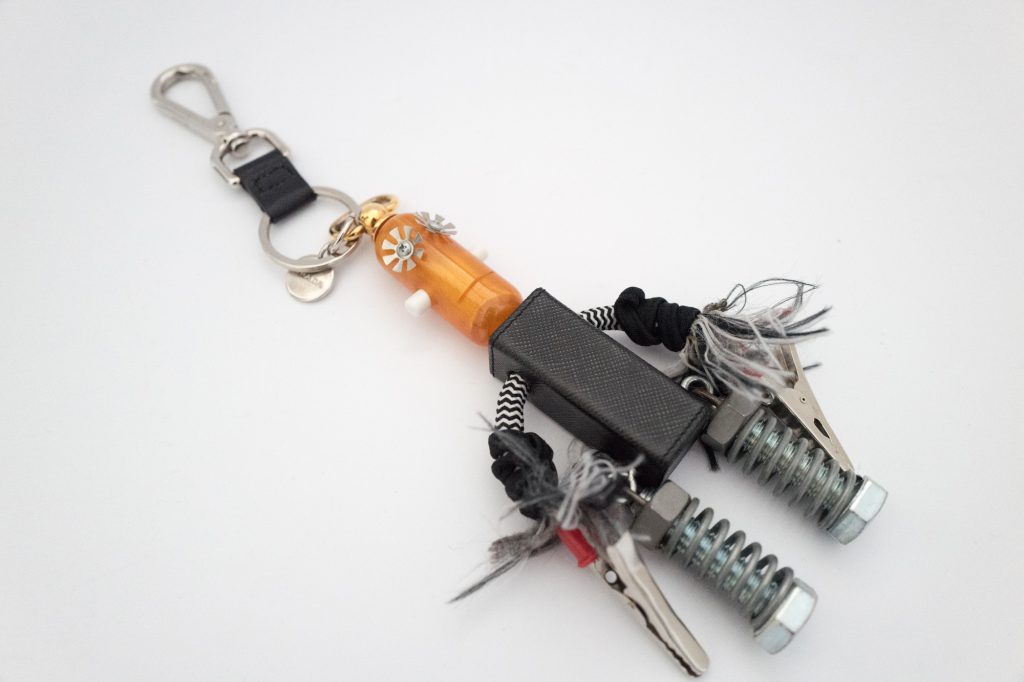 This is another original robot I purchased this a few months after purchasing the Robin, his name is Druso, I think he is amazing, His body is a rectangle covered in leather, his arms are made of iron cord, I have placed hairbands around each arm to stop the iron cord from opening up. Inside each arm are metal wires covered in plastic that are connected to his crocodile clip hands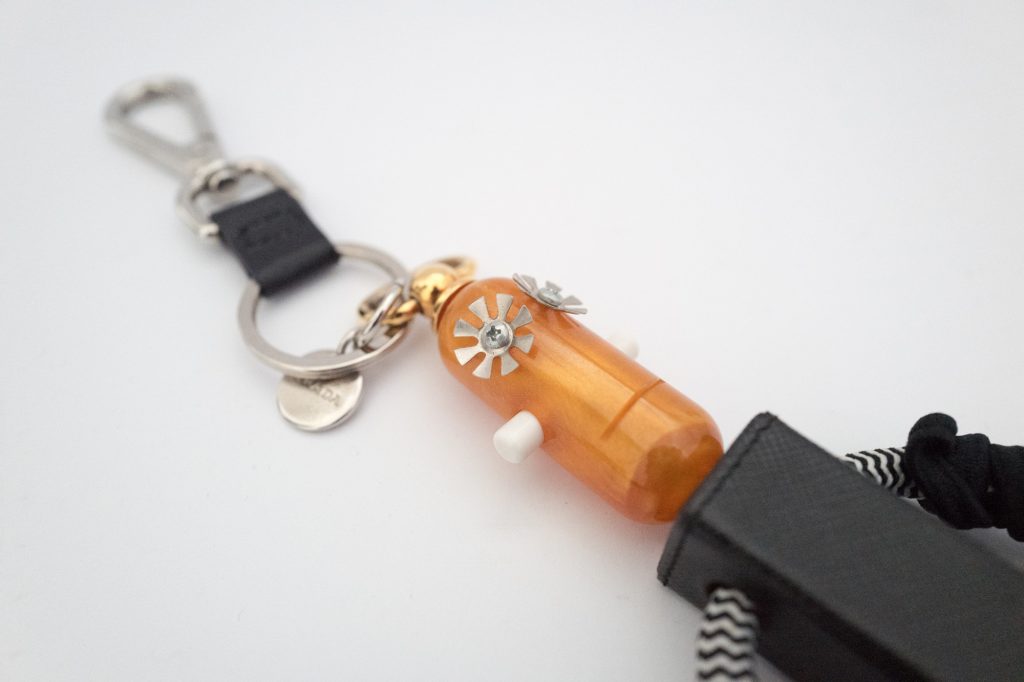 Druso's head is made of a honey colour plastic and his eyes are metal, they remind me of the sun or little windmills
The back is very simple and most of the detailing is on the front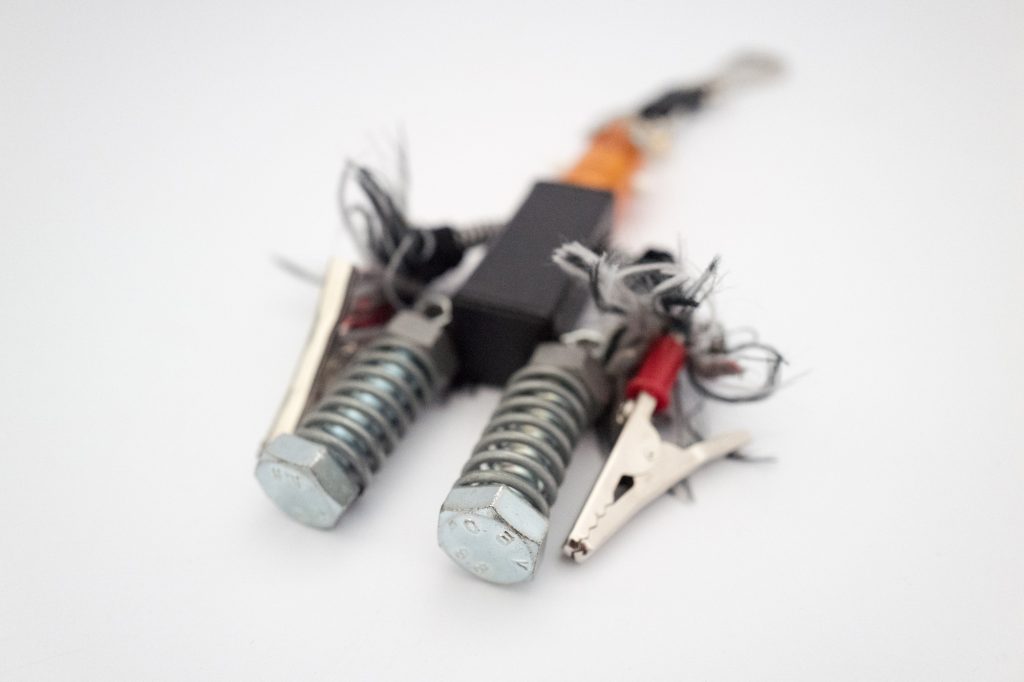 His legs are made of large screws with springs, they are so much fun, however the legs can be unscrewed and once on a night out one of his legs did fall off, lucky for me I was able to retrace my steps and find it, boy that was lucky!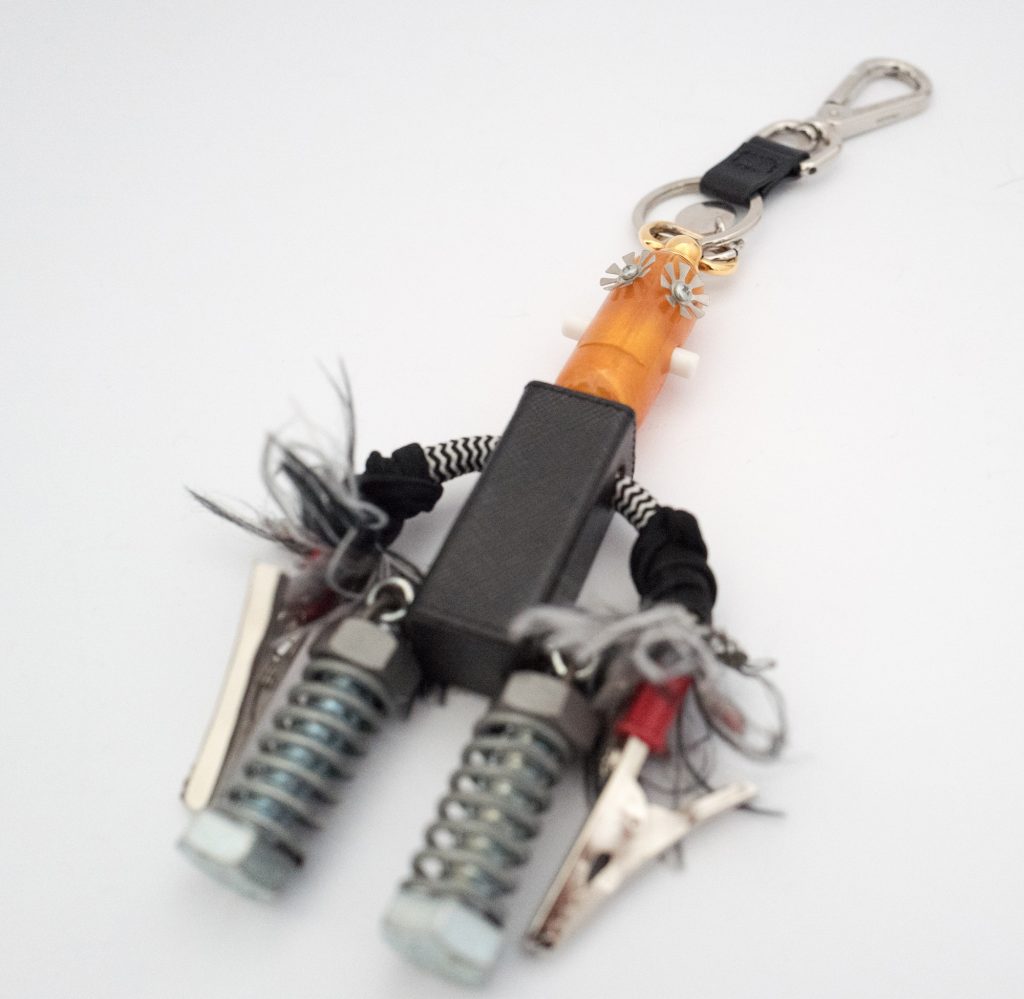 Over a decade on and Druso is still my favourite Prada robot, I always enjoy taking him out clipped onto a bag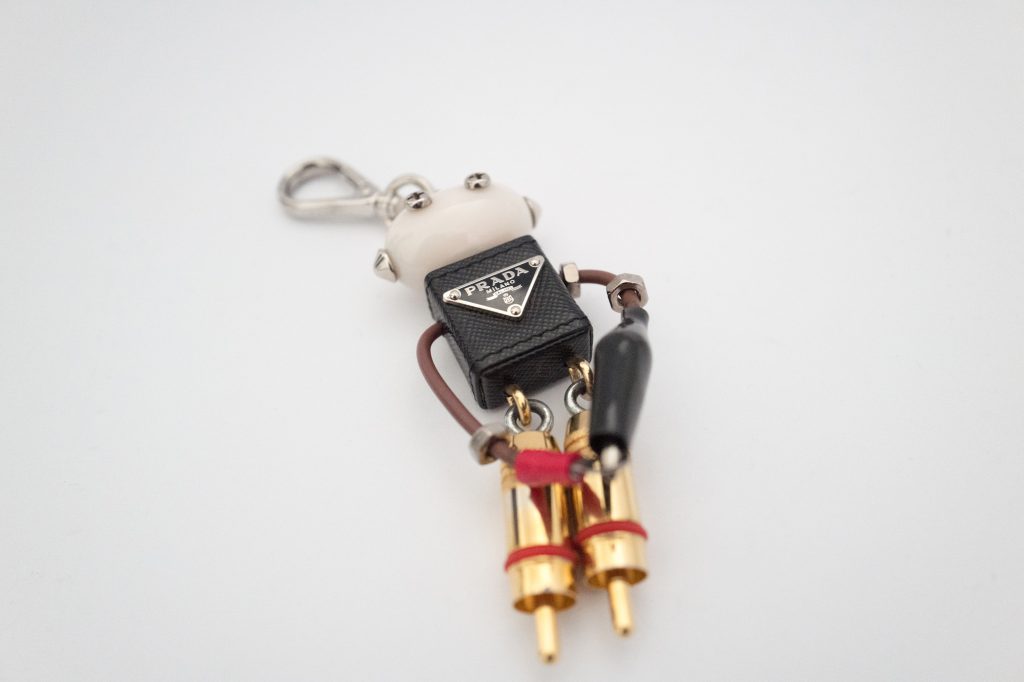 Edward was a robot I purchased in around 2010, it was great when he was released as it reminded me of what funny I had when using my other robots and it helped reignite my use of robots on bags again. Edward is the smallest robot I own and he does look cute on a pair of jeans or on a smart suit. He has a leather body, a pearl coloured head, wired arms with a connector on one and a crocodile clip on the other, his legs are made of gold stereo connectors, he really does remind me of a mini Druso.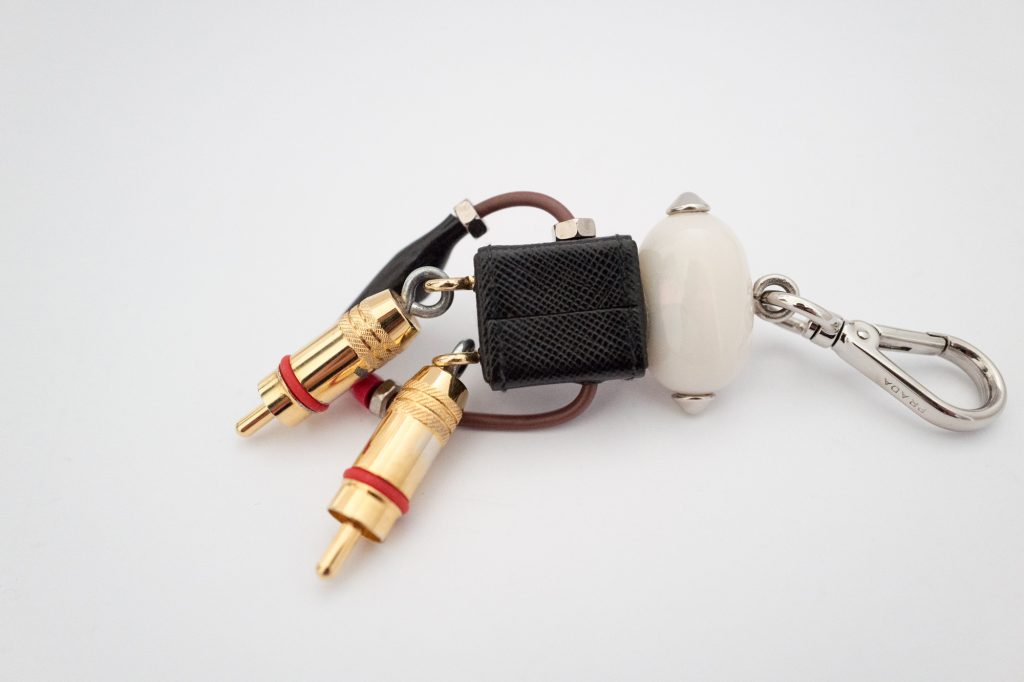 His back is simple, the keyring hook on the back of his head has the classic Prada logo on it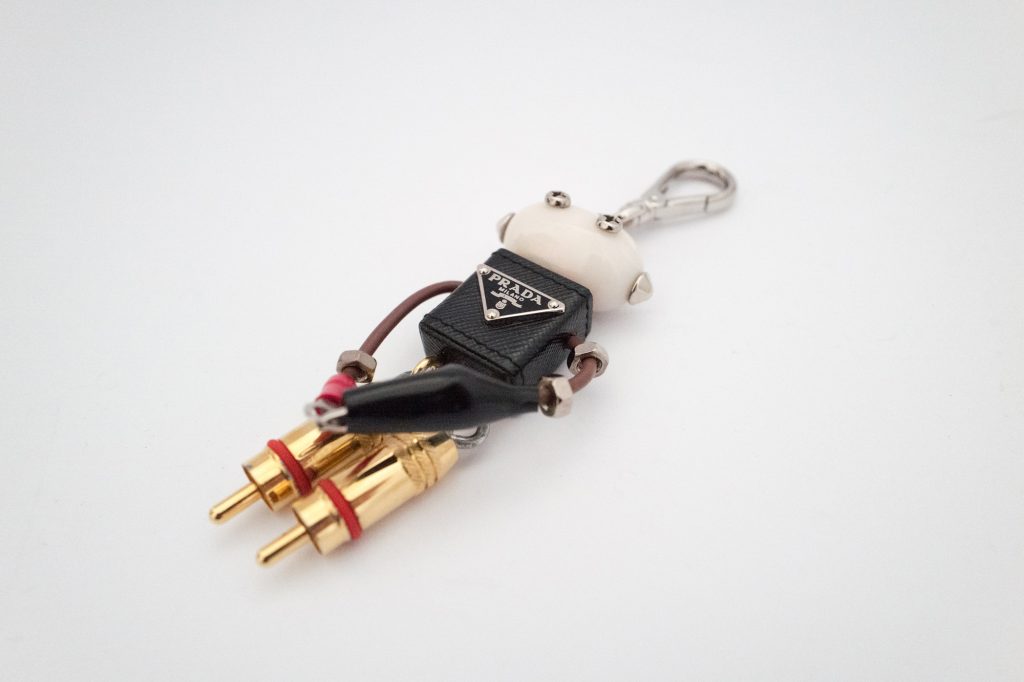 His eyes have little screws and his chest has a Superman style Prada triangle on it 🙂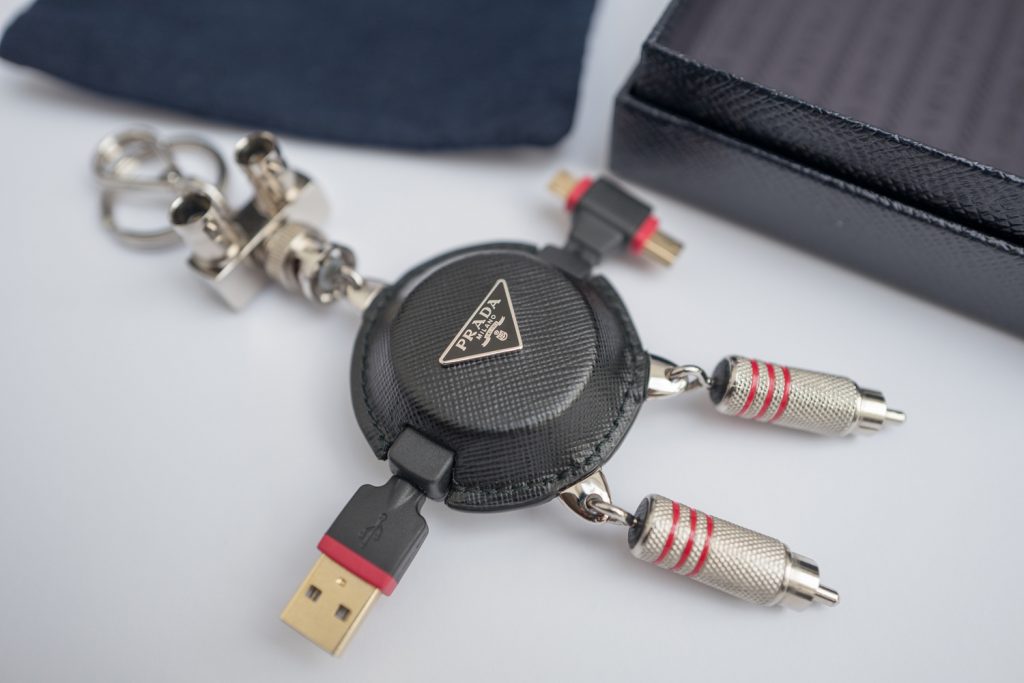 This is one of the latest robots from Prada released in 2015, 10 years after the original robots, I gave him a separate review, so that is worth a read. This robot has had a modern upgrade, he reminds of Johnny 5 from short circuit, he still has the classic stereo part legs from the original robots but his body has working USB ports, ideal for charging your Kindle, or Android smart phones and of course he looks amazing on a bag.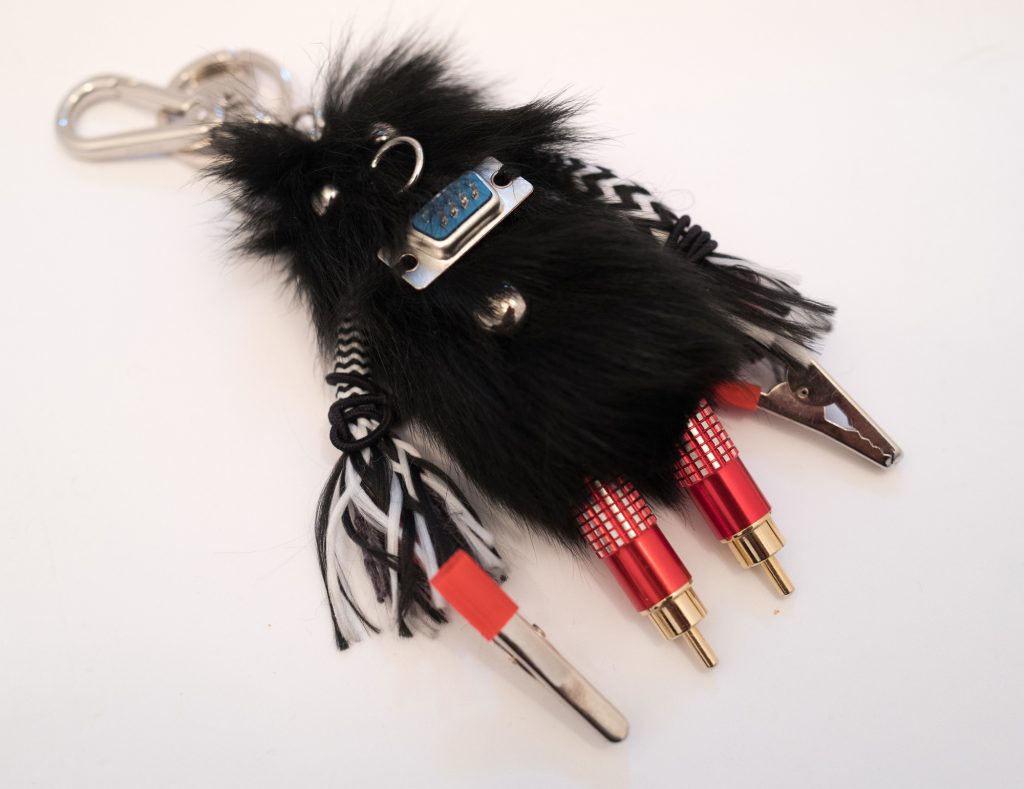 This robot is my latest addition and I was so excited by it, I originally saw this robot over a decade ago when Prada first did robots but as I already had two robots I couldn't justify a third! However it has now been bought back, it is called Rufus and I had to have him! He like Durso has iron cord arms 🙂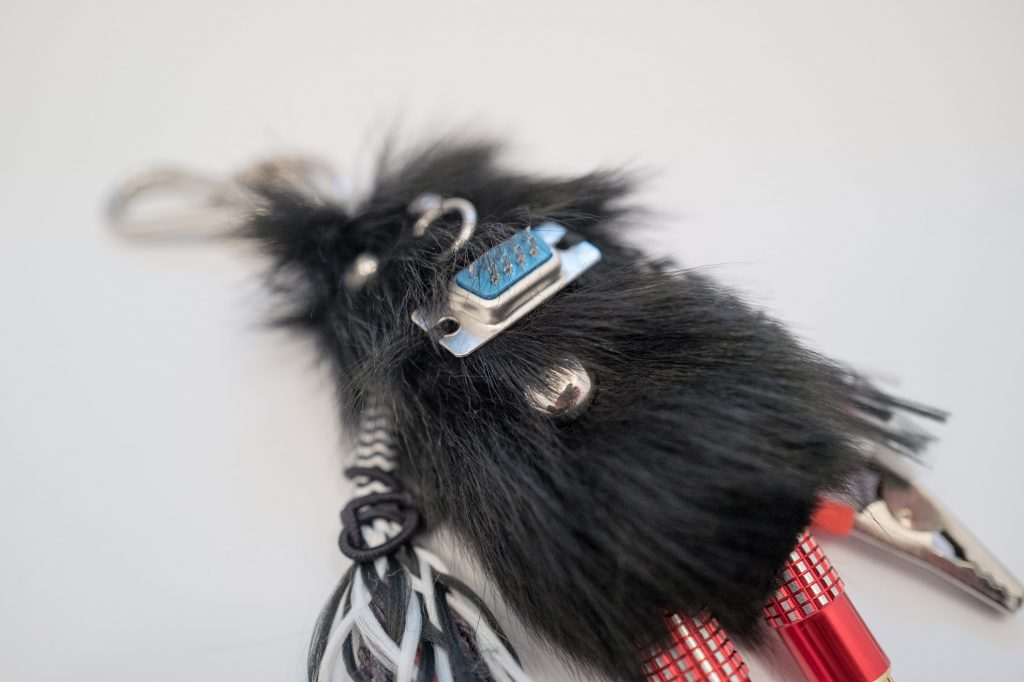 Fur bag charms and tricks have become very popular over the last two years thanks to the Fendi monster range. I was thinking of buying a Fendi monster but once I saw this I couldn't say no. Rufus is made of black fur and he has a serial port for a mouth, which is for those of you that are too young to know a serial port is like a USB port of the 1980s and 90s!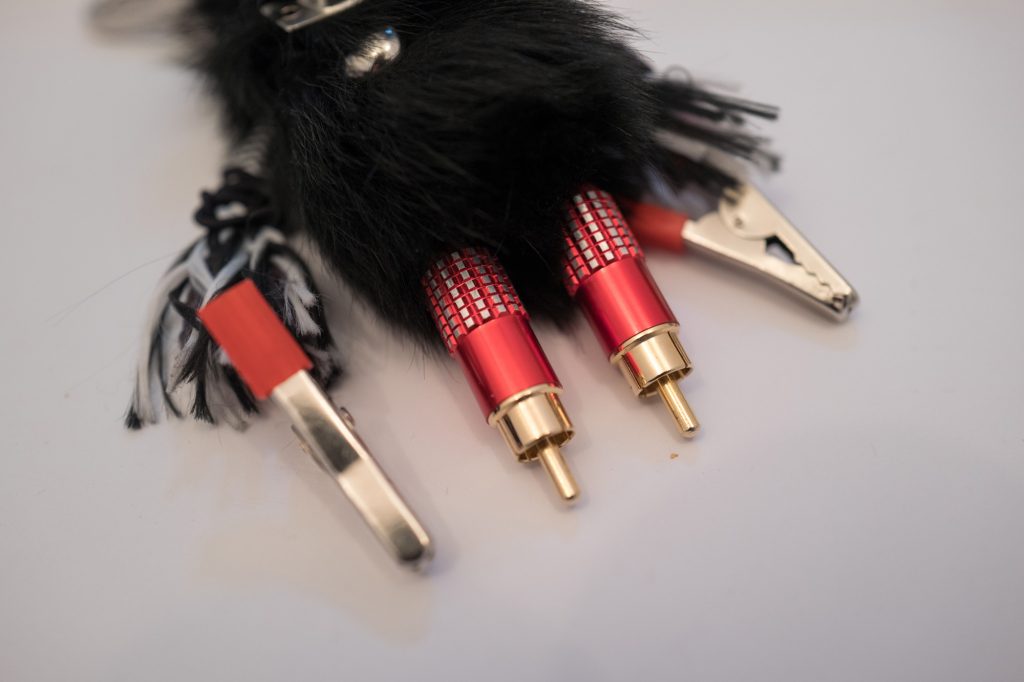 Rufus has the classic stereo connection phono legs and crocodile clip hands with wires and iron cord arms 🙂 He is a great addition I'm so pleased I got him.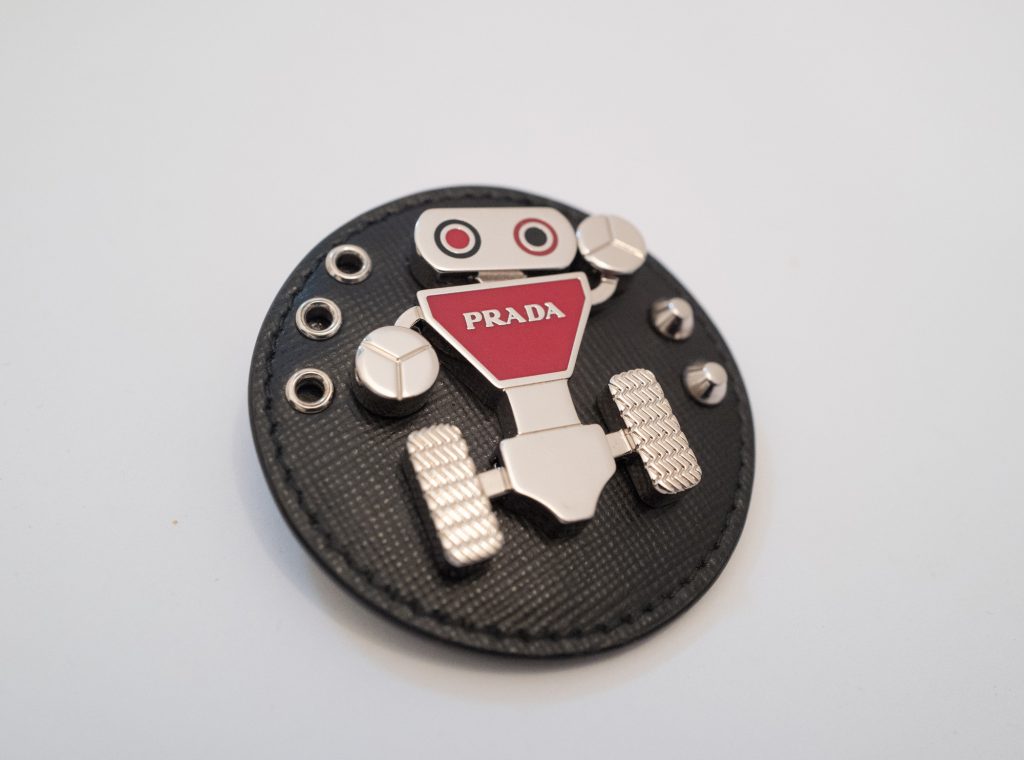 The Prada robot badge another recent addition, a classic Prada leather badge with an amazingly cute robot made of metal, his head and legs even move side to side 🙂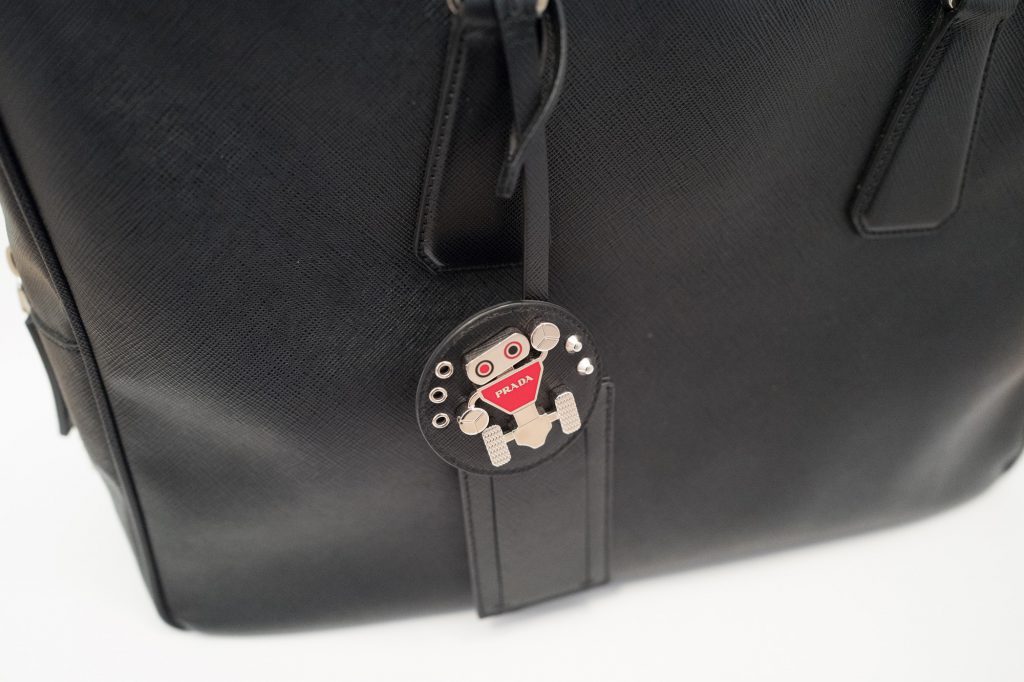 As I don't want to ruin any of my blazers or clothes by pinning a badge to them I am using this badge on luggage that has luggage tags on them as you can see in the picture above the badge looks great on my Prada briefcase.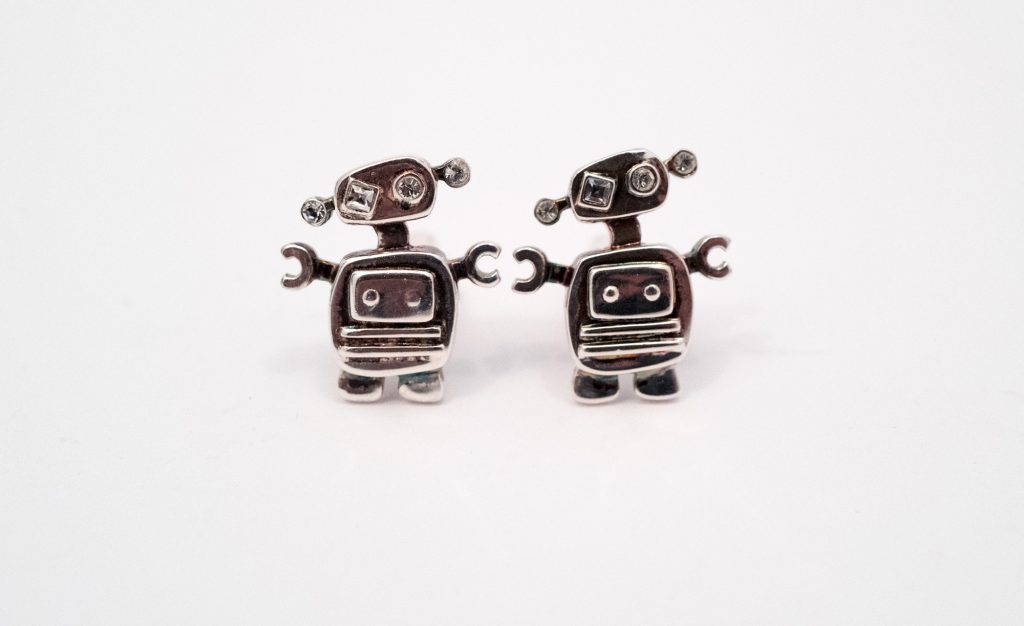 The final Prada robot item(so far) are these silver Prada robot cufflinks, they make any shirt look great, they are so cute. They have a beaten up look about them that I really like, it adds so much character, the way they are posing and the metal gives the look that they really need a polish. I really like the finish.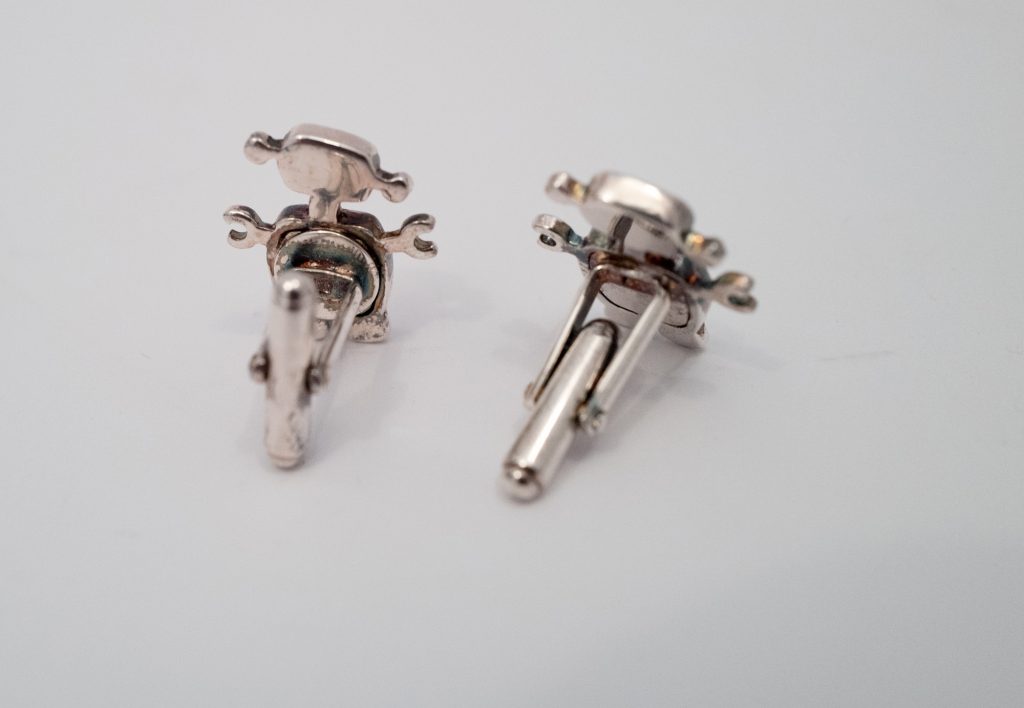 They are of simple design but are very beautiful, all metal and classic.
To conclude, I really love the Prada robot line, thus I have purchased 7 robots over the years, I hope they continue and Prada bring out a few more that I could add to my collection. If you are looking for something to make your briefcase, messenger or backpack stand out then you can't go wrong with a geeky but fashion focused robot from Prada.