My retro game box is a retro gaming subscription service that ran in 2015 for approximately 12 months. The idea of the service was really simple, e.g. you are a games collector but don't have time to collect or source retro games so this service sends you games direct to your door each month for a fixed cost. For example I signed up in September 2015 for £20 a month I would get 3-5 games a month.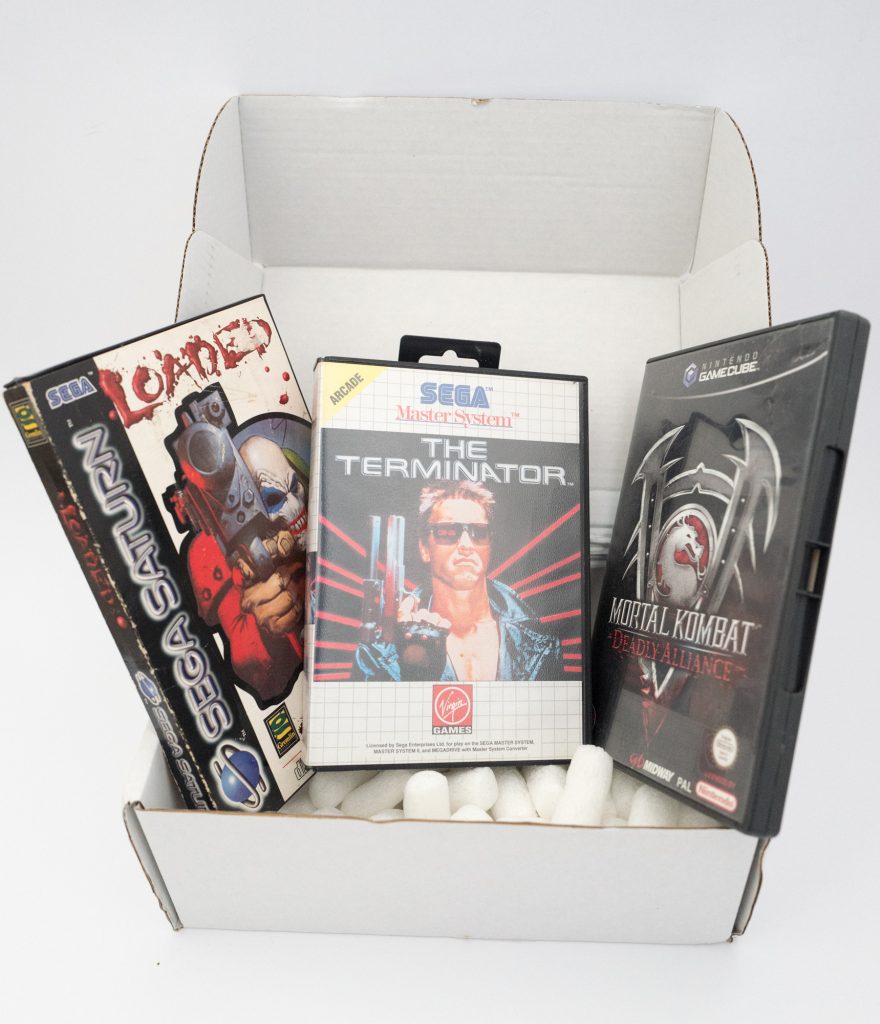 My first box contained Nintendo Gamecube – Mortal Combat deadly alliance, Sega Master system – The Terminator and Sega Saturn – Loaded. I was pretty happy with this, it was a nice that all the games were boxed and in good condition. I was so excited when it arrived 🙂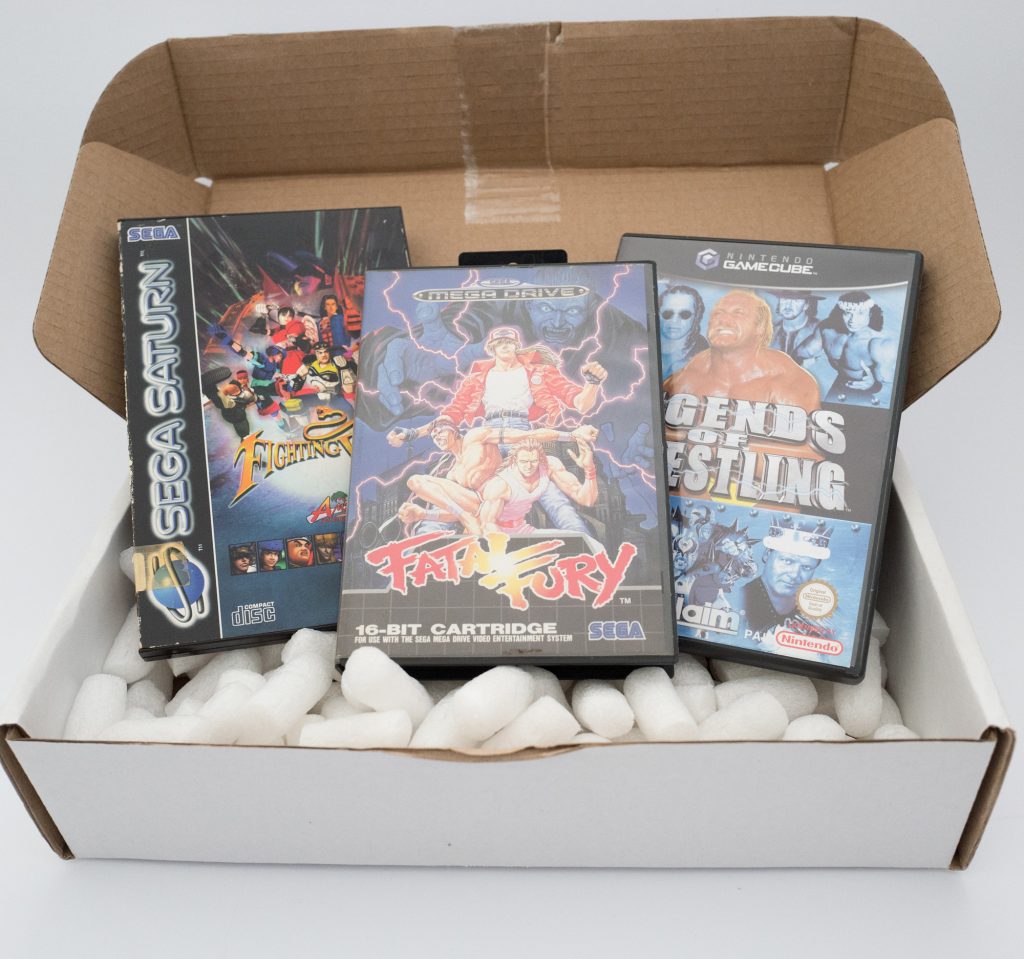 My October box contained Nintendo Gamecube – Legends of wrestling, Sega Megadrive – Fatal fury and Sega Saturn – Fighting vipers. I had an issue with my October box as I already owned Fatal fury. I emailed My Retro Game Box and they very nicely refunded half of my monthly costs, this I thought was really good of them. I was really impressed with this level and type of service.
When you sign up, my retro game box will ask you what consoles you own and what games you have for each console. They would then make sure you didn't receive games you already owned. Considering I own around 600 games this was vital for me. They also ask what type of games you like and what games you don't like so for example I don't like football games so I don't want them to send me those.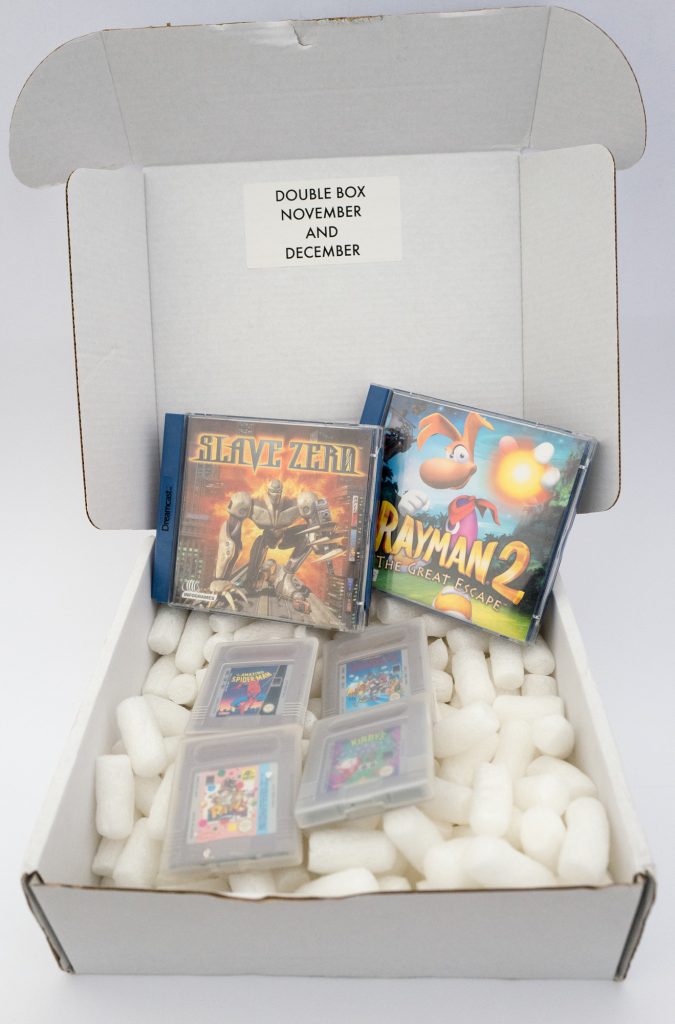 I had noticed that the service always seemed to be a little late with posting out the monthly boxes, I didn't really mind, just as long as it arrived, I was more excited than anything else. The idea of receiving a surprise box of games each month really got me pumped, especially as collecting games had become harder and harder as very few retro games shops exist anymore. In November I received this bumper box which was for both November and December it contained Dreamcast Rayman 2 and Slave zero.
There were also four Nintendo Gameboy games, including Kirby's pinball land, Super Mario bros (I cant believe I didn't own this!) and amazing Spiderman etc.. This was a exciting selection.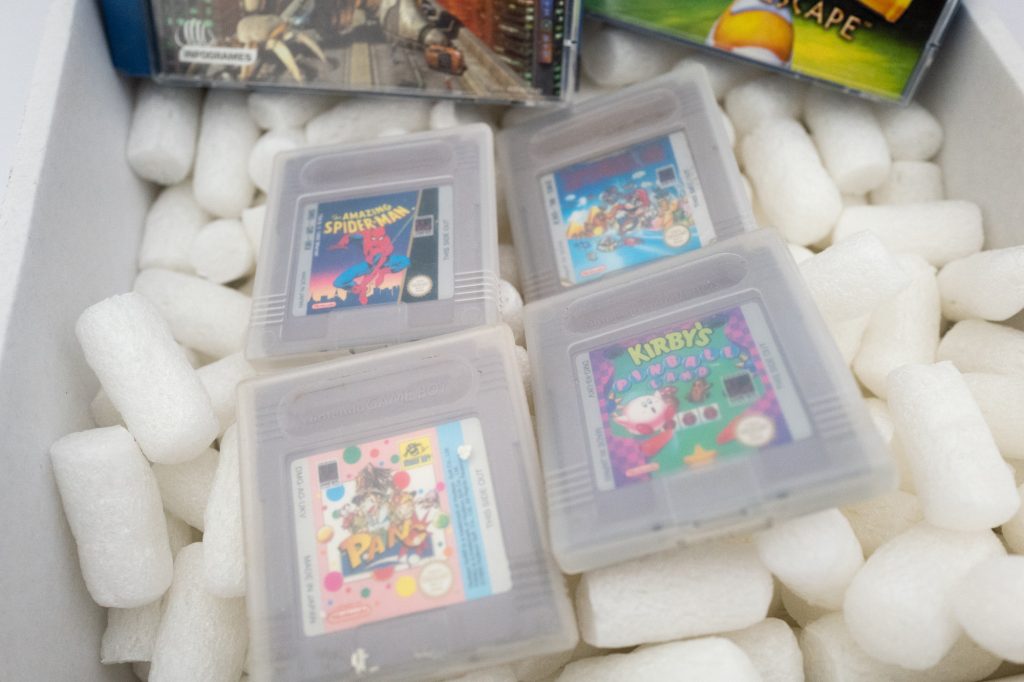 Now to conclude, I loved this service I thought it as excellent, I thought their business was a good one, at the end of 2015 I thought things were going really well as they introduced a £50 a month box that would contain up to 10 games, I was really tempted to sign up but then an email from the company owners arrived!
I couldn't believe what I was reading, I visited www.myretrogamebox.com the owners stated they had been working extremely hard setting up this business, sourcing the games, sending them out to customers, etc.. Then they went on to talk about how they have ended up working seven days a week and how their customers had become more and more demanding, they quoted customers claiming they had been ripped off even though they had been sent games that cost in some cases double the price of the subscription and how the stress and administration of dealing with these problem customers had ultimately meant that the business was no longer viable and they had decided to shut it down.
I was so angry to hear about these customers, when this business was setup I thought wow I should get involved with these guys, this is something I would enjoy doing, but the minority of customers that are just greedy and are expecting to be sent in some cases mint condition games for £20 a month or basically games that are worth more than £20 each month every single month just makes me so sad. You basically ruined this company because your greedy. You expected people to work for free or at a loss. I assume you were hoping that the rarest Super Nintendo game was going to land on your door step for £20!
IF YOU WERE NOT HAPPY WITH THE SERVICE THEN YOU SHOULD OF UNSUBSCRIBED!!!!
Anyway, I wrote this post to thank the owners of My retro game box, I have no way of contacting them as their website, email and all comms are closed. I just wanted to say to Katy Craig for four months I really enjoyed your service and I wish it still existed today 🙁