After waiting until 4pm 0n October 13th the PSVR finally arrived from Amazon. I couldn't be anymore exited!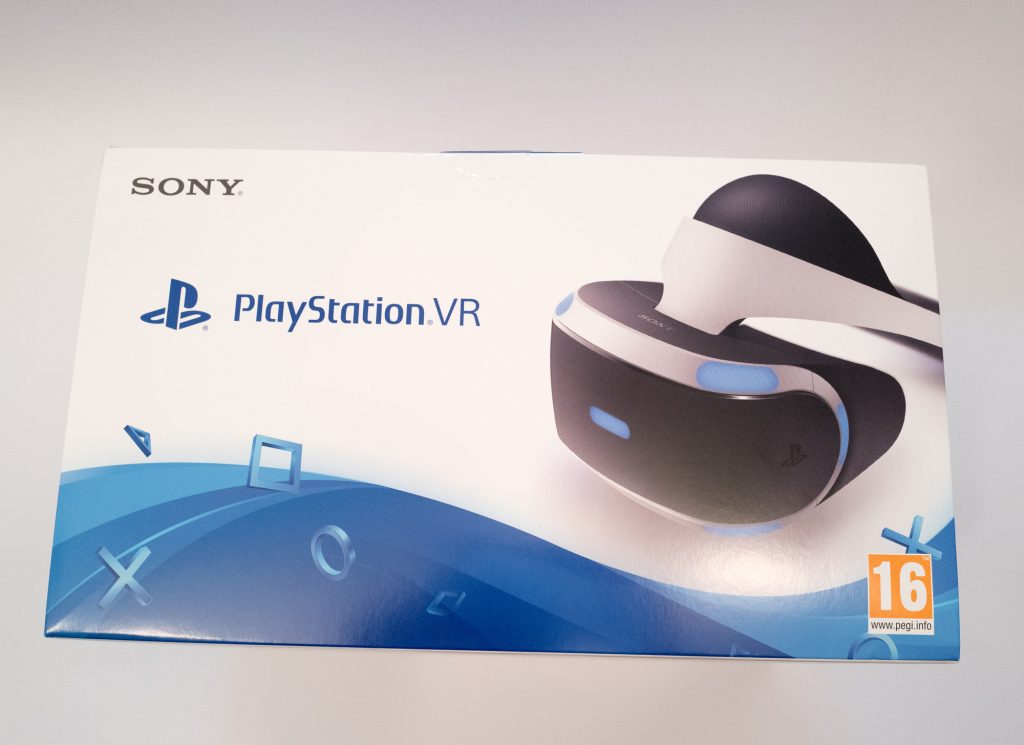 You are presented with a blue and white box with the Playstation VR logo, while on the front you have a image of the PSVR headset.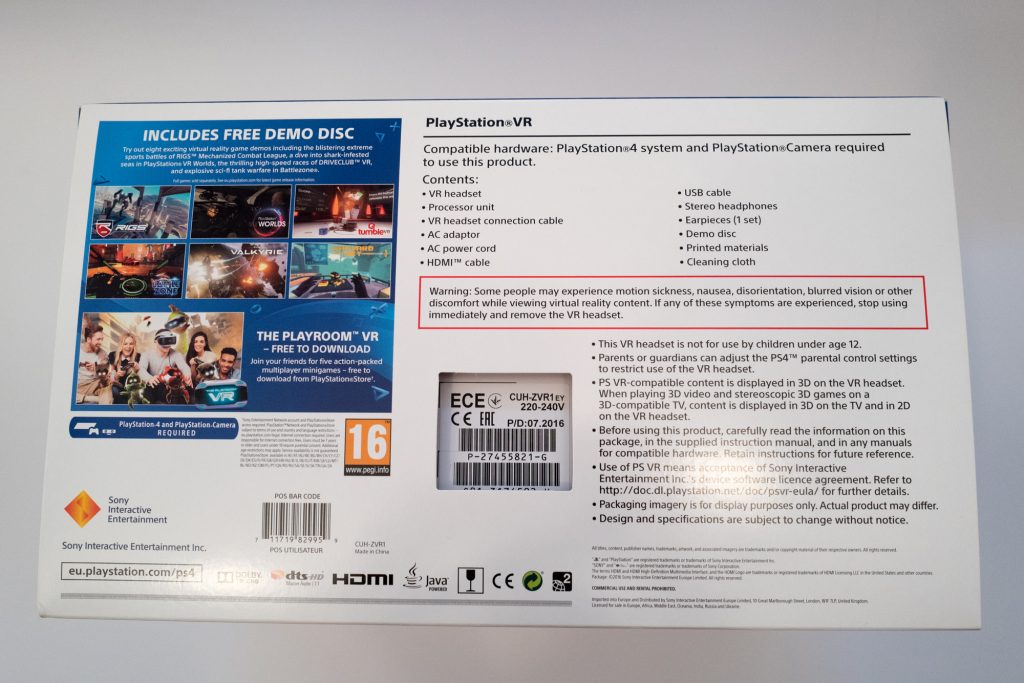 The back of the box give you a list of contents and it gives you information about the demo disc. There is a lot of health and safety information and other information about what you need to use the PSVR.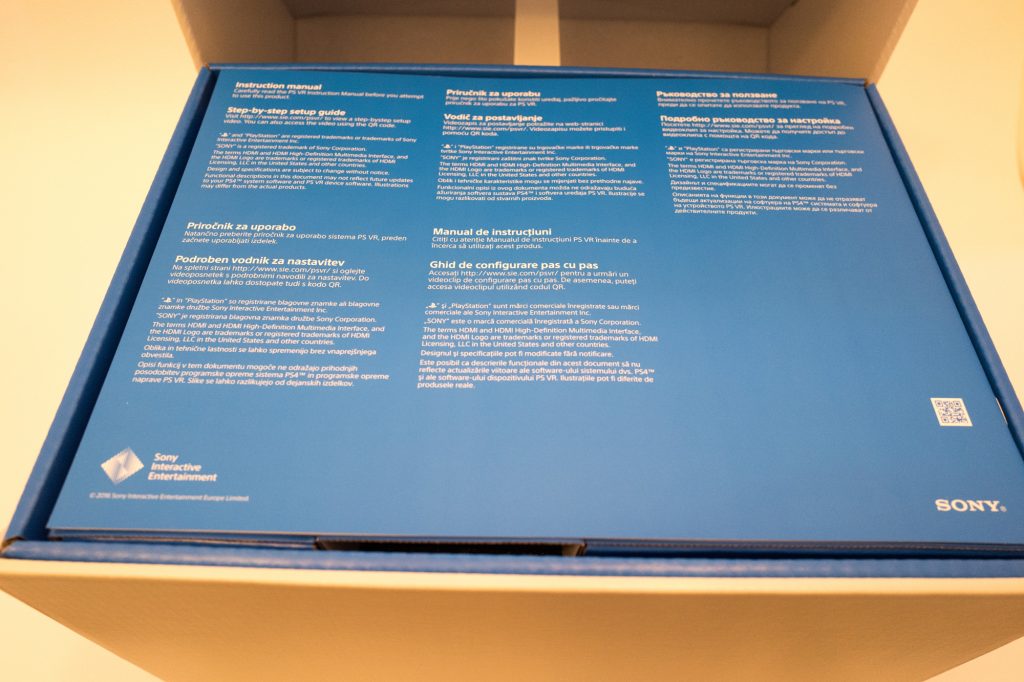 Once you remove this box you find a white box which opens up to reveal a stack of blue boxes and paperwork. It is all very well presented.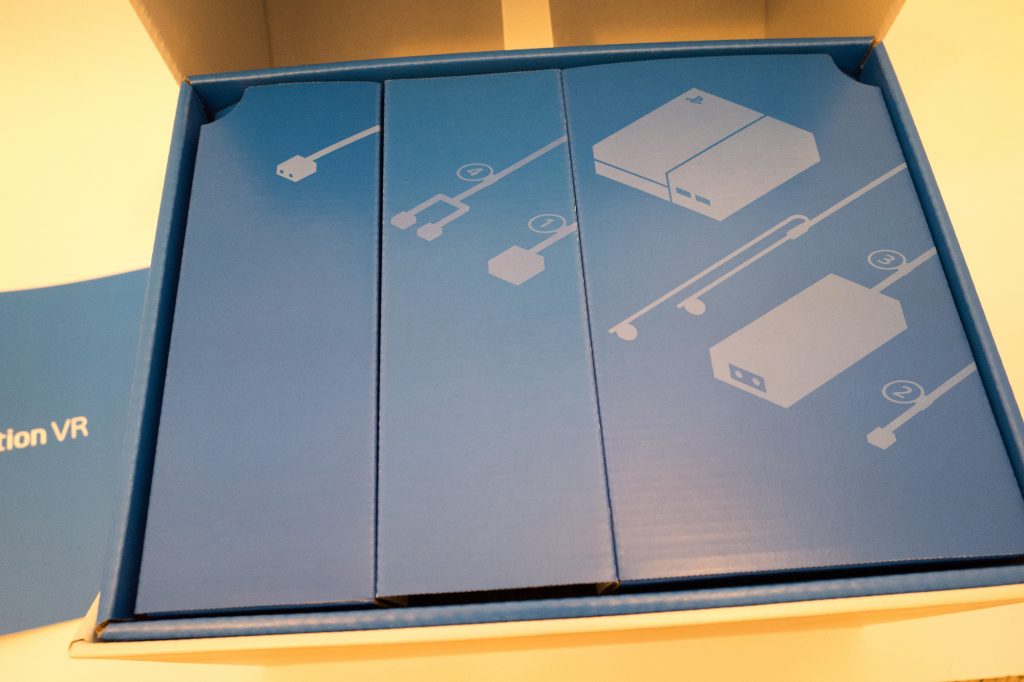 Inside these boxes you find 5 cables and the processor unit. It seems like a lot and it is the first time in a long time that I have actually looked through the quick start manual to get everything hooked up!
After few minutes I'm ready, all the cables are plugged in, lets try and get the headset on. There is a button on the bottom of the visor to move it forward. You then press the button at the back of the headset to pull it out as you place it over your head. It is all straight forward enough.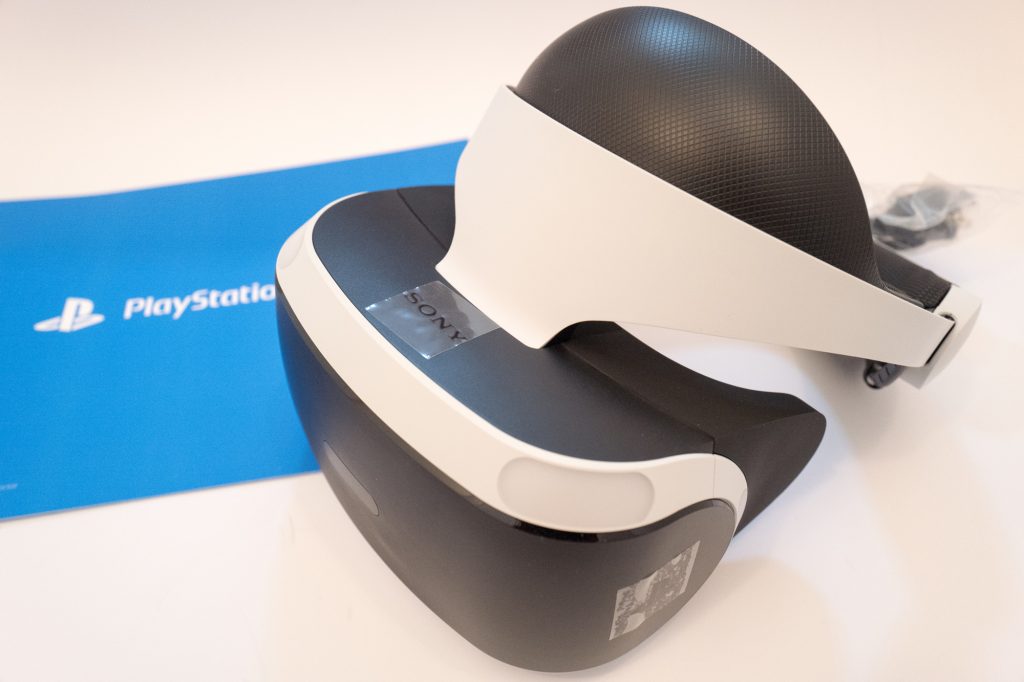 With the headset now on I start things up, after a quick initial setup I do notice that it is not as sharp as I was expecting. When you look at text you have to move your head if the text is in any of the corners to make it look sharp. Also adjusting the headset does improve things, so you are always re-adjusting or realigning but this isn't too much of a hardship. However once you are in a VR game it really doesn't matter, you just feel like you are in the world that is in front of you.
Inside the box there is a demo disc with 8 games, which is excellent, there are also a few demos you can get from the online Playstation store. I highly recommend you test all the demos before committing to buying any of the games. I was very excited by the idea of buying DriveClub VR after playing the demo I decided to cancel my order. I found the game wasn't that good at all, the graphics dont look great and you do get the odd bit of motion sickness.
However I have been really impressed by Battlezone VR, this game is really good, it's like playing Tron, you get really sucked in, when you start the game you are inside the virtual tank, there is lots of loading noises and sirens, as you arm your weapons and you leave the army base to go to war! When you control your tank you can move it in any direction while you are tracking enemies that are on the ground and above, it is very immersive.
The second game I really liked was Super hyper cube, it is a simple game, you rotate the cube to make it fit inside the hole in the distance, as you progress the cube gets bigger so its hard to fit. The music and graphics are great, it's just neon heaven.
I purchased VR Worlds which is a great intro VR game to accompany the demo disc, I really enjoyed the underwater game where you get to meet a shark. This is a great game if you just want to try out the VR experience, it is almost like a demo disc, you have five different mini games you can play.
I think BattleZone and Super Hyper Cube are on my purchase list, otherwise for the others I think further demo testing is required before I commit to purchasing.
The PSVR also has a cinematic mode which can be used for watching films or playing games in a virtual cinema. Watching films is great, I watched the Matrix and I was really impressed. It does feel like you are watching on a big screen. I also tested YouTube, this worked just as well, HD content and even older VHS ripped content looked pretty good.
I then decided to start Doom in cinematic mode, I am replaying the game on ultra violence mode after completing it on hurt me plenty. So far I have been impressed by the number of monsters in this harder mode but it just takes it to a whole new level playing it in cinematic VR mode. I mean the monsters are so in your face, the music is really loud using the 3d headphones, you are just in the action. I thought Doom was the best game on the Playstation 4 and now the best has just got better, someone please bring out Doom 5!
I have also tested the PSVR on my older retro gaming consoles via a HDMI upscaling box. Now this is impressive, playing Streets of Rage and Super Mario Bros in VR cinema mode is even better than playing it on my projector 🙂 This is the real surprise I wasn't expecting it possible to be able to connect the PSVR to any HDMI device.
To conclude I would recommend the PSVR to anyone with a Playstation 4 that wants to enter the world of VR. It is the entry level option compared to HTC and others but it is also the most accessible in terms of price point for what you get. I think the thing I am interested in next is how will the Playstation Pro improve the PSVR experience. I'm hoping it will be a big improvement.