I recently visited Reims and the champagne region of France for a weekend of champagne, sight seeing and fine dining. As always lets get into the details: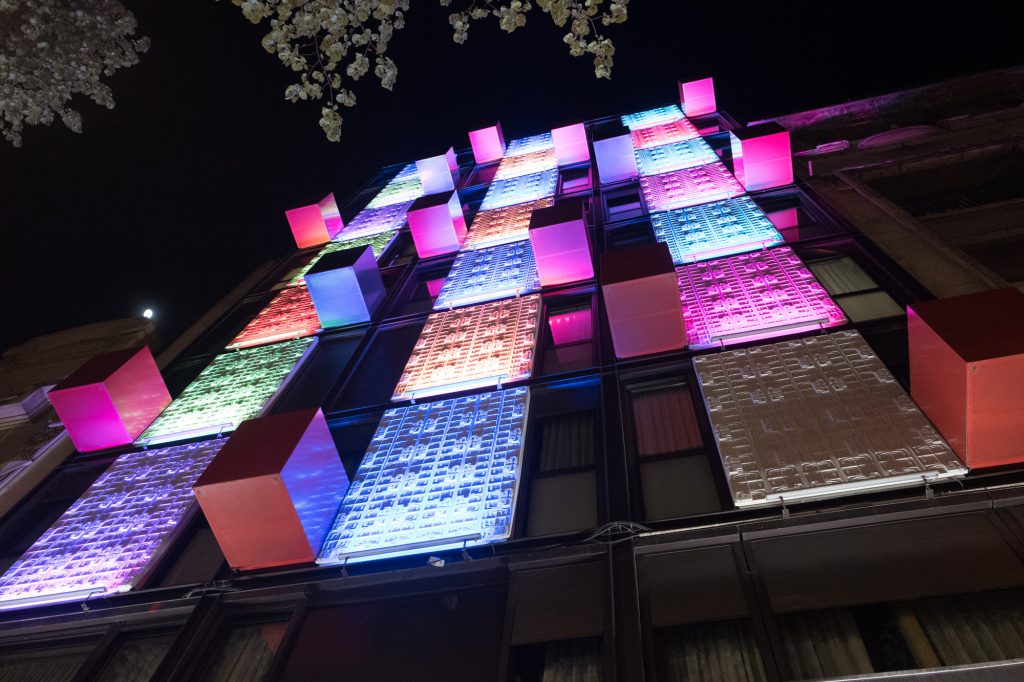 We were staying at Hotel De La Paid in the centre of Reims, the location is excellent you are right in the middle of the city centre. The building looks amazing  at night. My room was on the top floor (penthouse).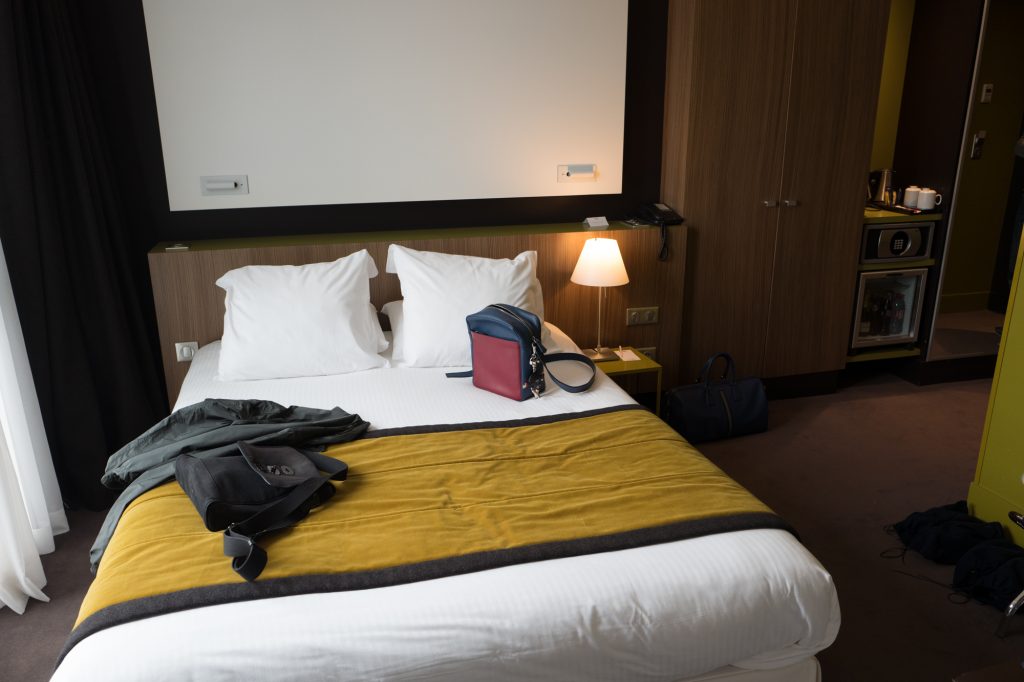 The room was modern and compact, overall a good choice for a weekend break, this is a 4 star hotel and it met up to that standard.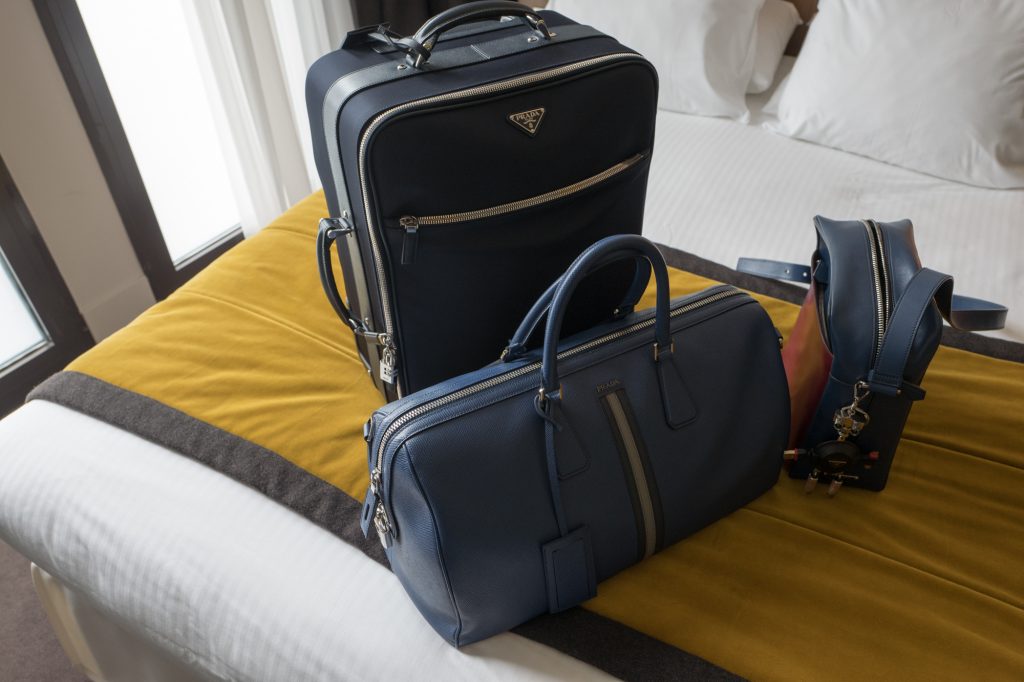 The luggage for the trip consisted of a red and blue Prada messenger bag, a blue leather Prada holdall and the classic blue nylon and leather travel trolley.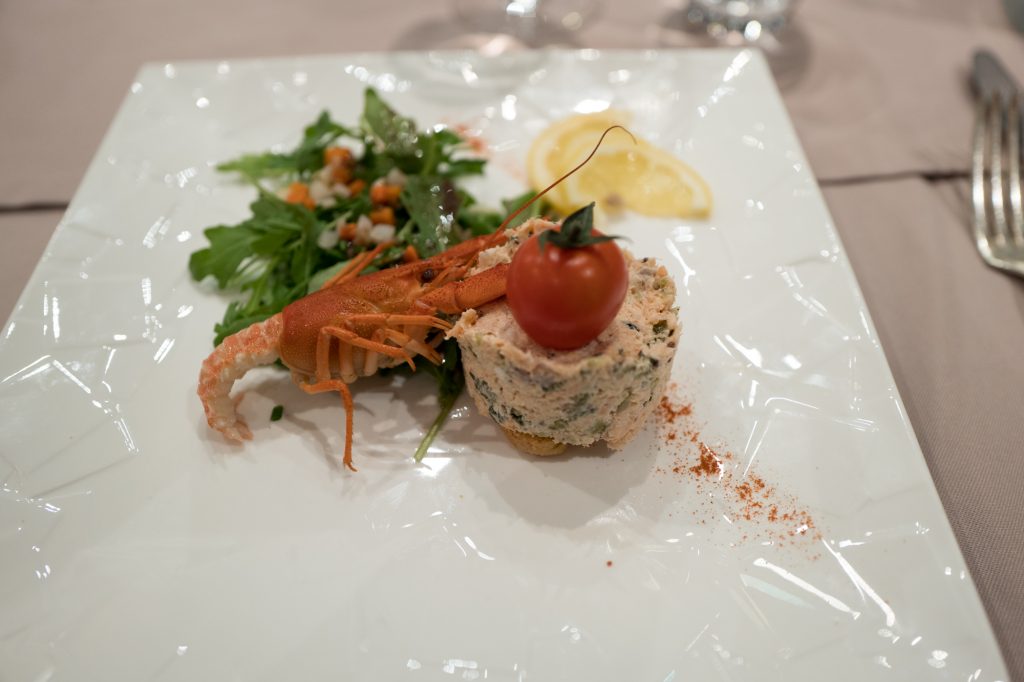 First stop a quick lunch at the Golden Tulip hotel Sparks restaurant, as recommended in the Michelin guide, two courses, a glass of wine, water and coffee for under 20 Euros, the ideal lunchtime deal. The fish starter was excellent with some bread.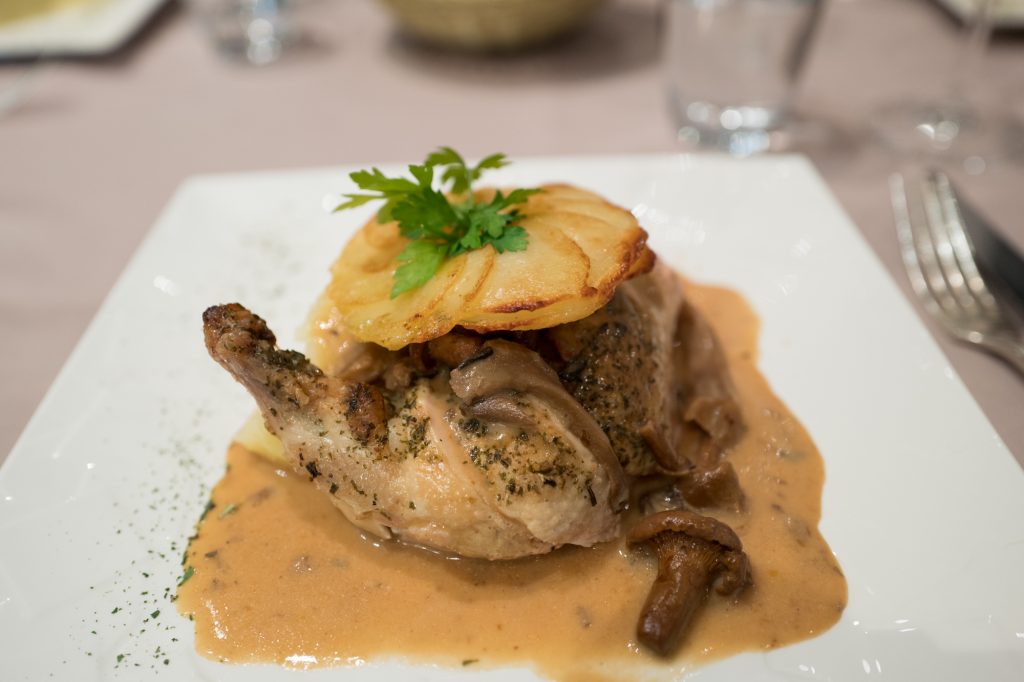 The chicken main with a mushroom sauce and potatoes was very nice.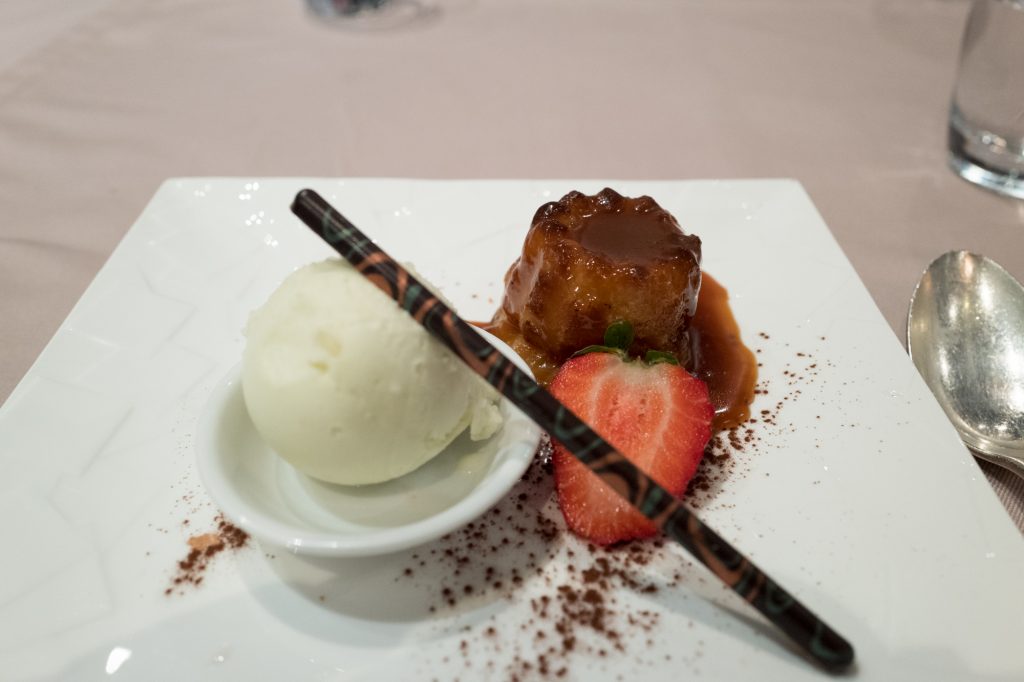 A great dessert, I really enjoy eating canele cakes, this one was excellent.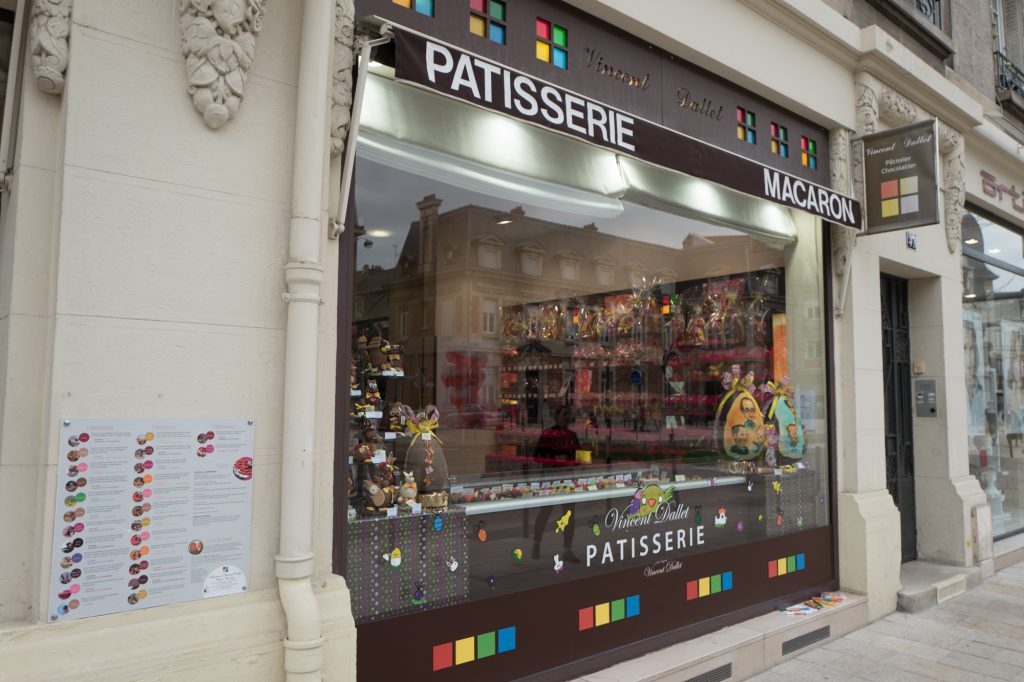 Next stop was Patisserie Vincent Dallet, I walked by here before lunch and the Macarons looked excellent so I had to buy a few, or was it 8!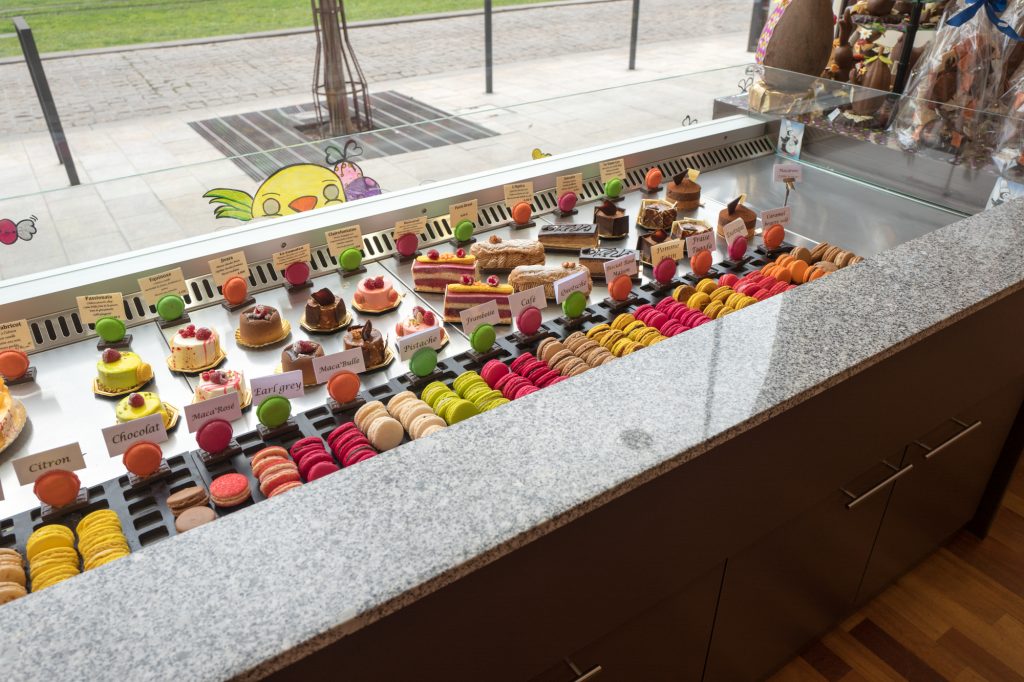 The macarons looked fun with their bright colours and I was sold when the assistant said would you like our champagne and rose champagne macarons in your selection!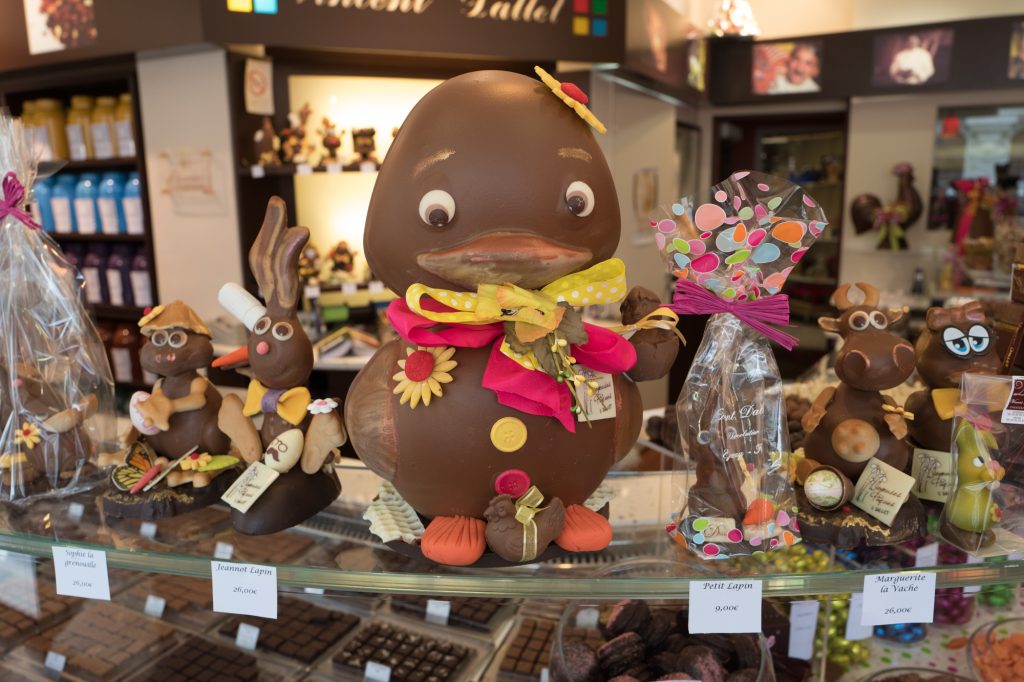 It was Easter when I visited and they really do take Easter eggs to a new level in France. These artisan chocolate creations were amazing.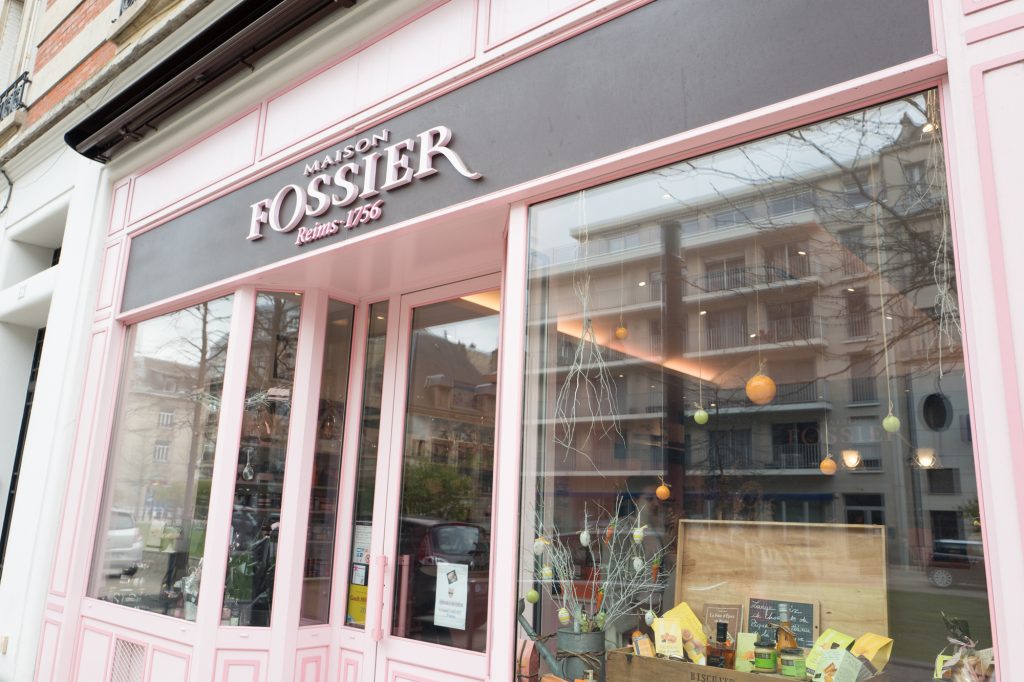 The next stop was Fossier, world famous for its pink biscuits and gingerbread this place couldn't be missed.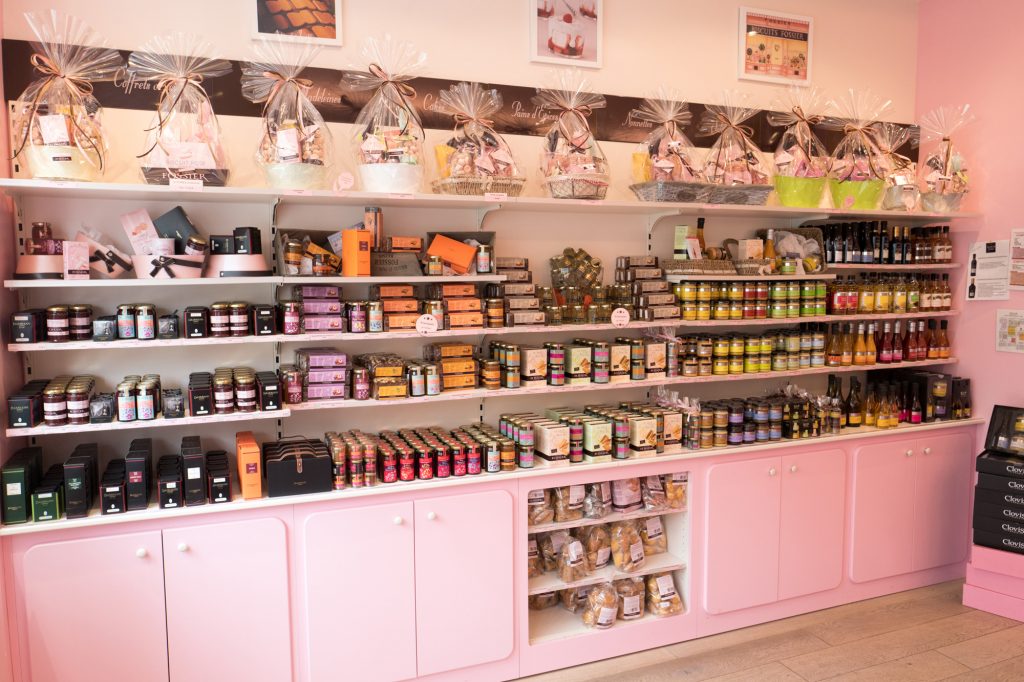 A wonderful selection of biscuits, cakes, jams and gingerbread.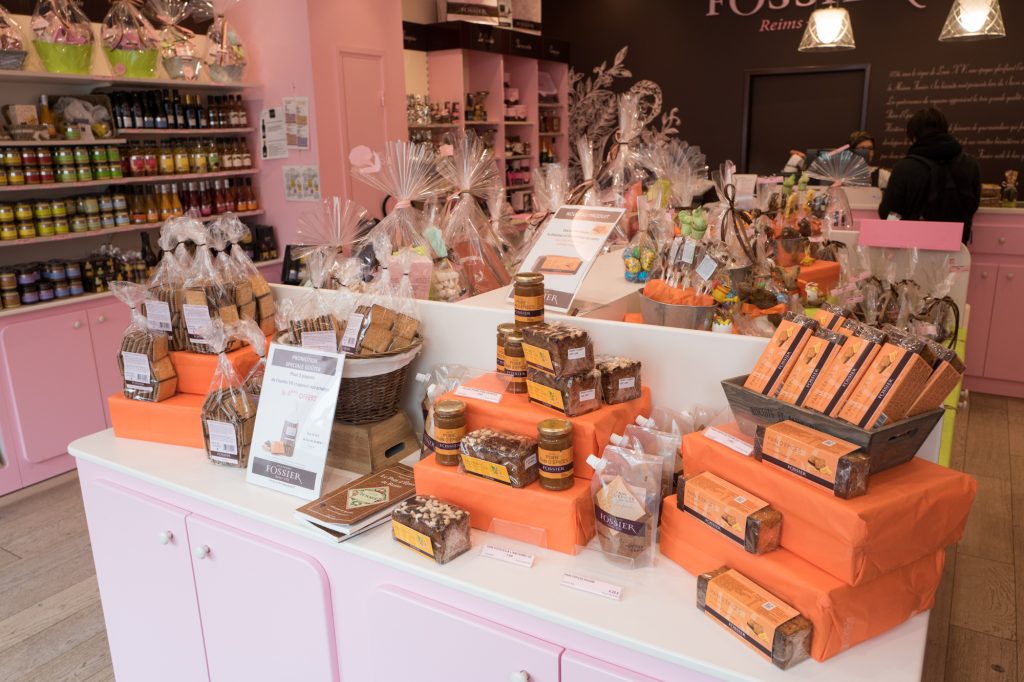 Two packs of gingerbread, a pack of cakes and 4 packets of biscuits later I was ready to leave!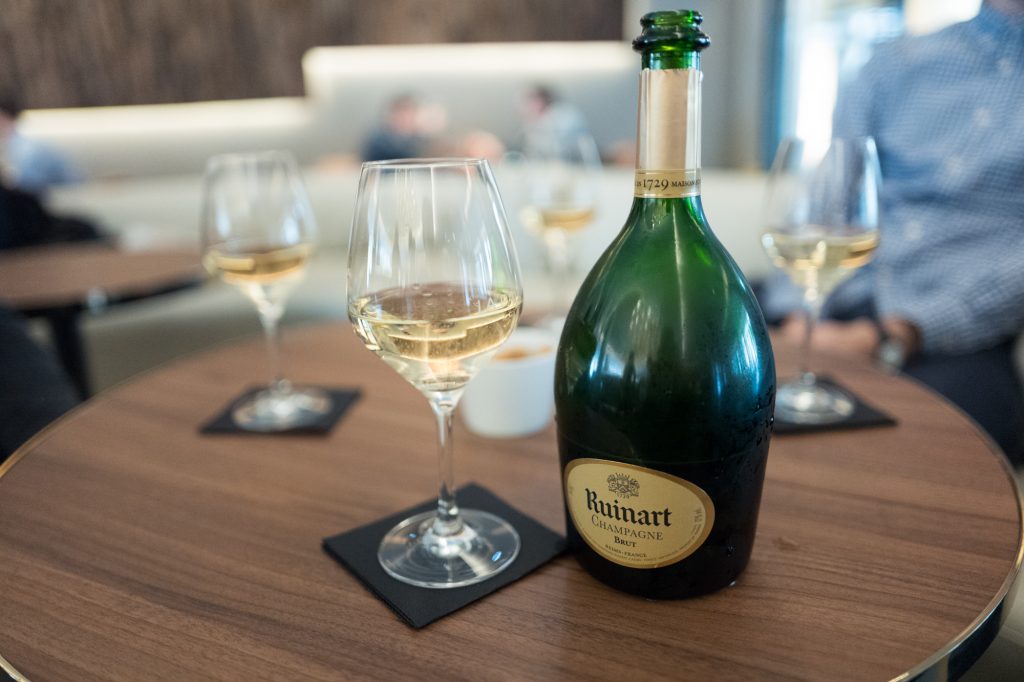 Time for a pre dinner drink, Ruinart a classic champagne choice, it had to be enjoyed at the hotel bar.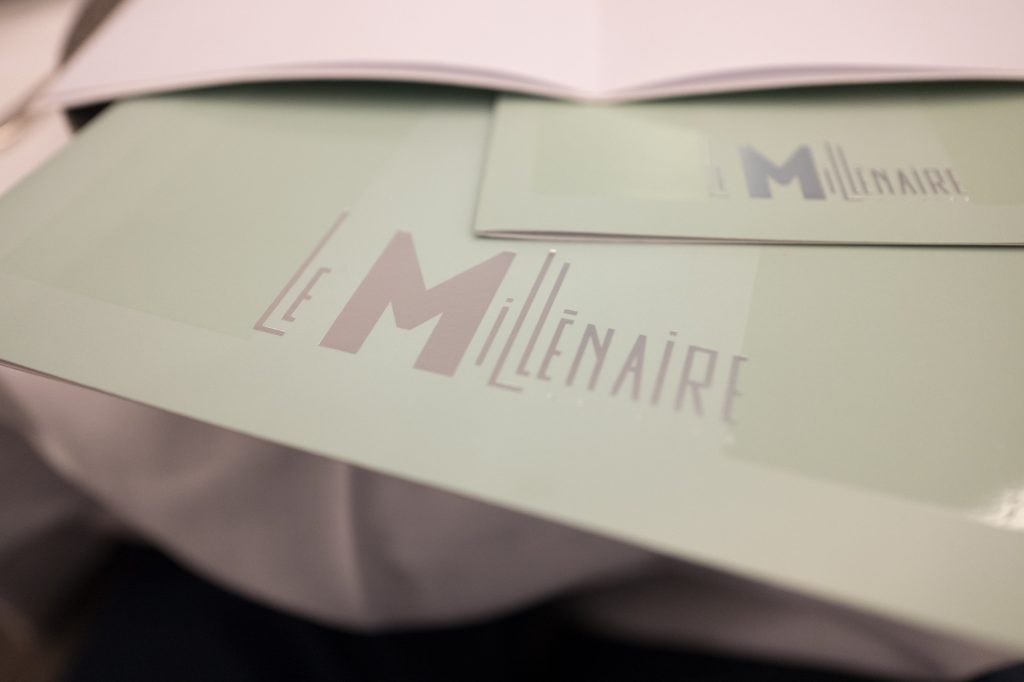 Dinner was at Le Millénaire, a Michelin starred restaurant in the centre of Reims.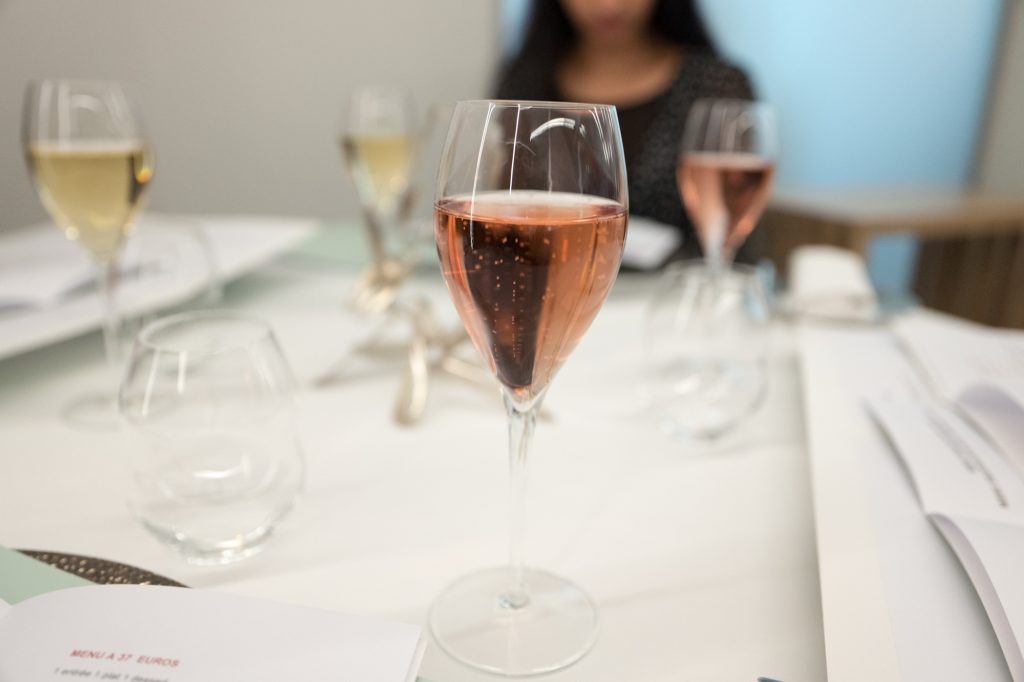 Starting with a glass of pink champagne.
A wonderful fish amuse-bouche to start the meal.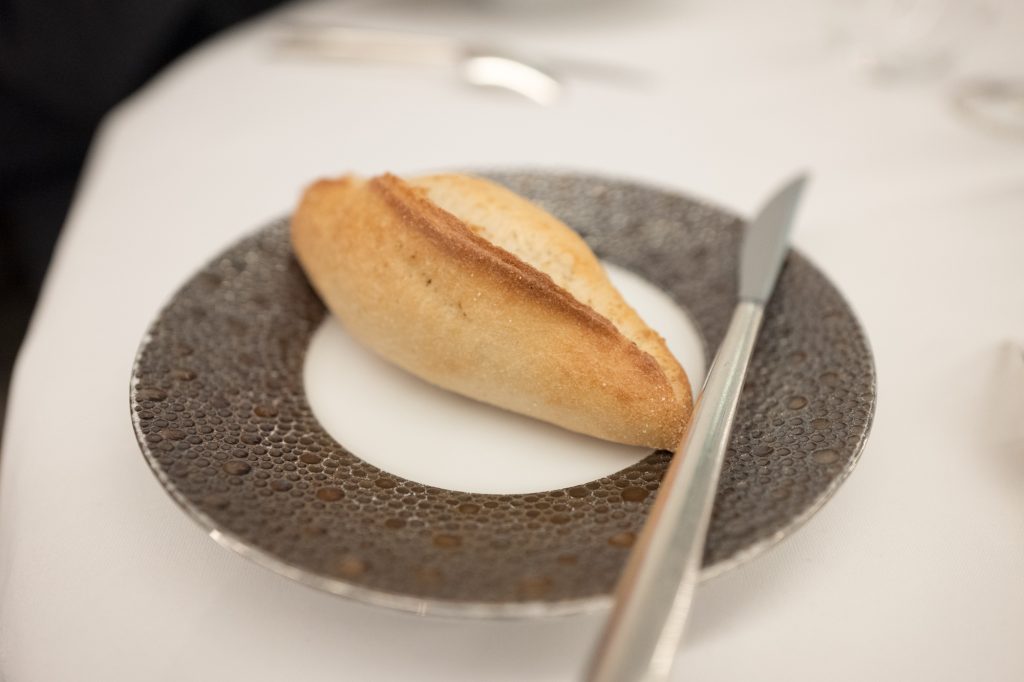 Some bread, perfectly soft centred and wonderful texture on the outside.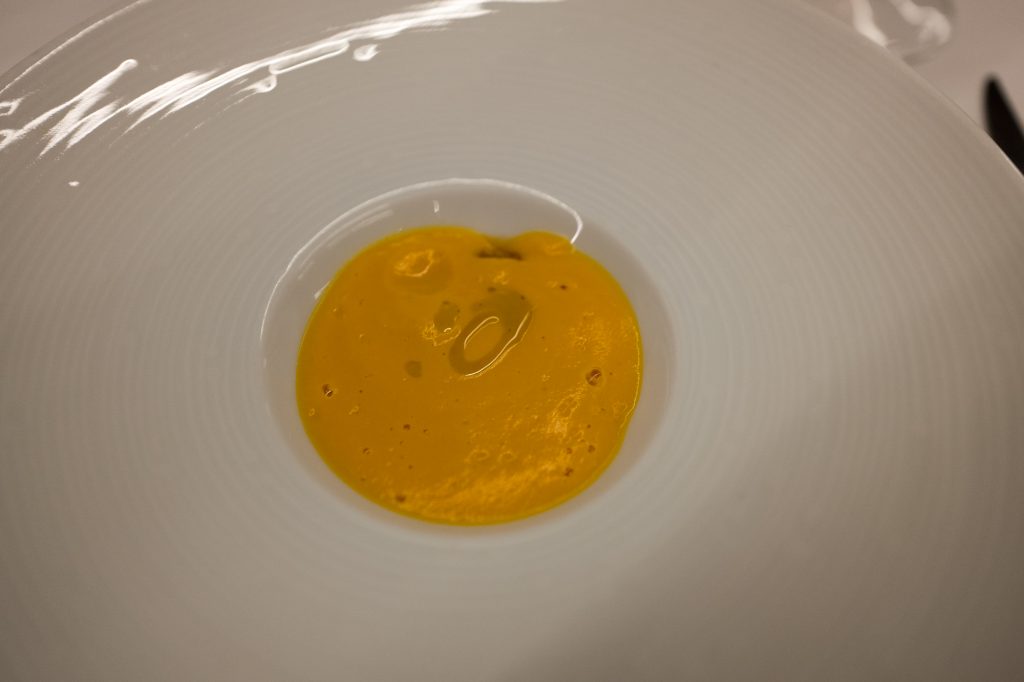 A pumpkin soup course, very tasty.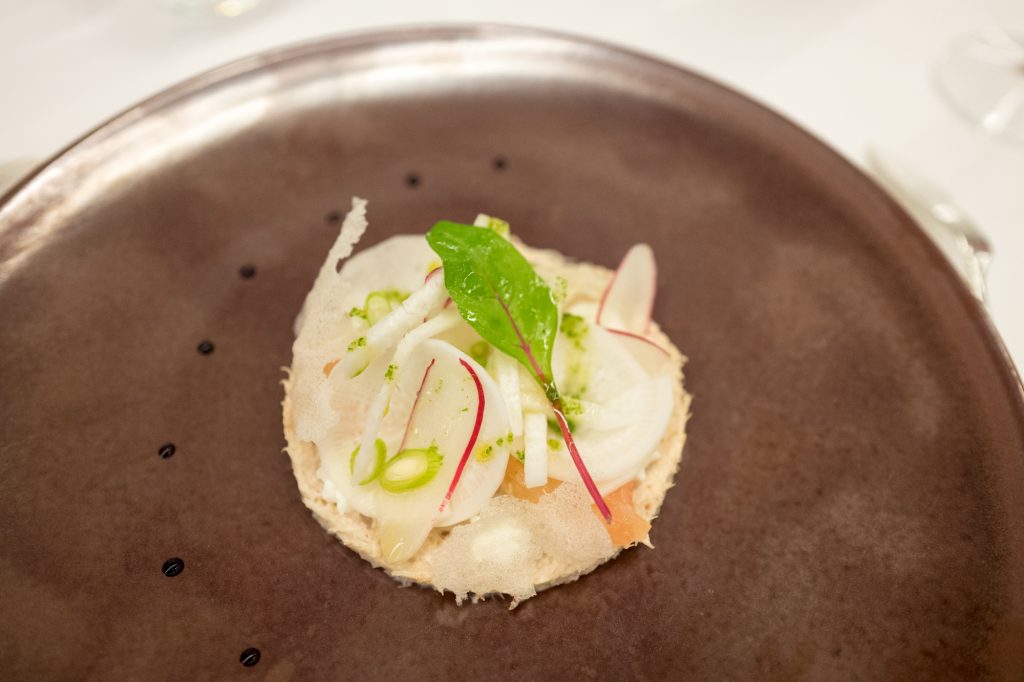 Our second course was fish based salad.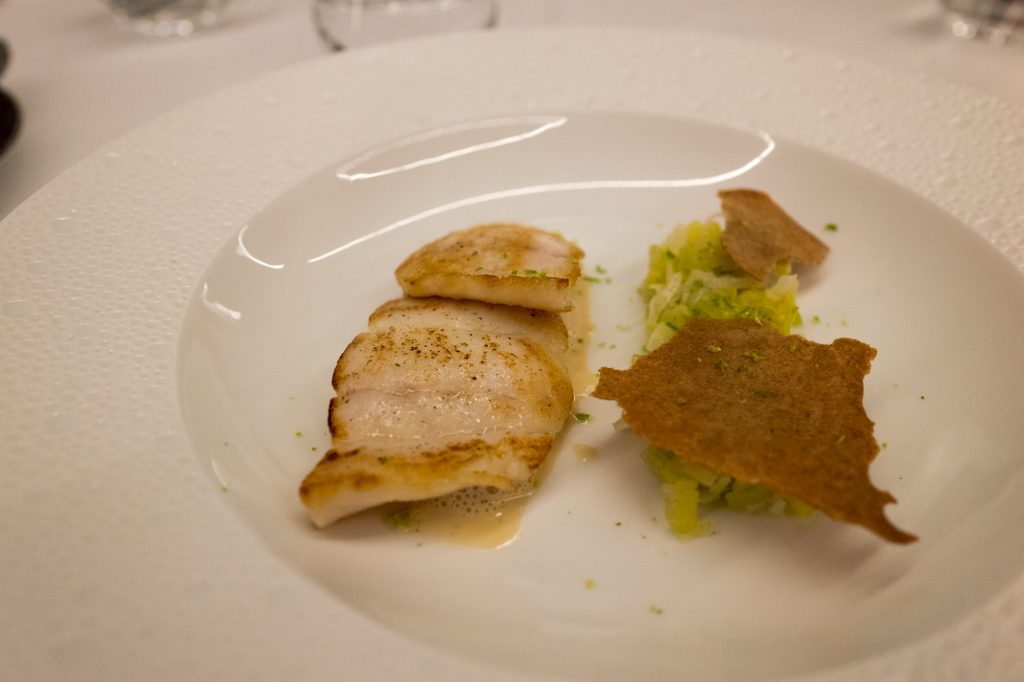 Our third course was white fish, with a simple vegetable side.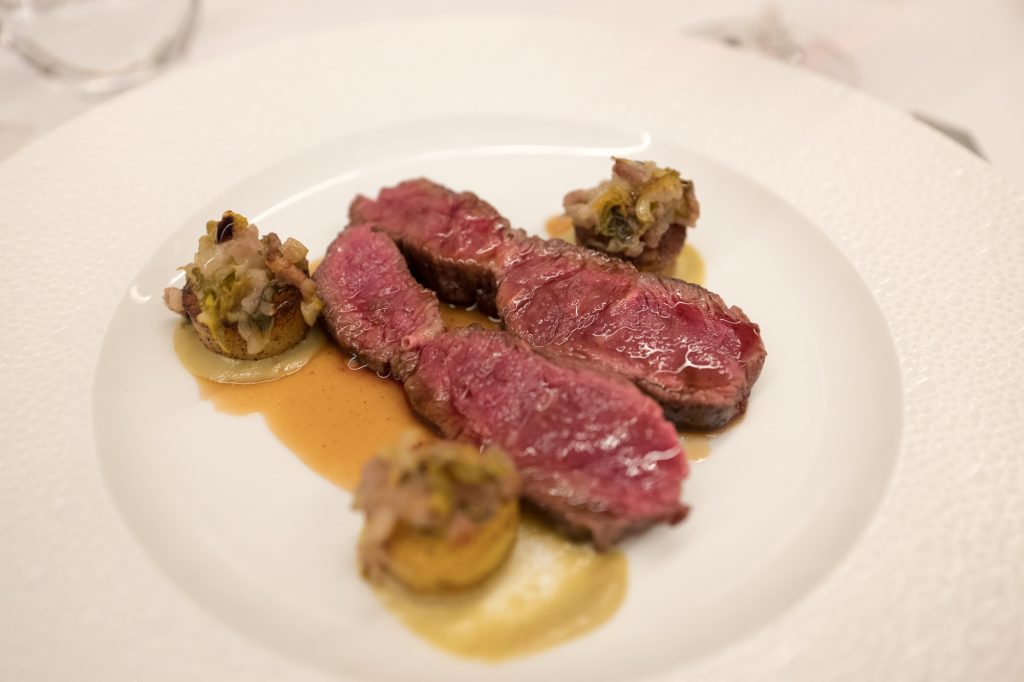 A very rare piece of meat for the main but of course it tasted perfect.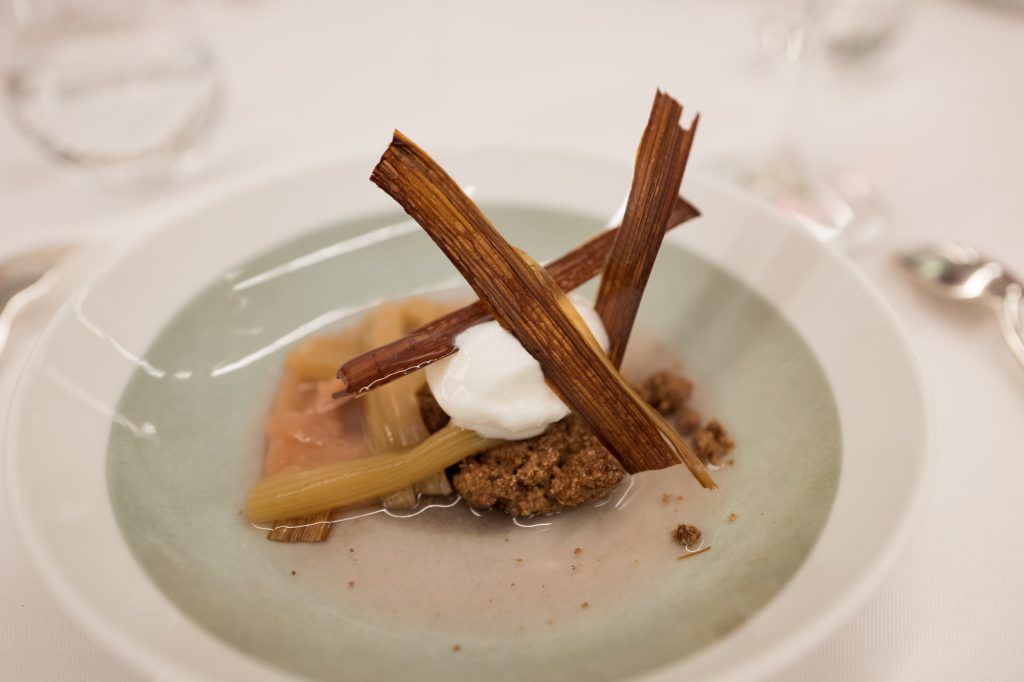 A rhubarb dessert, I'm not really a fan, but of course when it is Michelin starred it usually tastes so much better.
Some petite-fours to finish. To conclude I highly recommend a visit to Le Millénaire, the atmosphere, service, wine and of course food were all excellent.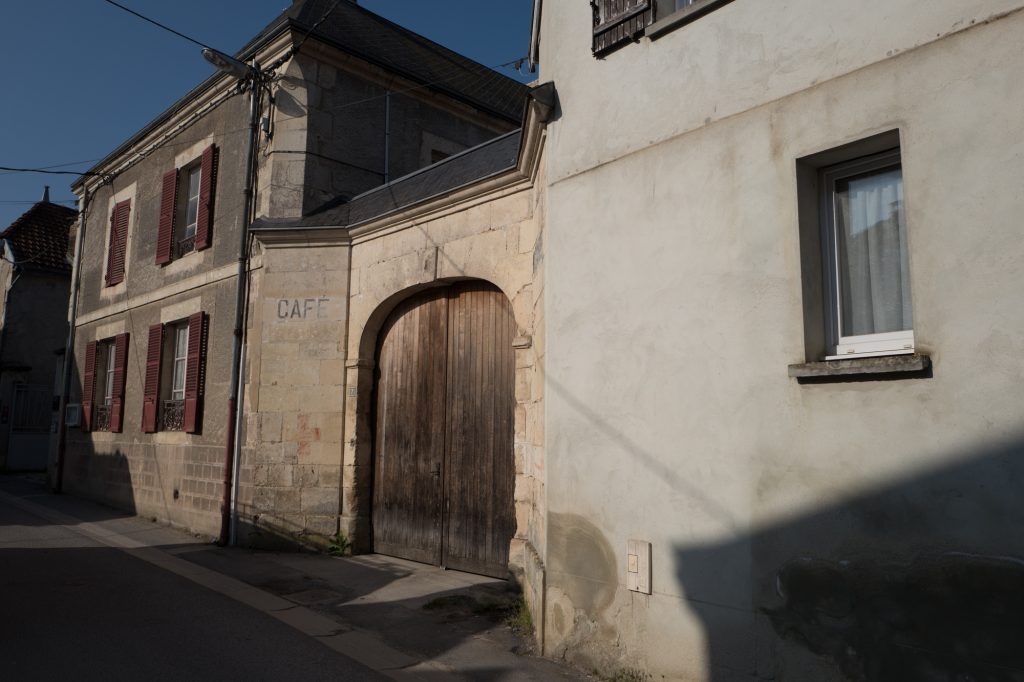 The next morning we leave Riems and travel to champagne country, we visit a small village, it was so cute and exactly as you would picture a small French village.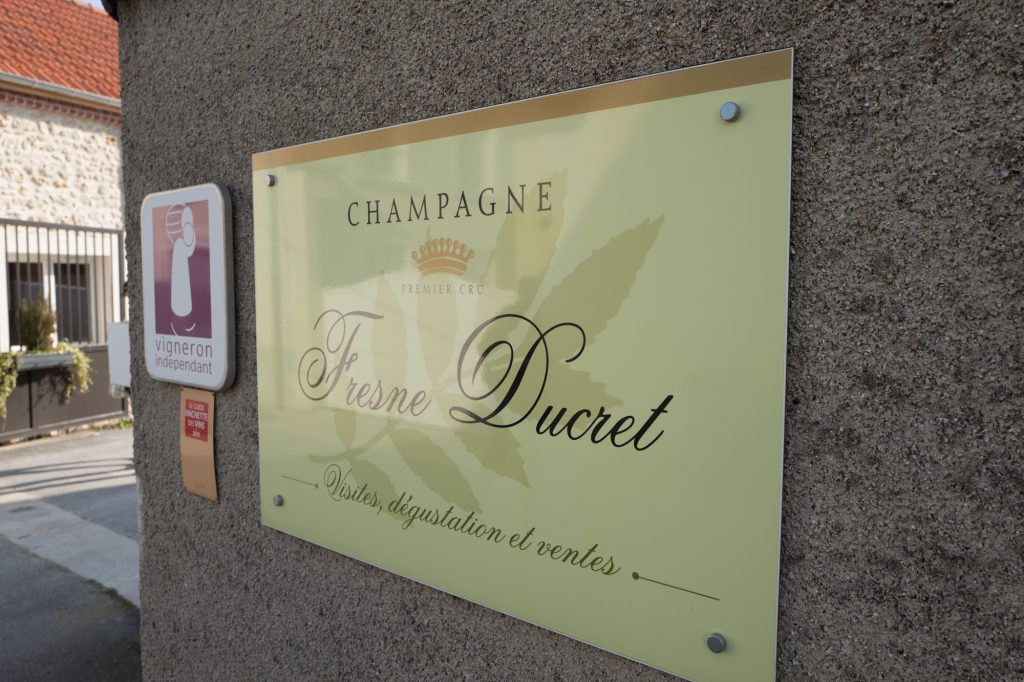 Our stop is Champagne Fresne Ducret a very small and exclusive champagne house.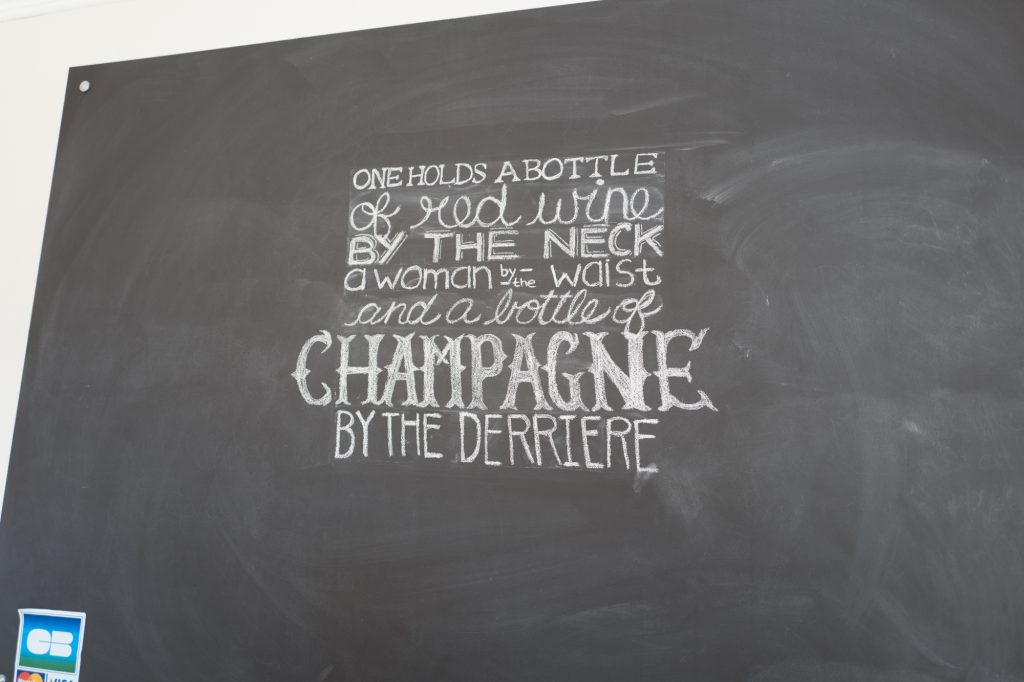 Inside we find the perfect quote, we meet the champagne makers wife and she gives us a tour of their champagne setup.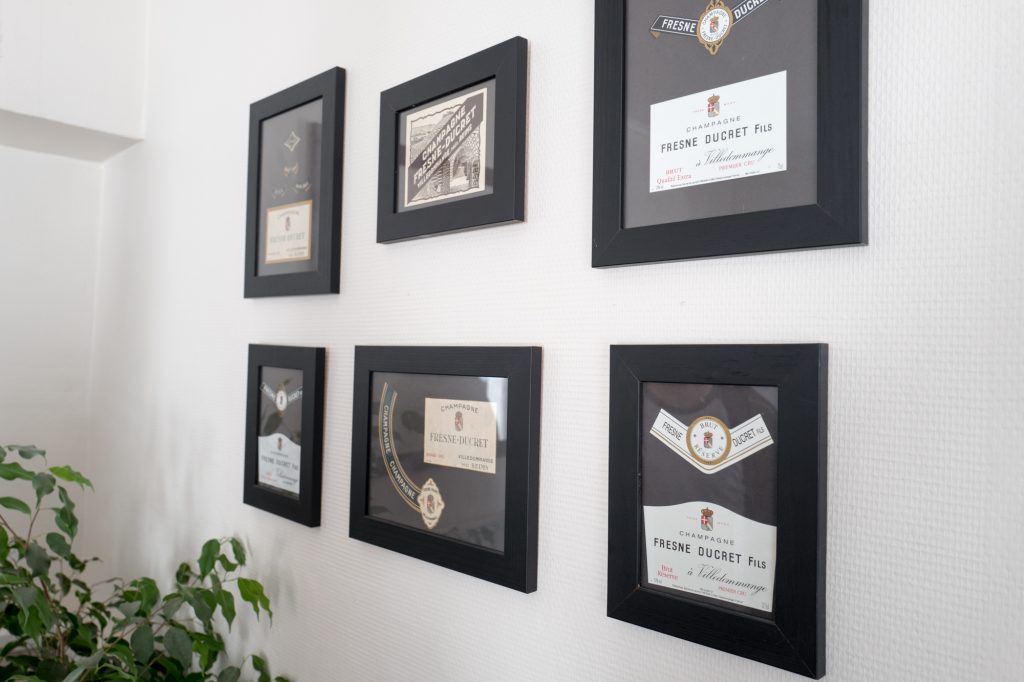 Bottle labels of some of their previous vintages.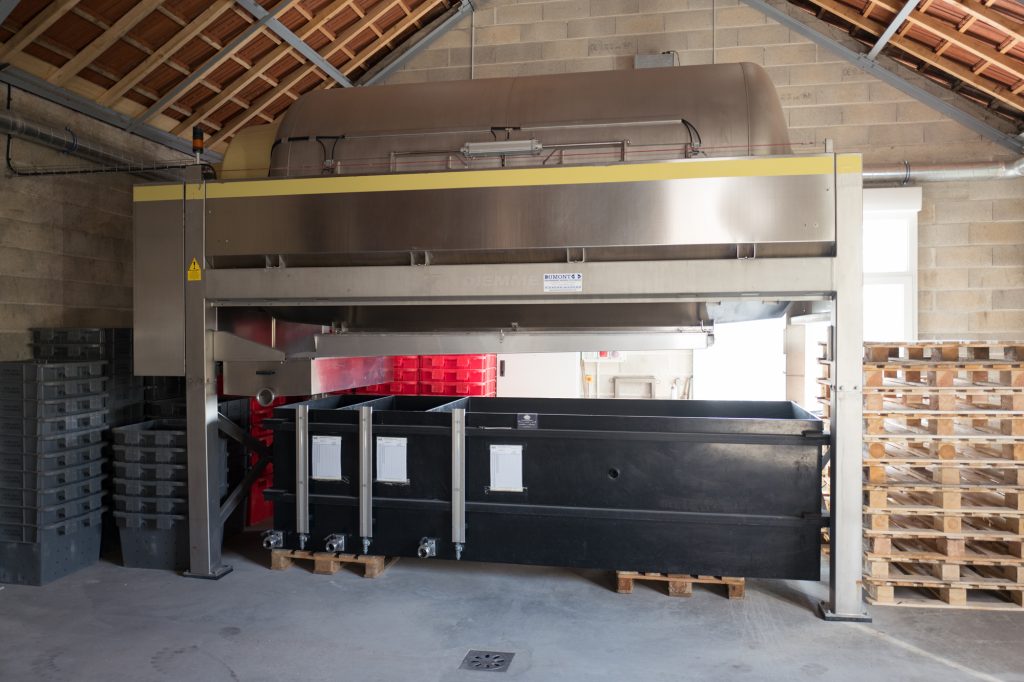 The grape pressing machine to produce the champagne.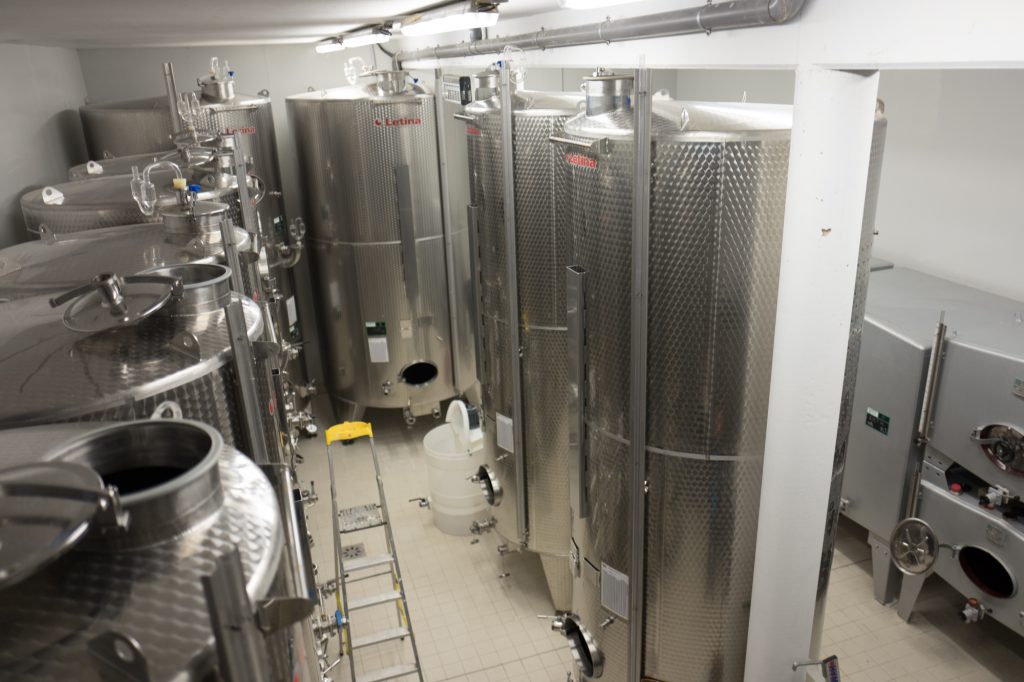 The wine cylinders to hold the pressed grapes.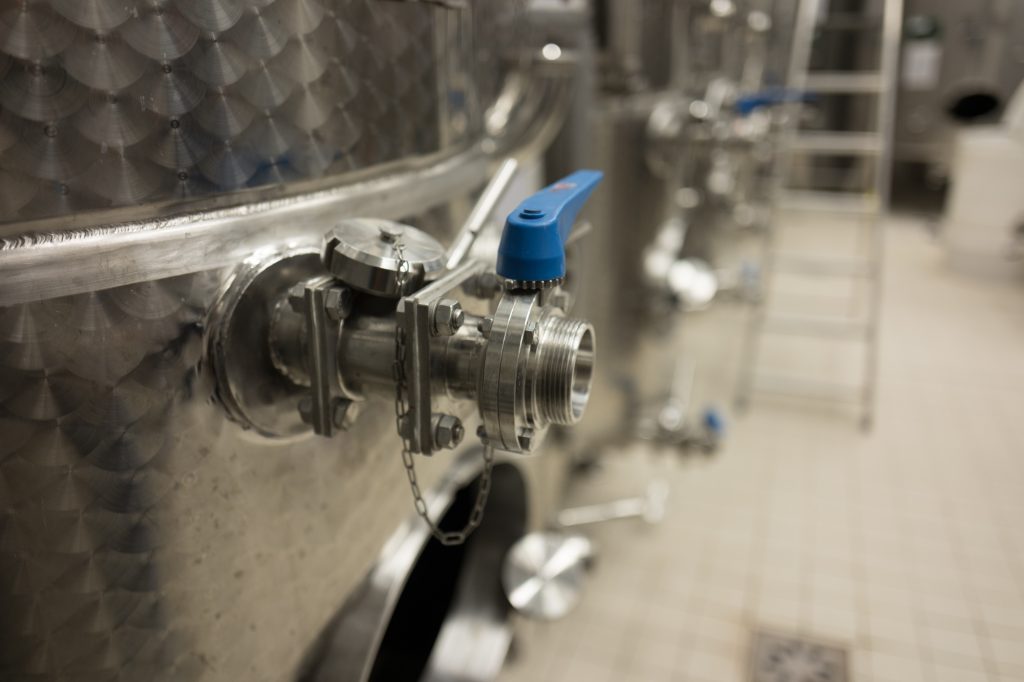 These machines look very industrial, it is wonderful to know that even something has commercial as this can produce something so beautiful in taste. The process of making champagne is very complicated and these cylinders hold different grapes at different times until they are ready to mix, we had no idea how technical the process was.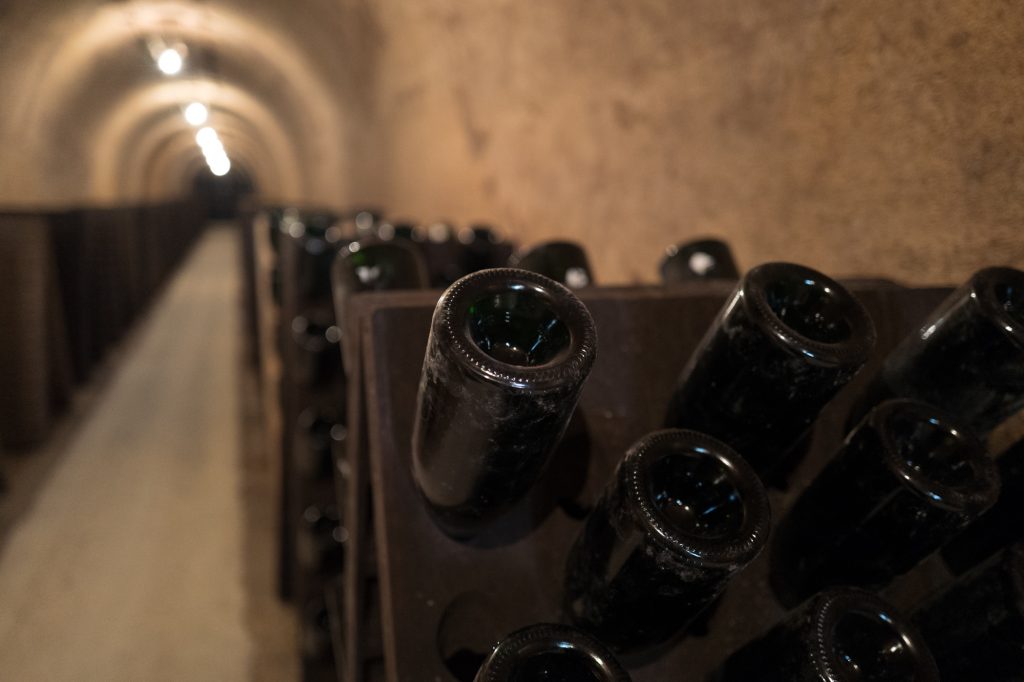 Our tour discussed the full process of making the champagne, it was very impressive to visit their cellar, it was huge, I have never seen so much champagne in my life.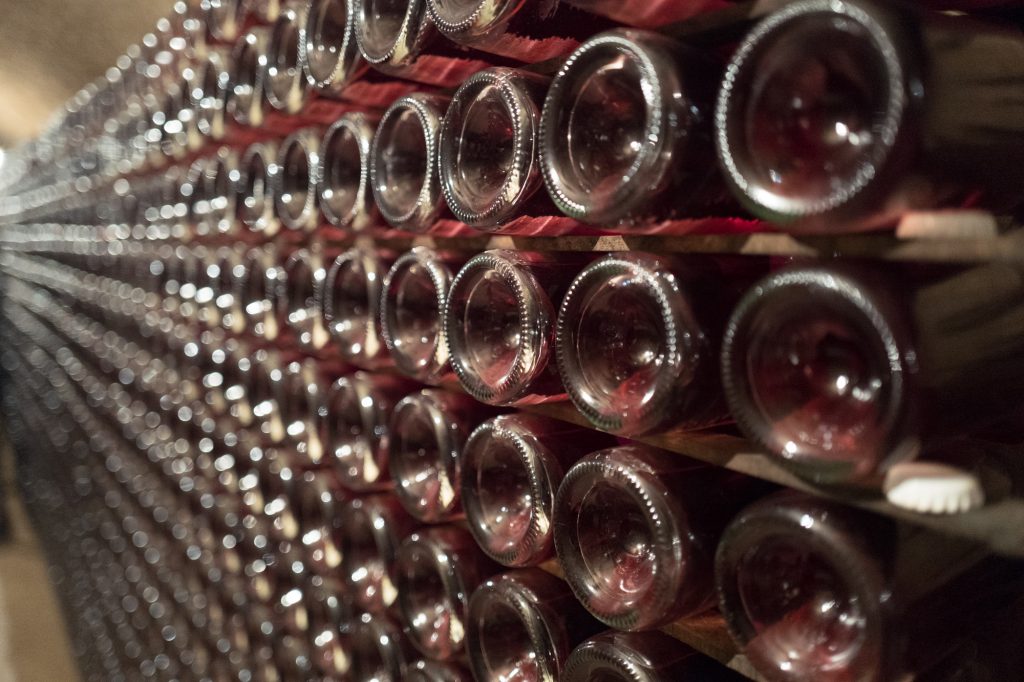 A rose champagne dream, just lines of pink bottles.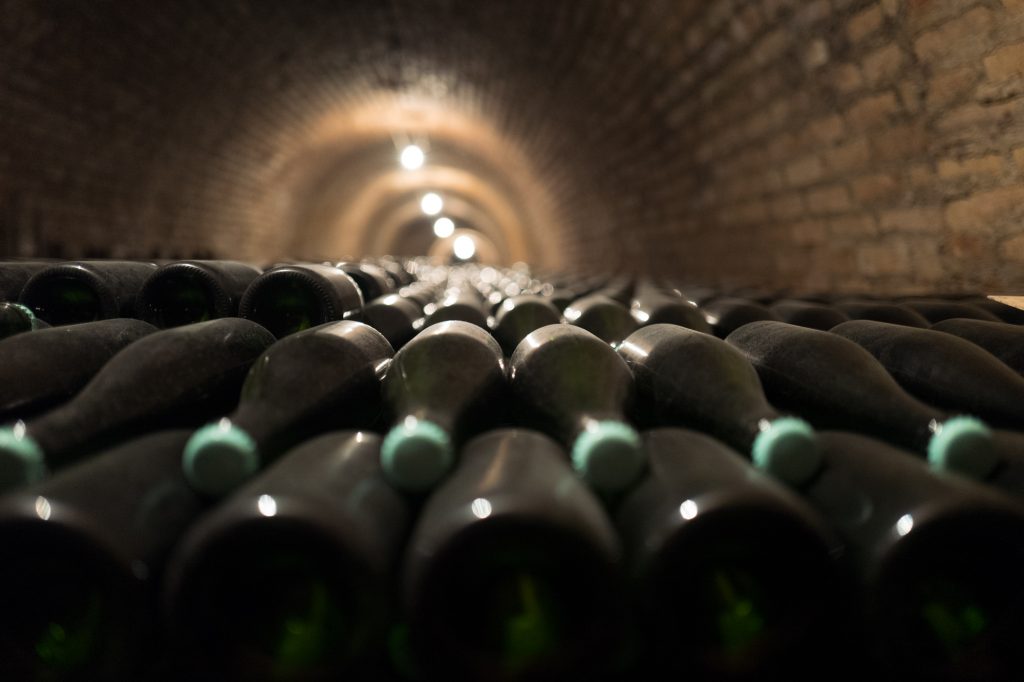 This picture of bottles was the length of their extremely long tunnel and it was 7 feet high, a sea of champagne.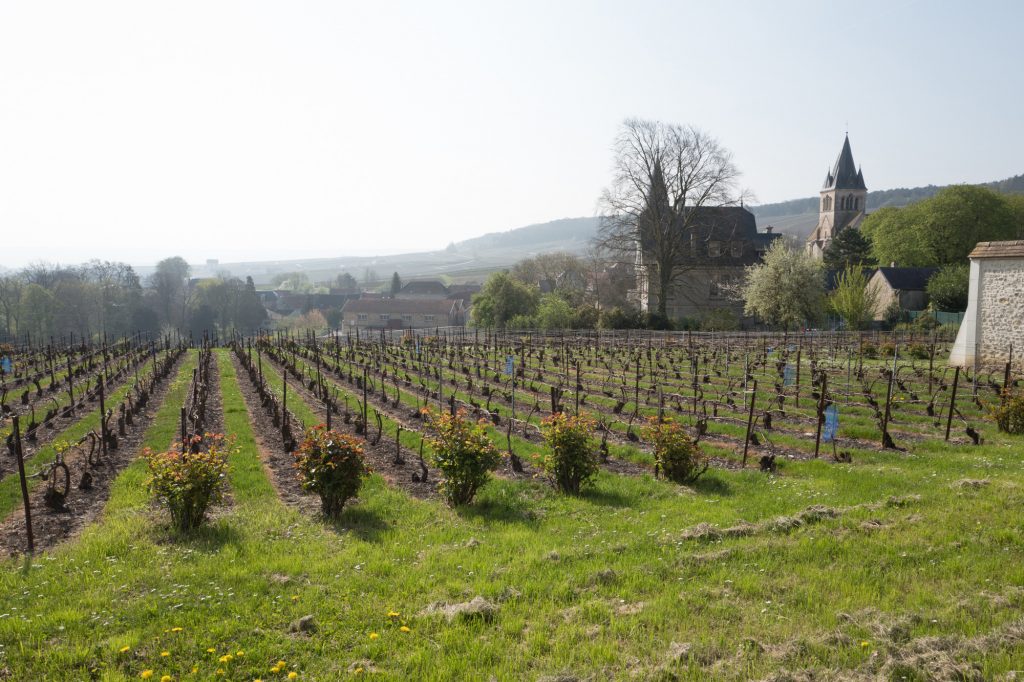 Outside we got to see some of their land, the grapes growing on the vines.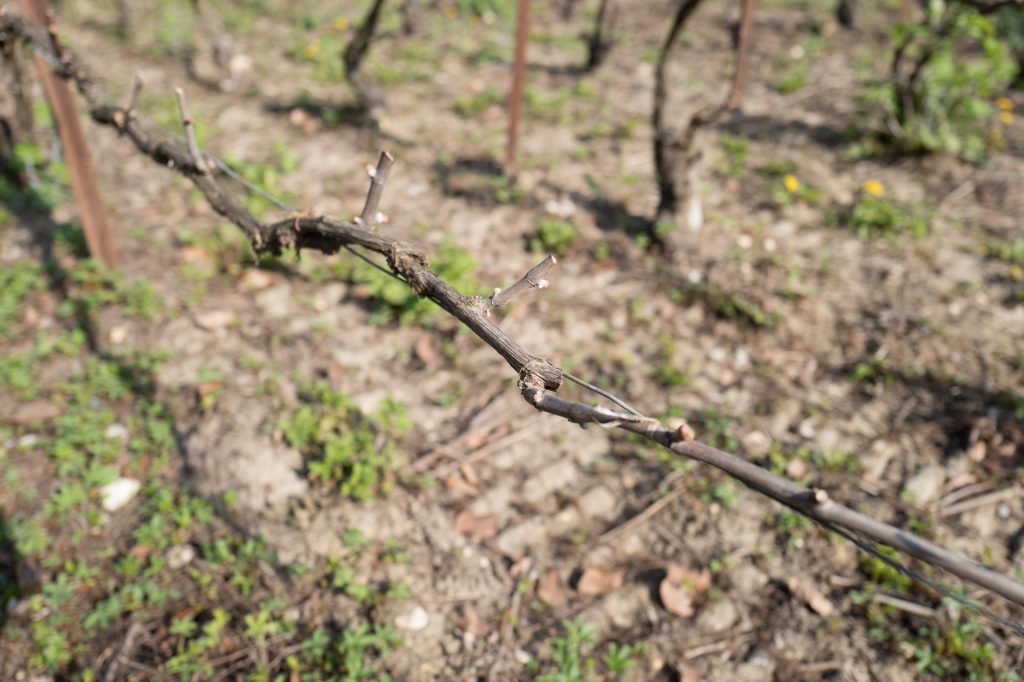 After the tour was complete we sat down and tasted some wonderful champagne, we really enjoyed the tour at Fresne Ducret, it was very personal, relaxed but informative. We ended up purchasing 30 bottles, a great first stop.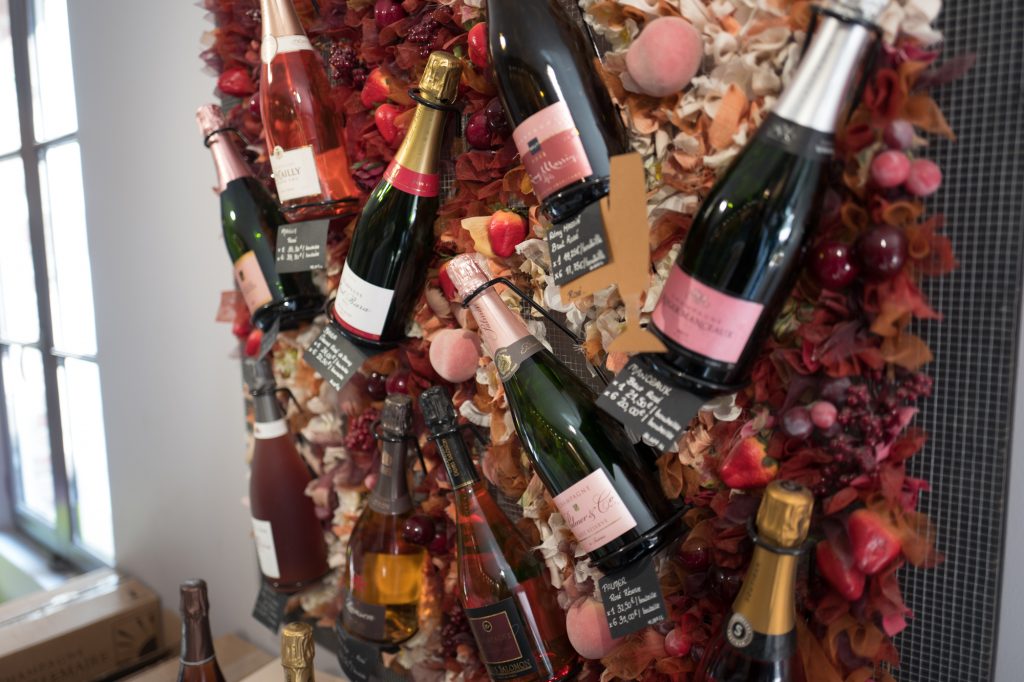 My next stop was AU36 wine bar and shop, they had a great selection of champagne, excellent lunch sharing plates and of course great champagne you could try with your lunch.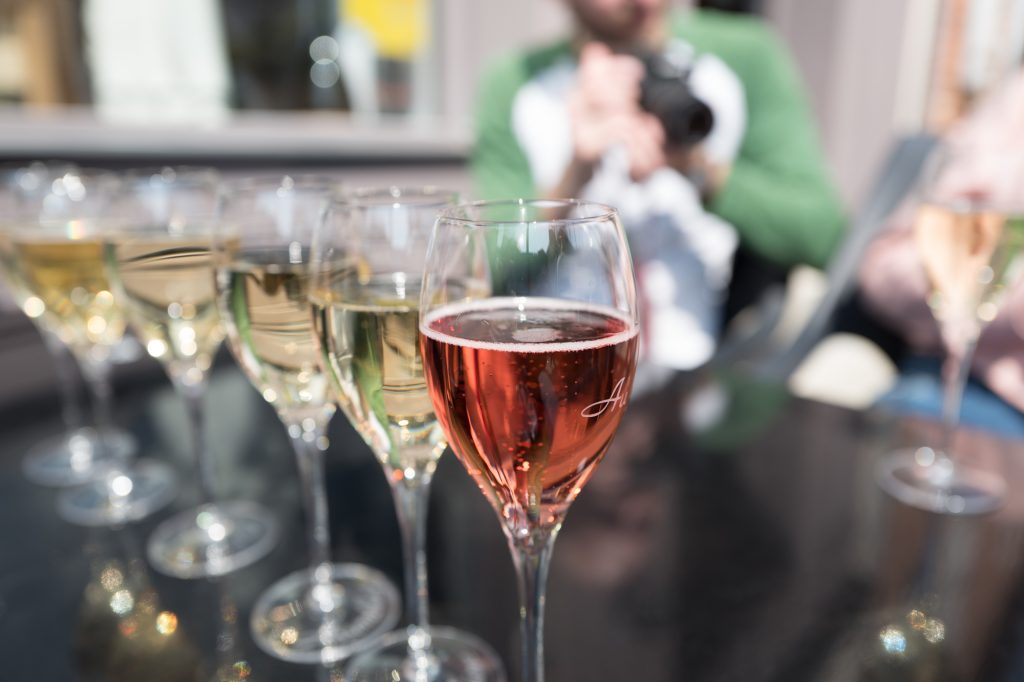 The champagne tasting was great, we shared six glasses between two of us at lunch. Each glass was a different grape and so you got to really see how the grapes could work together. For example one glass might be a heavy chardonnay mix another might be 100% point noir, learning to spot the difference and what you preferred was the aim.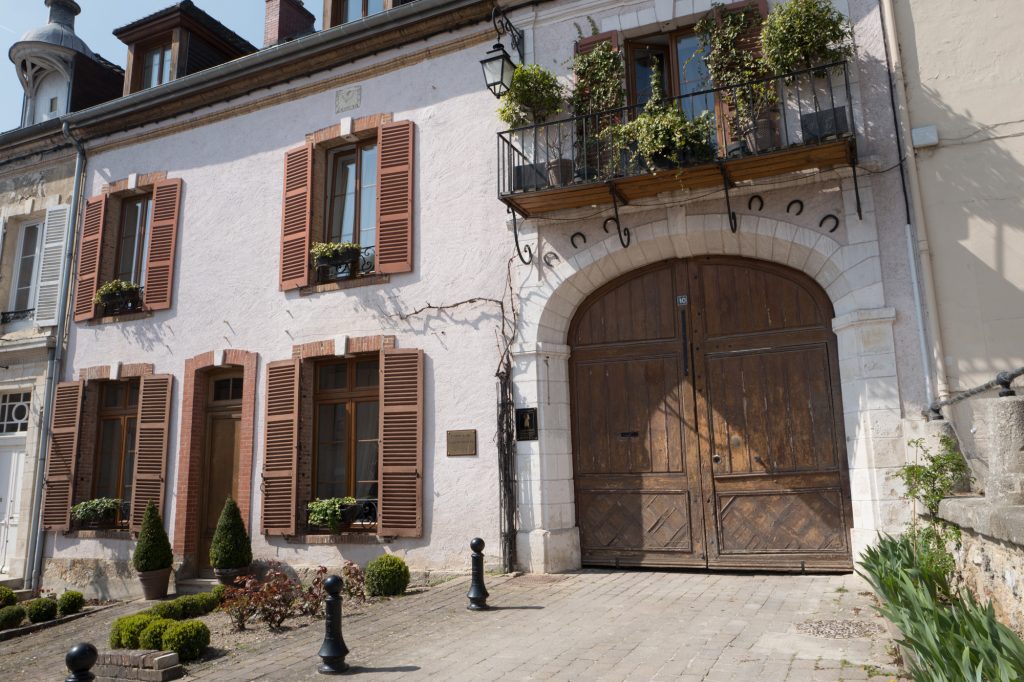 The village where AU36 was located was very pretty, it was well worth a stop.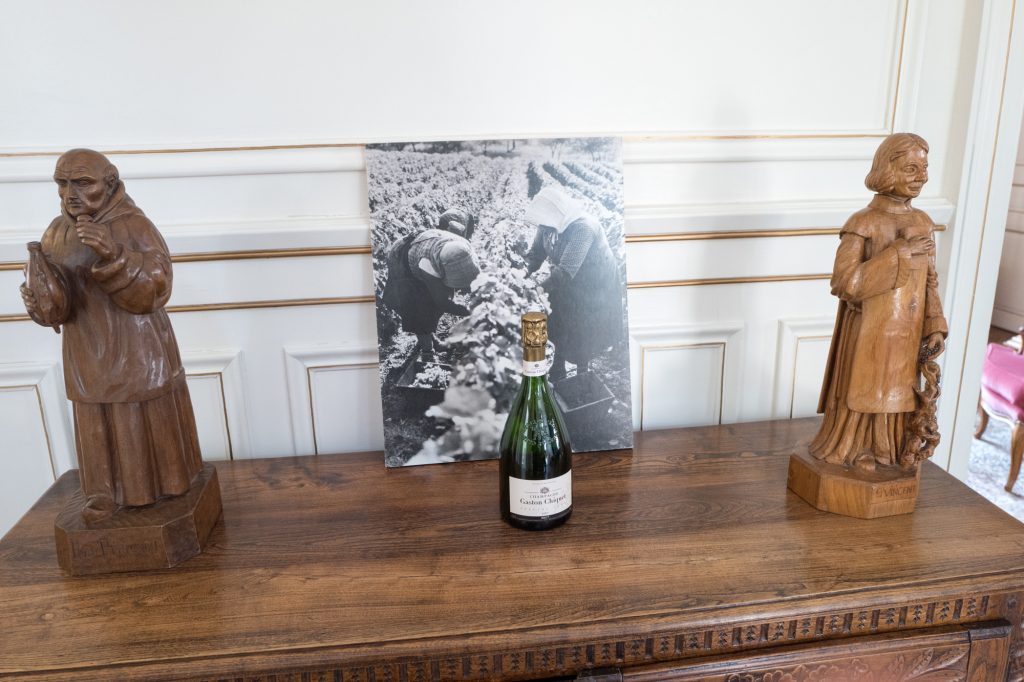 Our next stop was Gaston Chiquet champagne house for a tasting with the owner. It was wonderful but I only took one picture. It was in a very grand house and we purchased 9 bottles. 🙂 A wonderful champagne of very high quality, I will be going back on my next visit.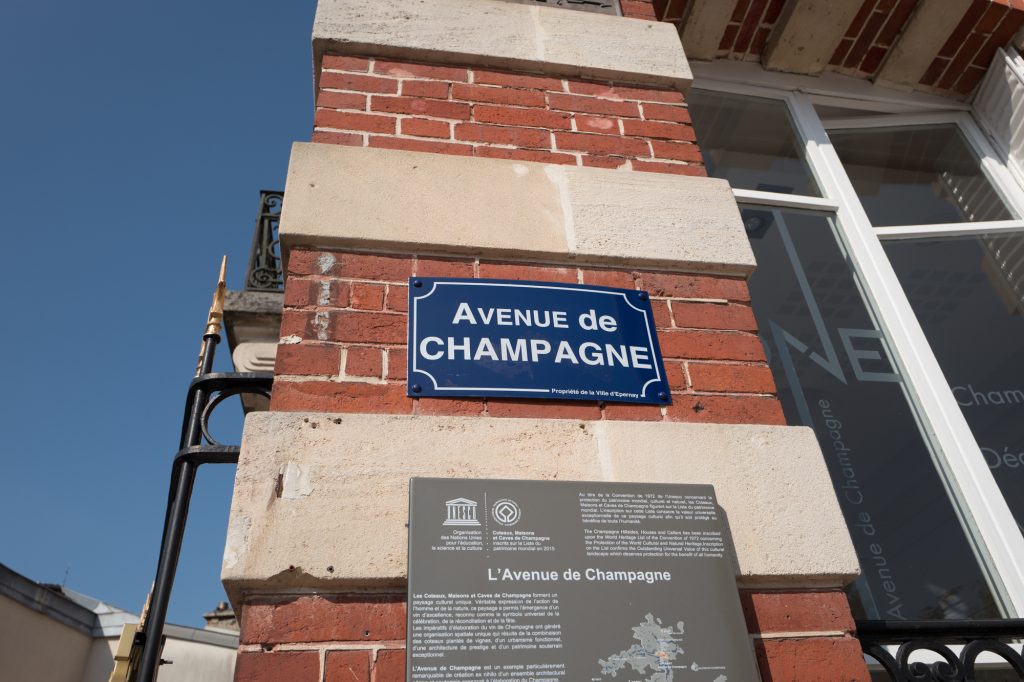 We stumbled across the well named Avenue de champagne which is a road filled with champagne houses in Epernay.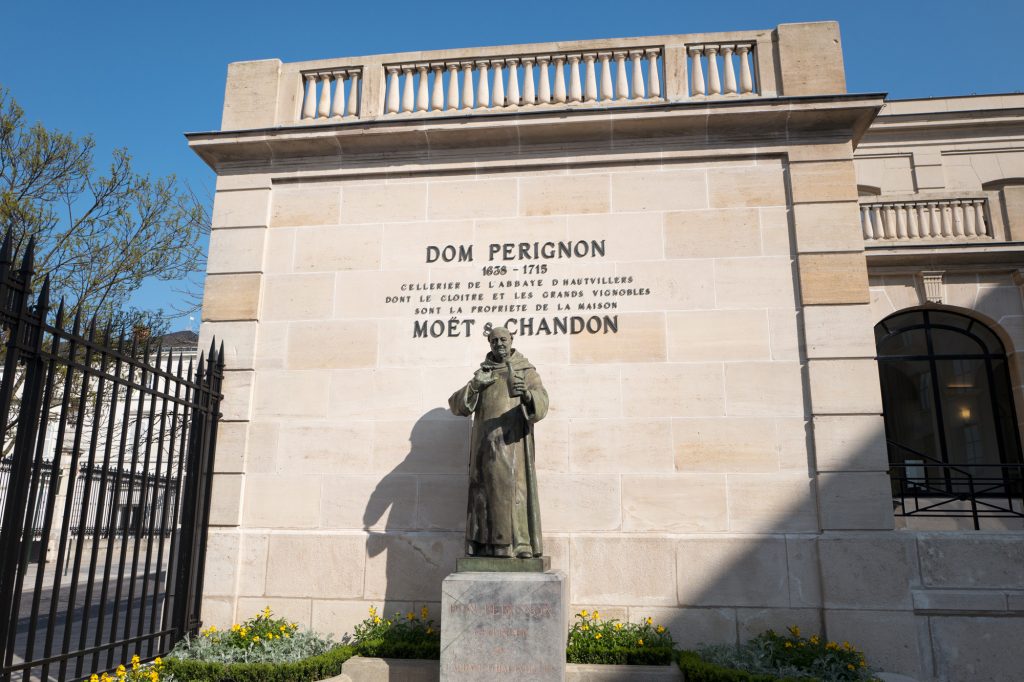 We then decided to pop into the Moet & Chandon headquarters, you will find the Dom Perignon monk outside.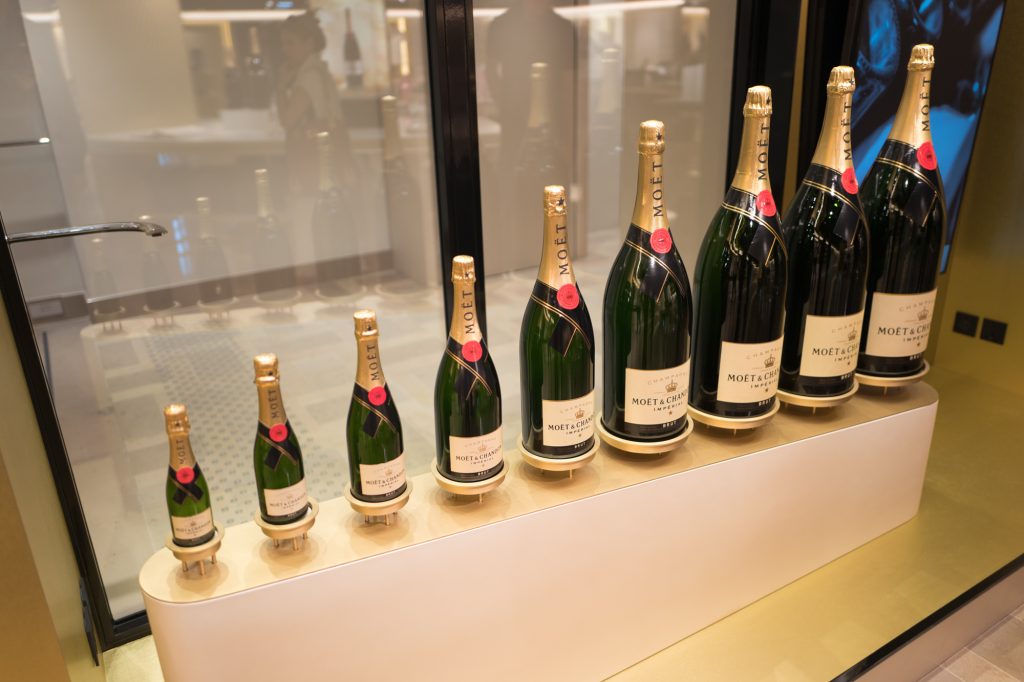 Inside was a very glossy and commercial showroom. As fun as it was I wasn't impressed by the pricing, bottles were either the same price as the UK or more expensive. I purchased one bottle to mark the visit but that was it.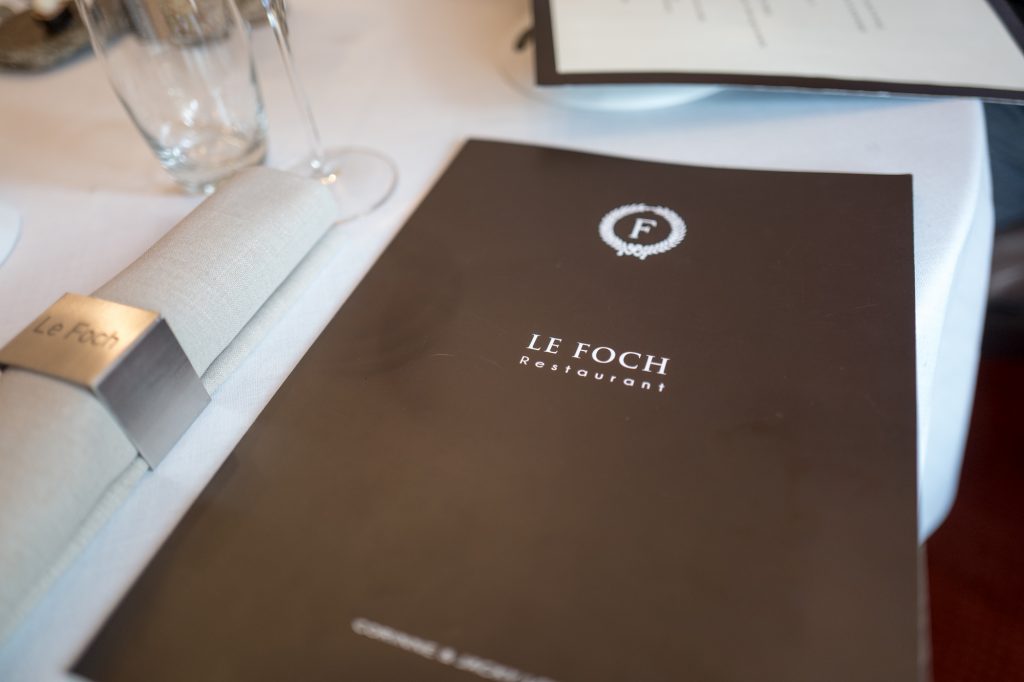 Now it is time for dinner, we head to the Michelin starred Le Foch restaurant in Reims. The restaurant has white crisp table clothes and looks very smart.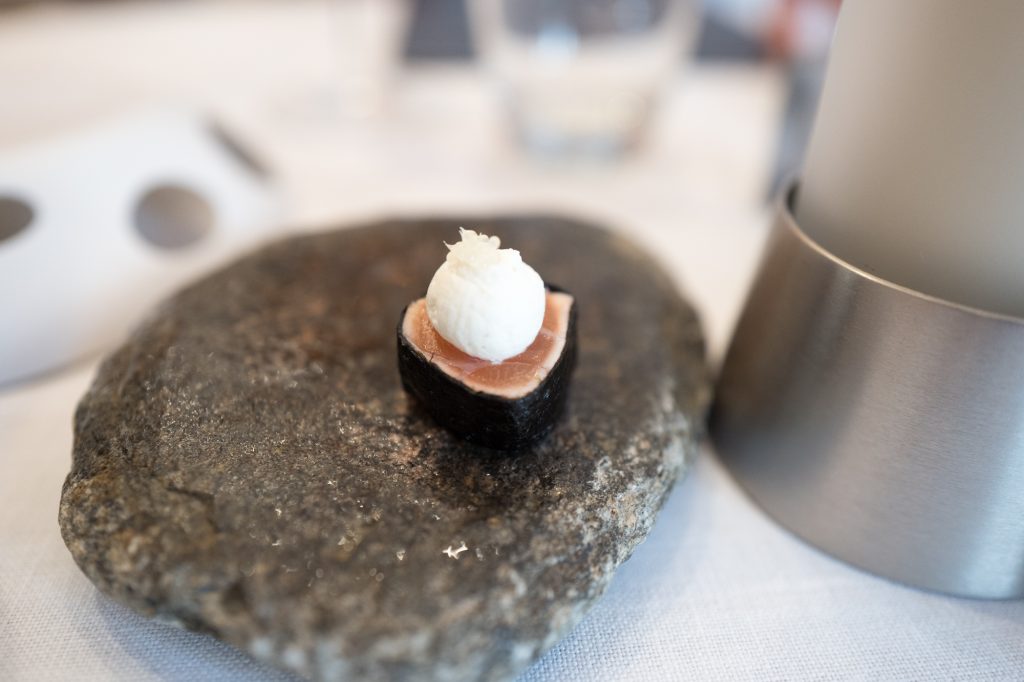 A lovely piece of tuna arrives to start the meal.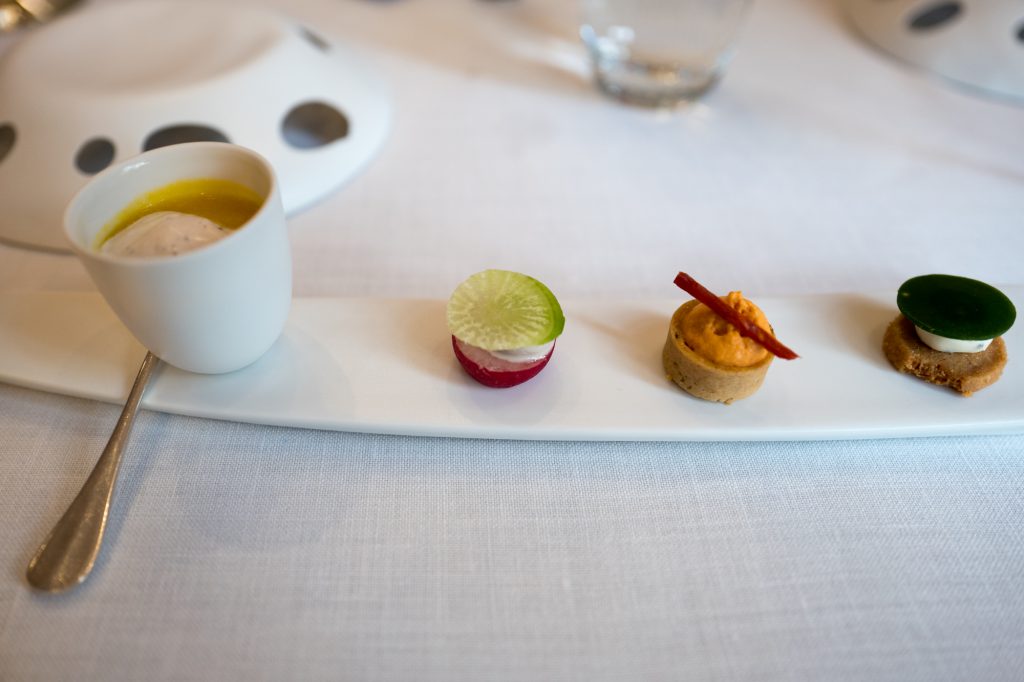 A selection of snacks to go with the soup.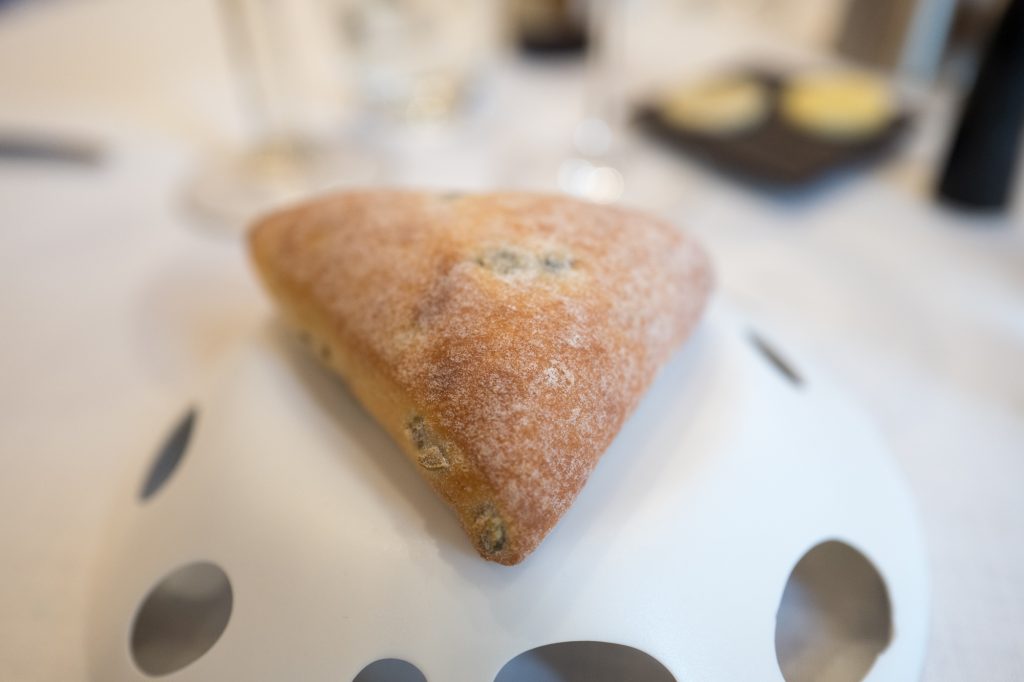 Some olive bread in a triangle shape on a very cool plate 🙂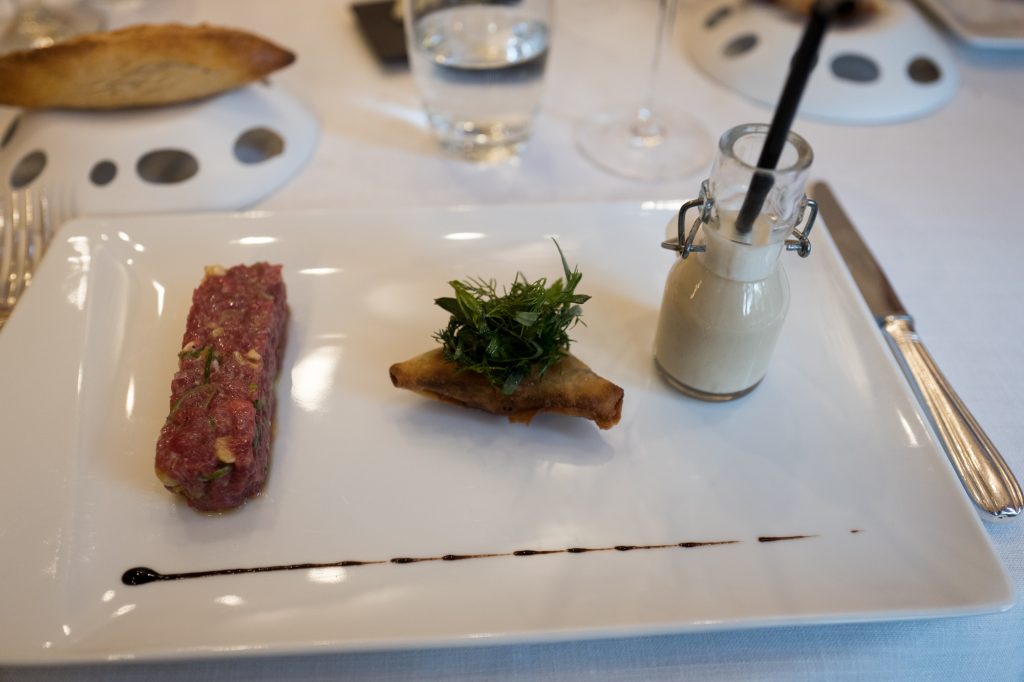 My starter including beef tartare and warm Foie Gras made to look like a milk shake, it was so tasty.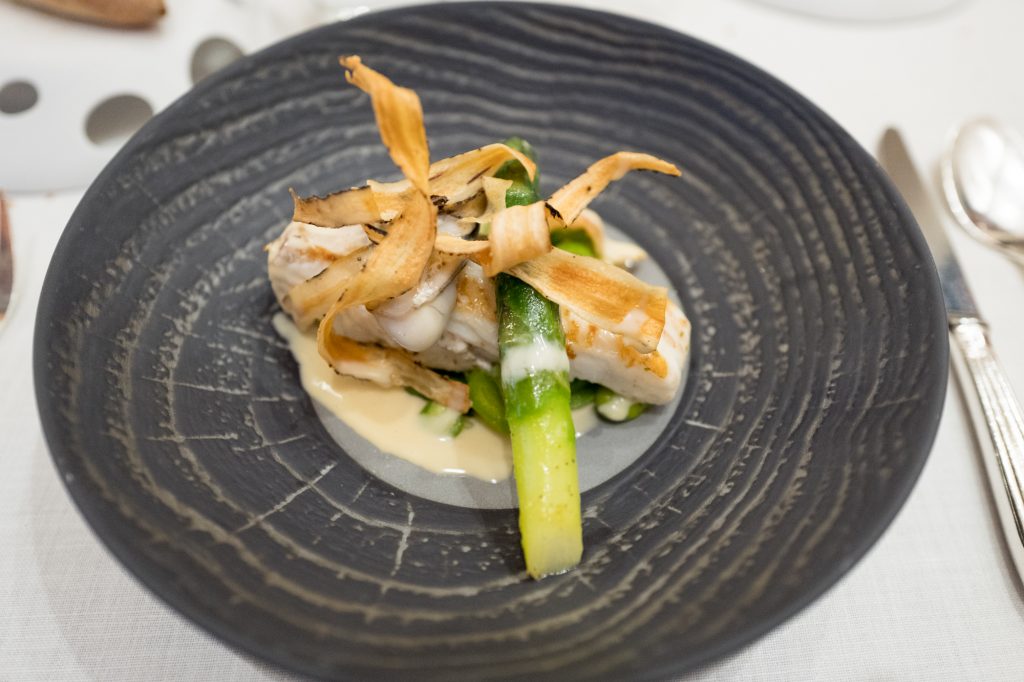 A very well presented fish course was next.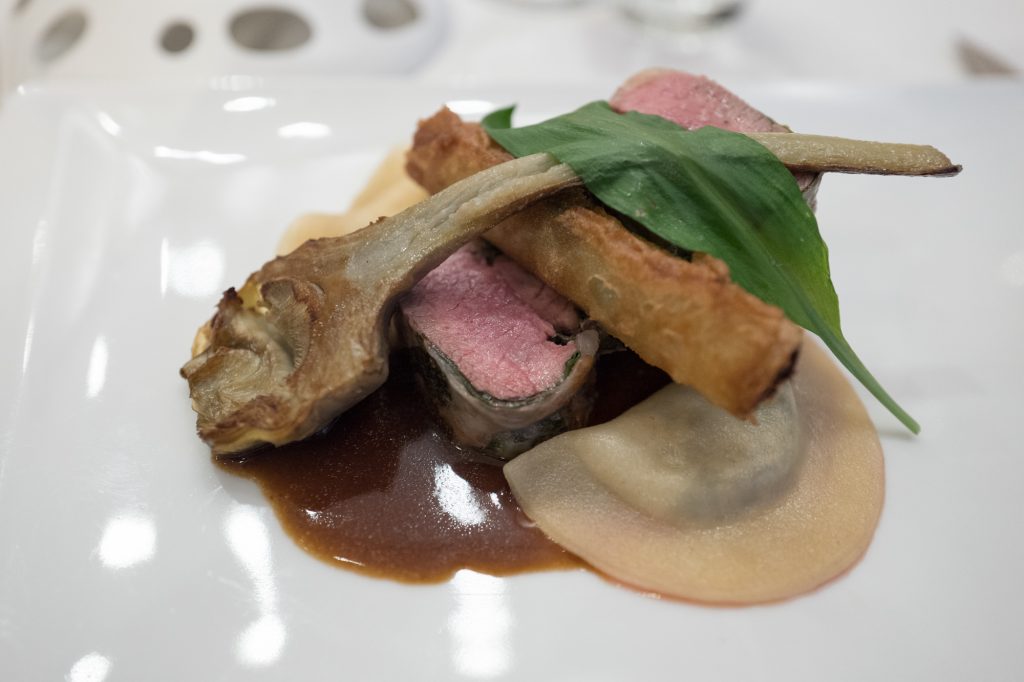 The lamb course followed with ravioli and a rather large piece of vegetable.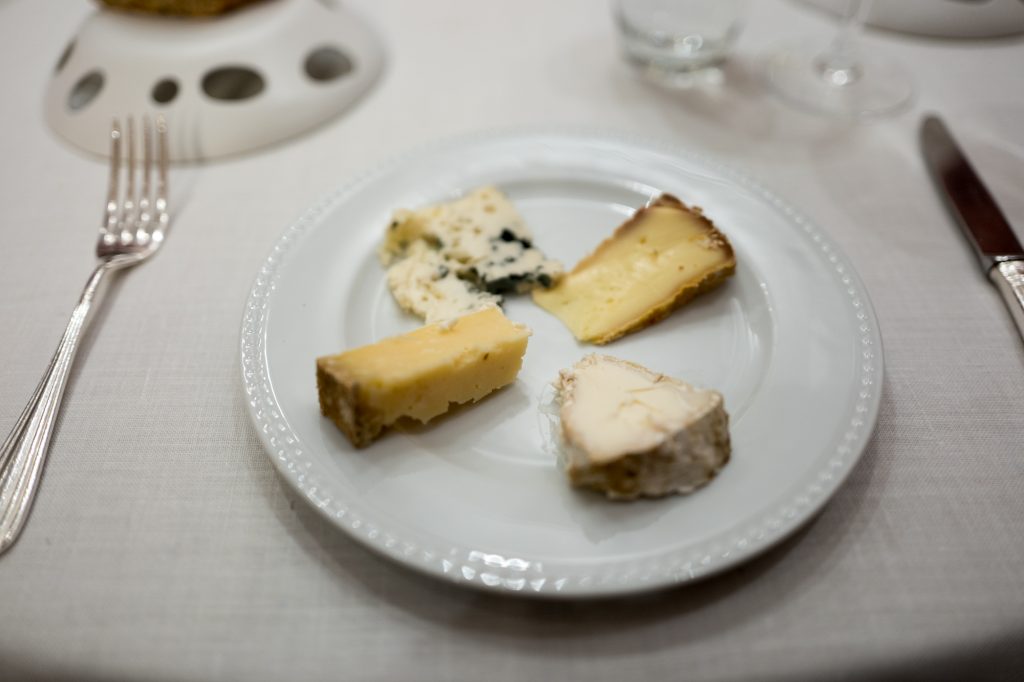 The cheese course was wonderful, I had a mixture and I was very impressed, the blue was so fiery with flavour.
A classic French dessert followed the cheese.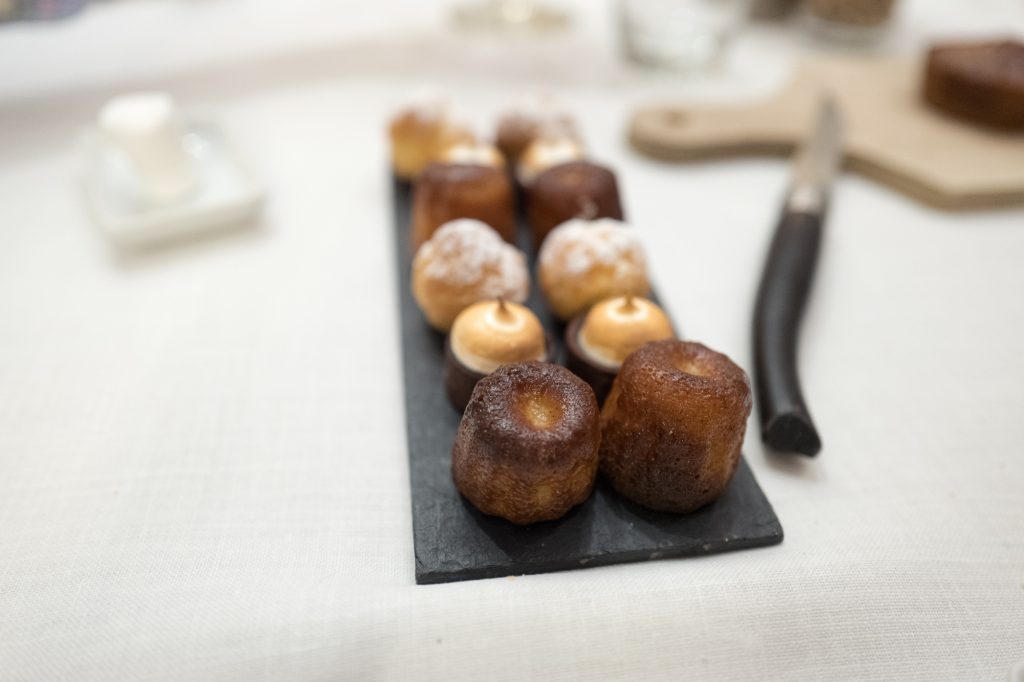 Some petite-fours arrived to finish to the meal.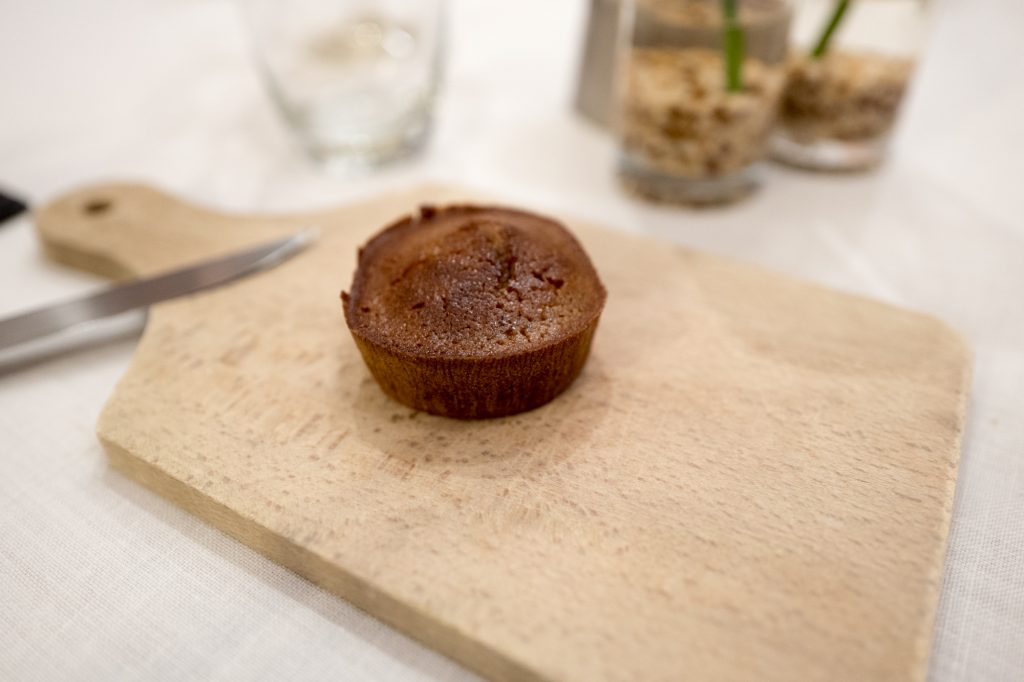 Followed by a piece of very moist cake.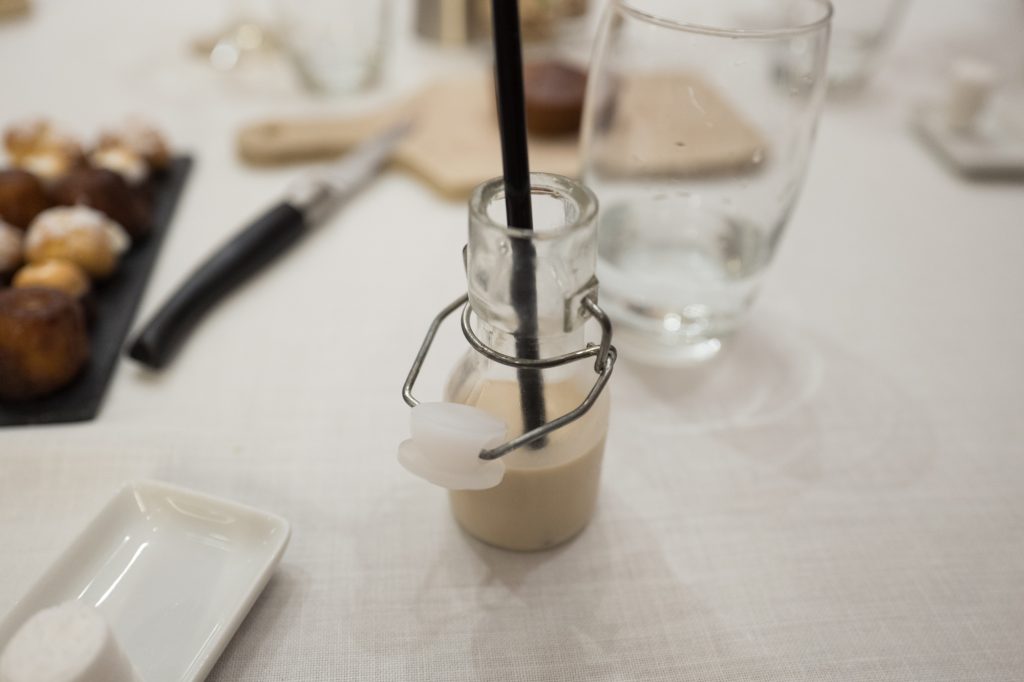 To conclude the meal was a dessert milkshake, which was as wonderful as the first. To conclude Le Foch was a really good meal, the food, service and wine were wonderful. I really enjoyed the tasting menu and it is another place I would visit again.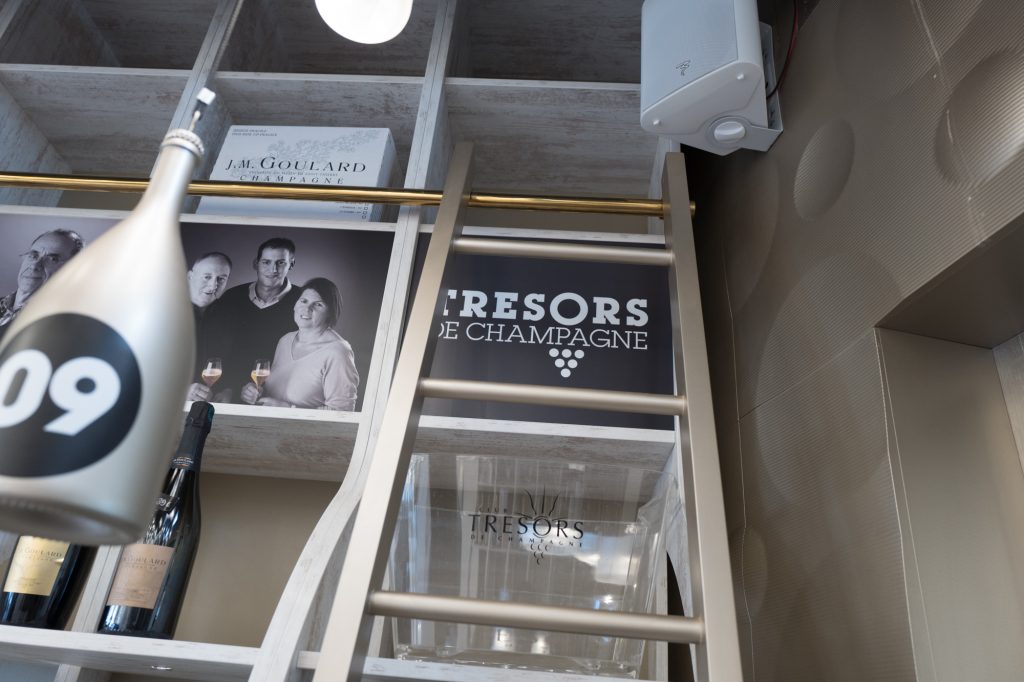 The next morning we visit Tresors de champagne a champagne store in the centre of Reims that was recommend to us by the owner of Gaston Chiquet.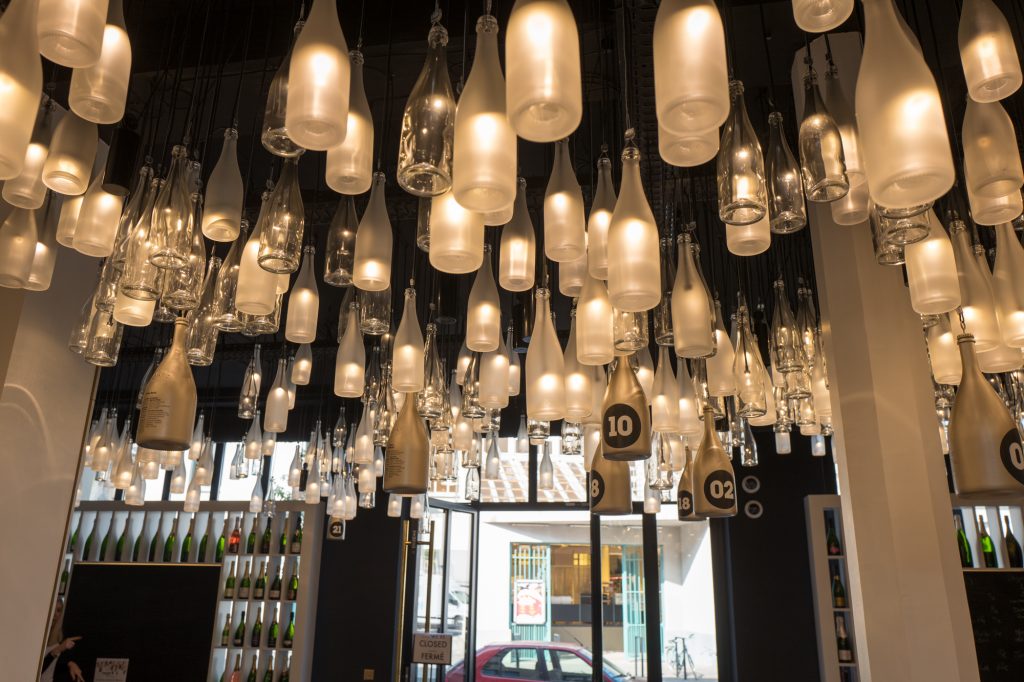 This store is amazing, the ceiling is covered with champagne bottles, some of them have numbers on them and you can pull them down to learn about the champagne on the walls and what region it is from. For example Gaston Chiquet has its own section with matching number. You can then find the bottle and learn about the region that the champagne is grown in.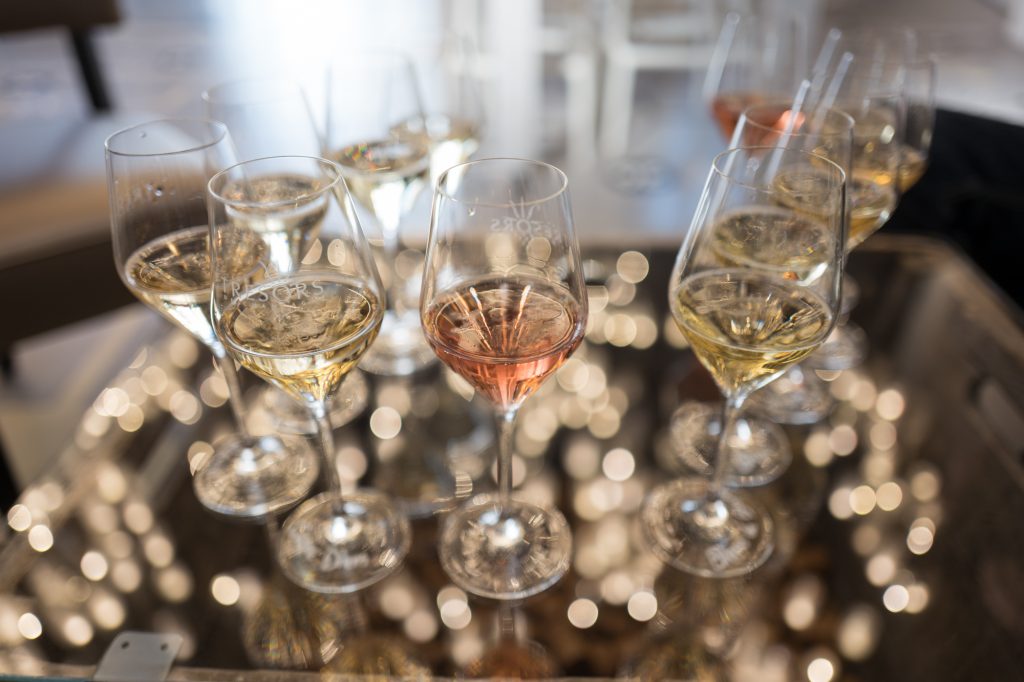 Yes it may be 11am but a tasting was required, don't worry we only had three glasses each.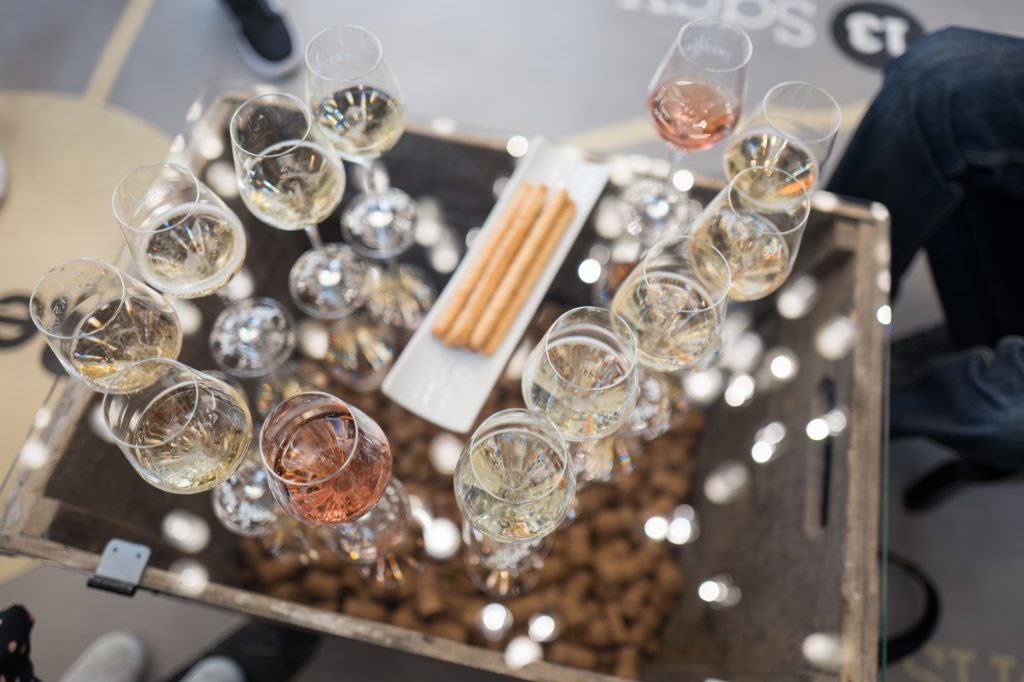 The glasses just shined in the space, with the bottles reflecting above.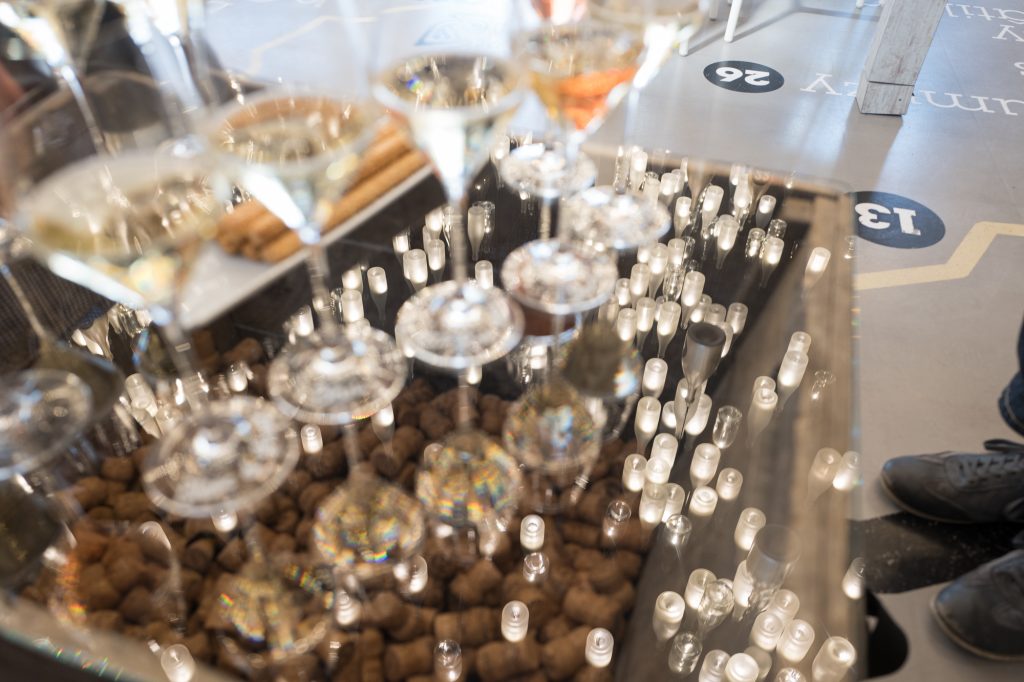 The table we sat on was full of champagne corks, there was a hole on the table so each time you finished a bottle you could pop the cork in.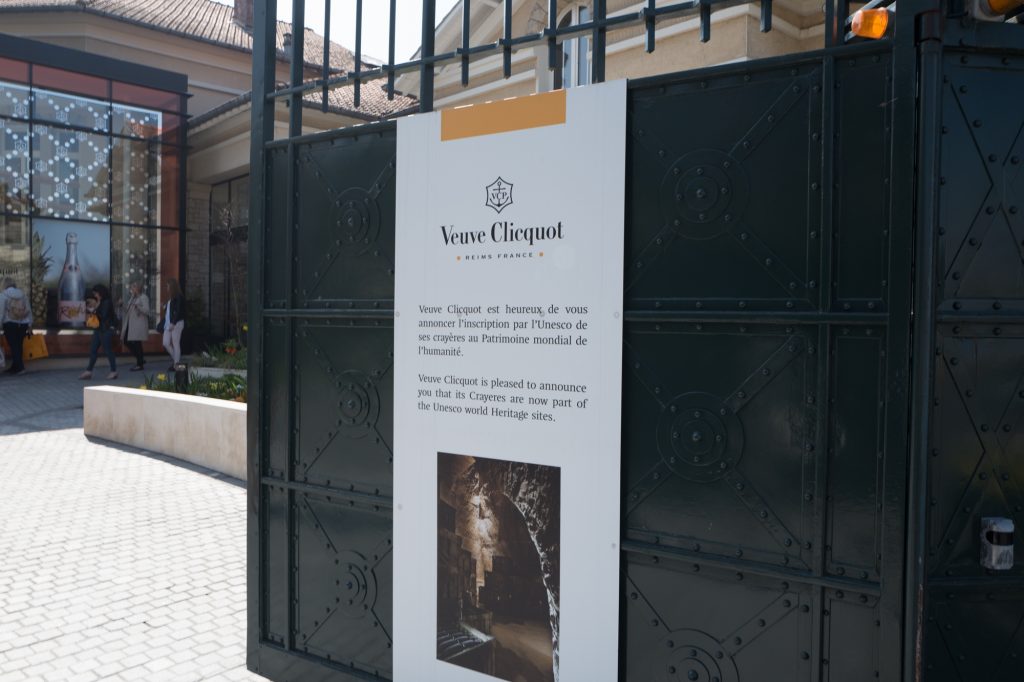 Our next stop was the Veuve Clicquot champagne house for a tour.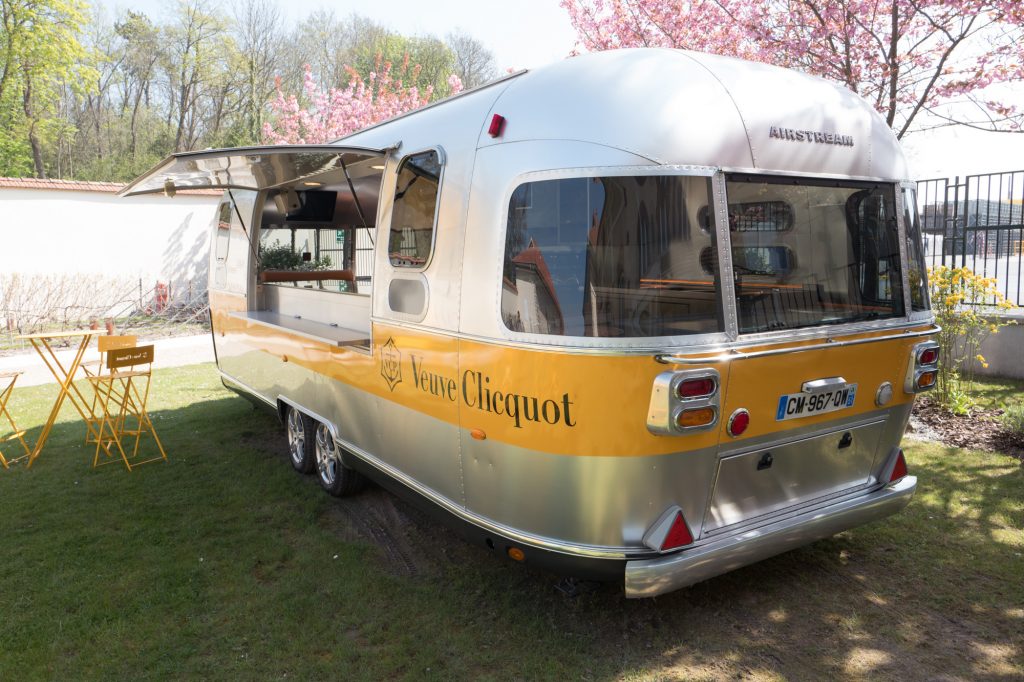 Outside we found this very cool champagne van but it was booked for a private event so we were not able to have a drink there.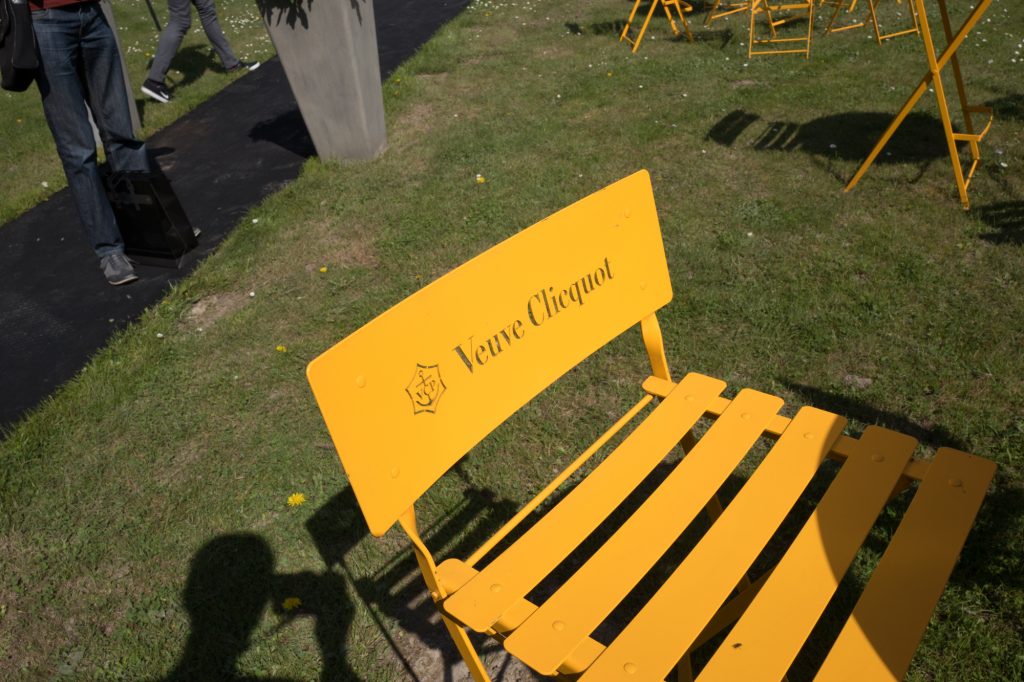 The entire place was covered in Veuve Clicquot yellow which is fun but a little commercial.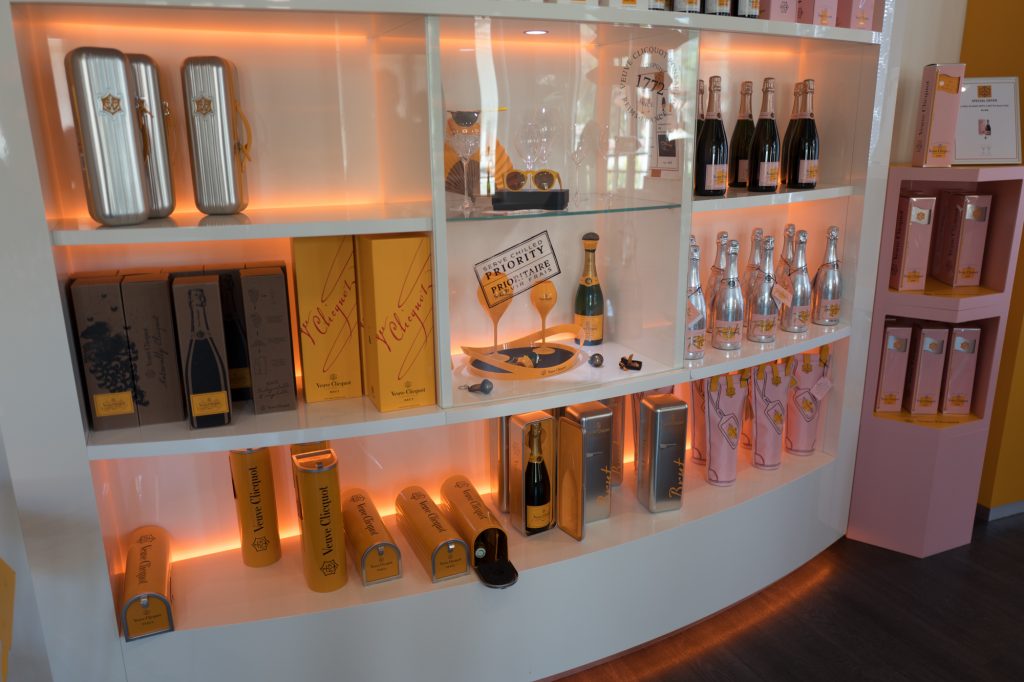 They had a very cool shop, I purchased a bottle of pink champagne with a pair of VCP glasses.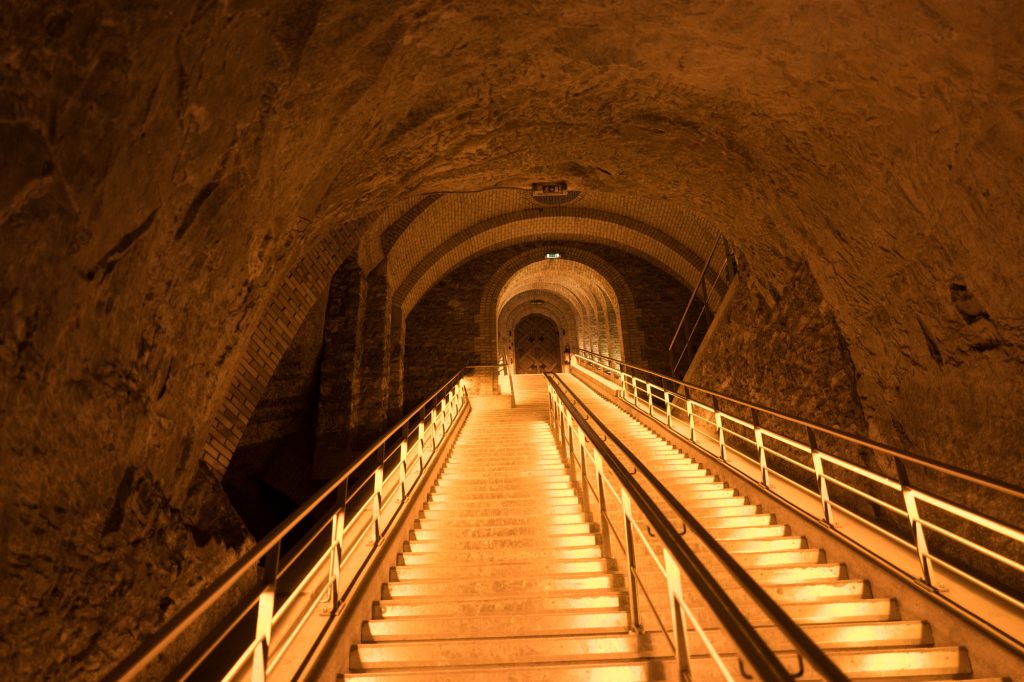 We started the tour at Veuve and as you stand at the bottom of the vaults you realise how vast they are.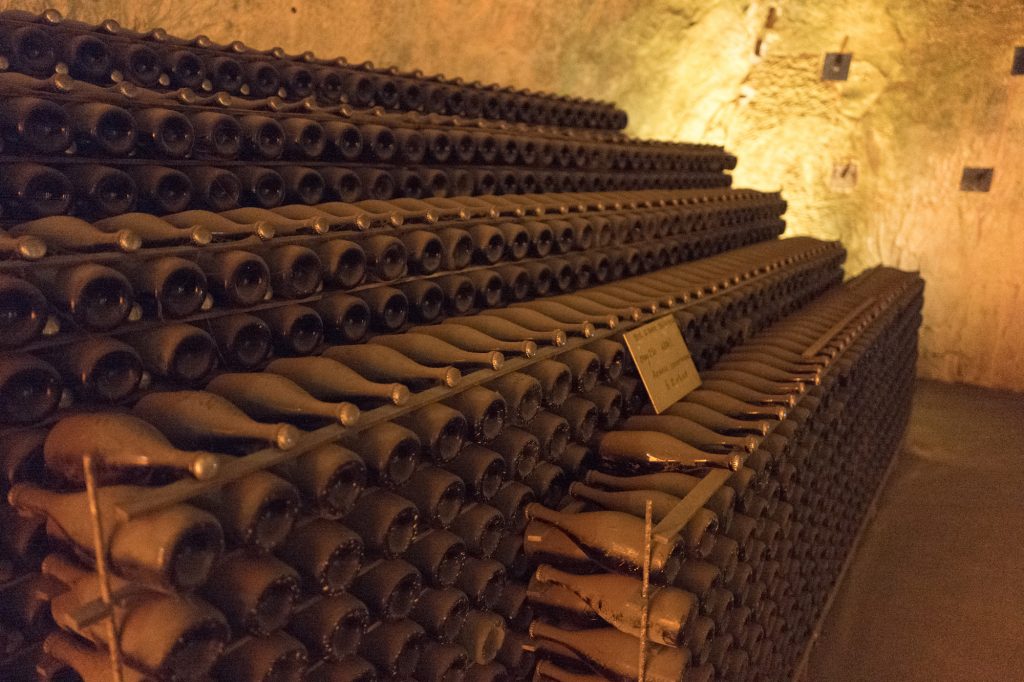 These vaults ran for miles underneath Reims, just look at these bottles, every vintage you can think of was here.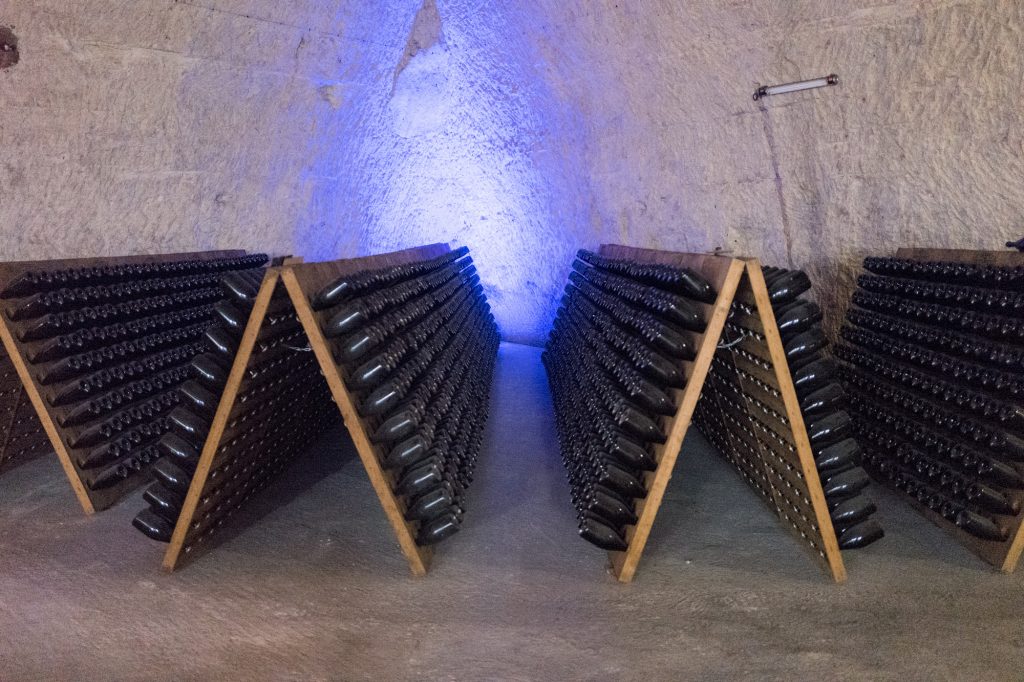 As you can see the scale of the bottles was epic, this is a working champagne house and the bottles were just everywhere.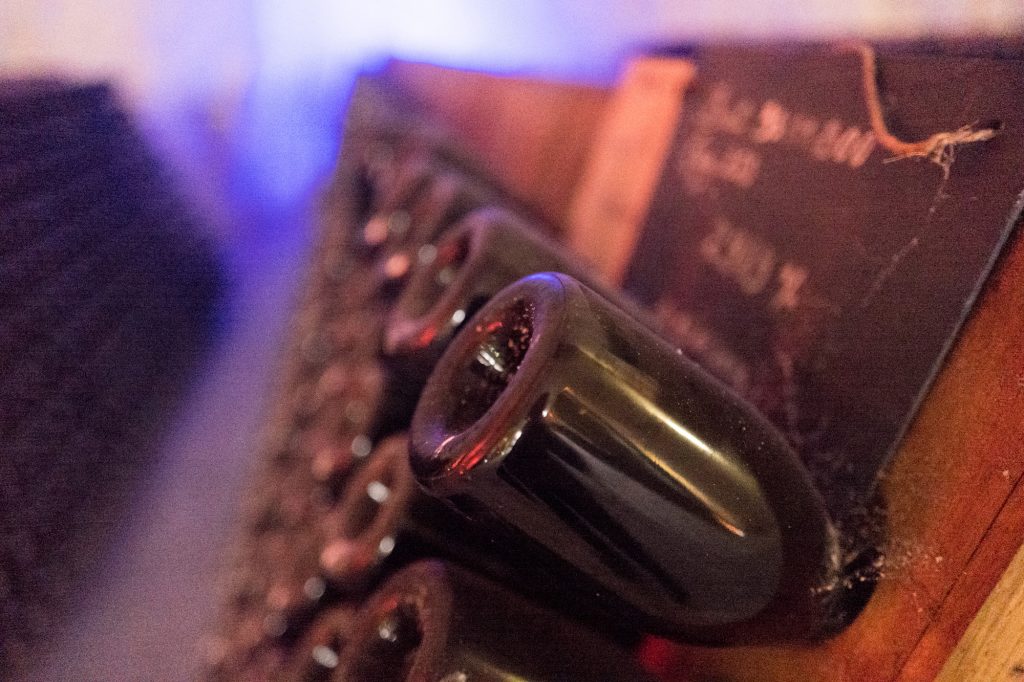 The tour was very informative, we learned a lot about the history of Verve Clicquot and the impact the champagne house had on the world of champagne.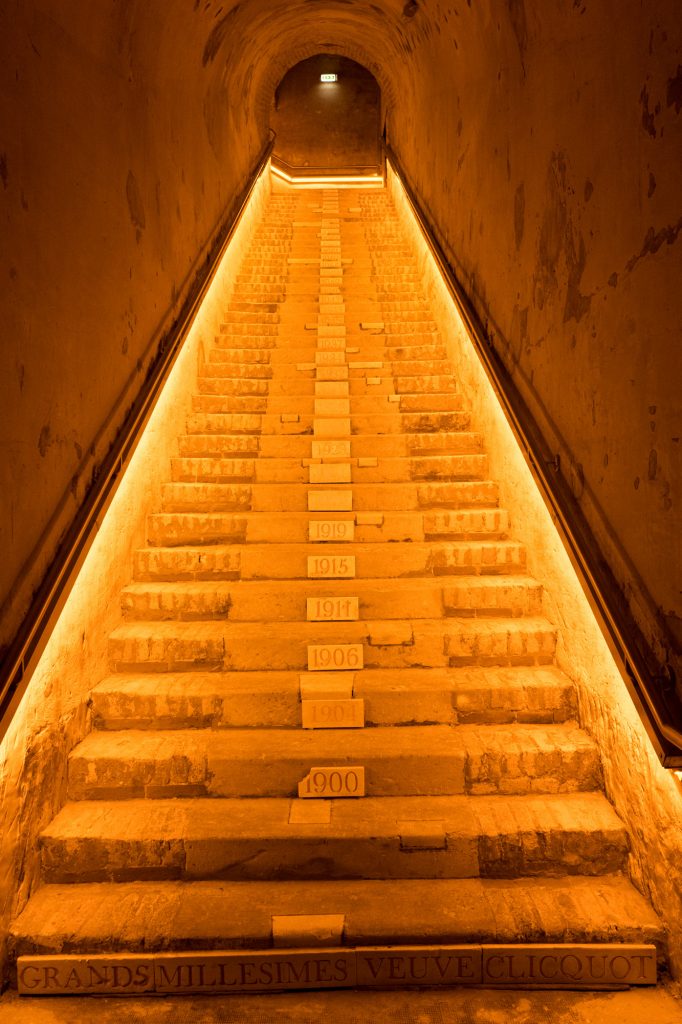 This stair case has all the vintage years that Verve Cliquot still has in its stock, of course most of them are not for sale.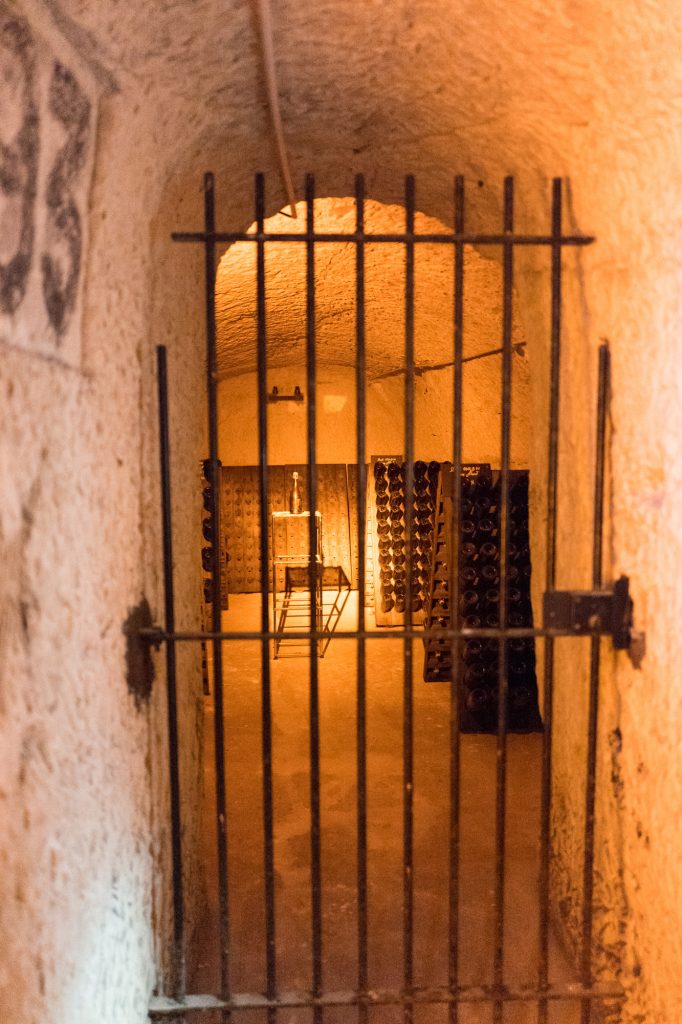 Behind this gate is the oldest bottle of champagne that happened to be Verve Clicquot, it was found at the bottom of the sea a few years ago.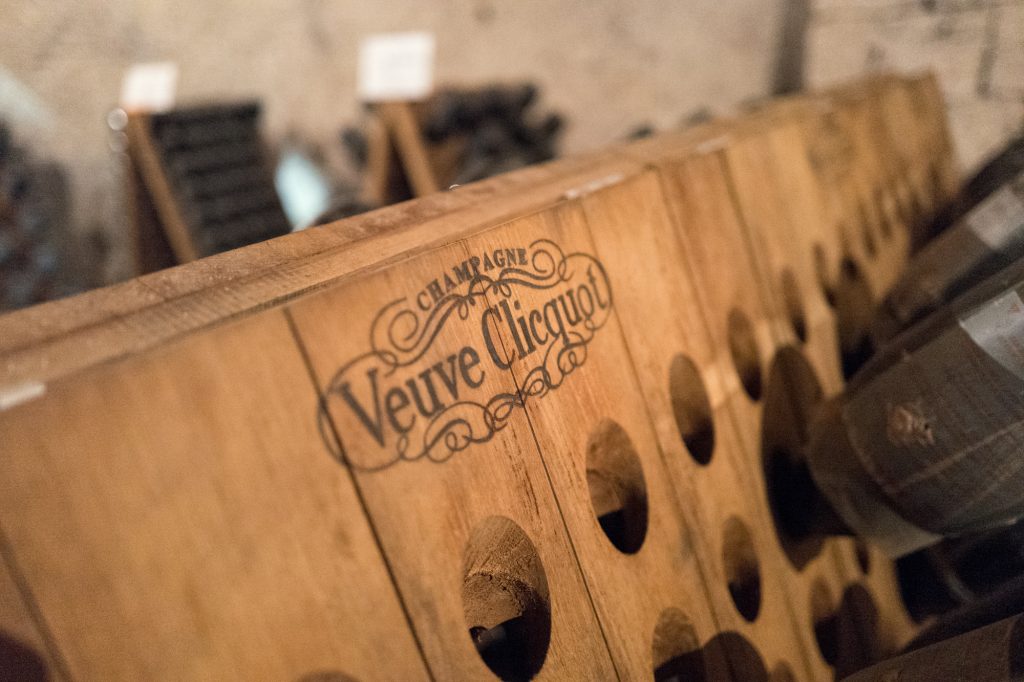 The Verve Clicquot tour was very informative, we got to look around the cellars, we learnt that madam Clicquot was a pioneer in the champagne world that she invented vintage and rose champagne. She also ran one of the most successful champagne houses in the 1800s as a woman that is extremely impressive in those times. The tour ended with a glass of their vintage and non vintage champagnes, at 50 Euros it was worth the money just to try the champagnes. I highly recommend this tour, but I also recommend touring smaller champagne houses as smaller houses such as Fresne Ducret provide a personal touch that you can't find at the bigger houses.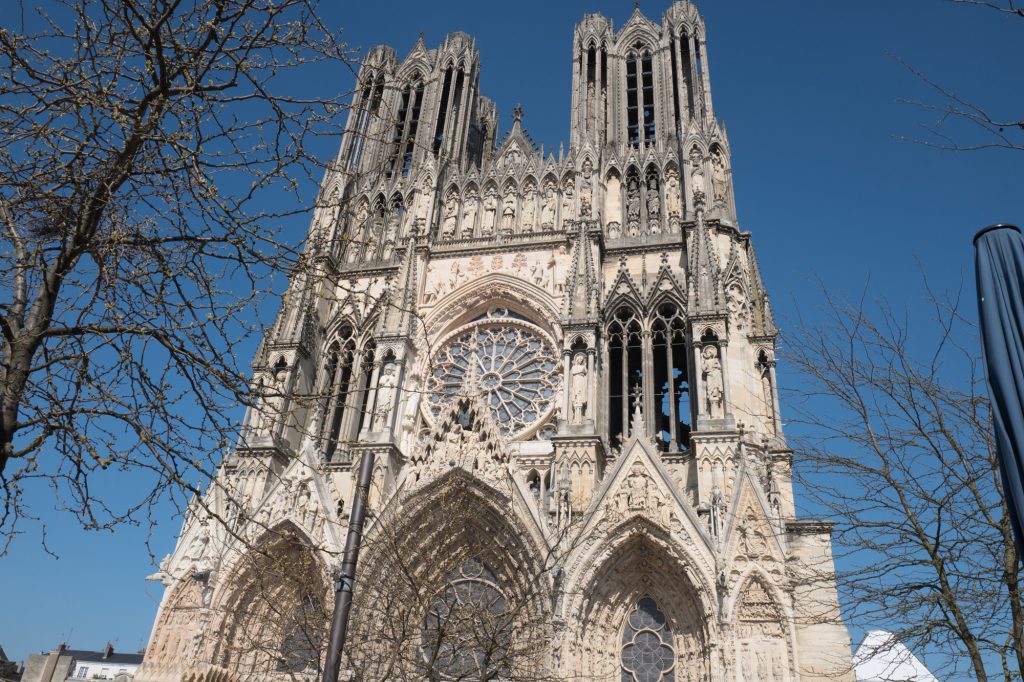 We stopped by for another bottle of champagne, this time by the cathedral on a wonderfully warm day.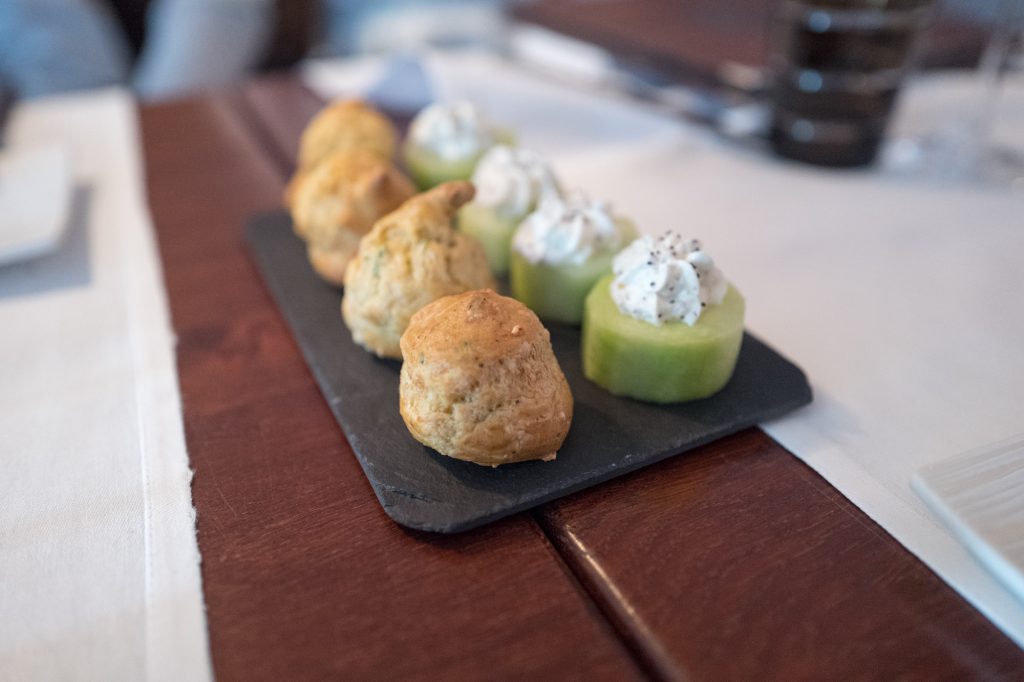 Our final stop for dinner was Le Pré Champenois restaurant, recommended in the Michelin guide but without a Michelin star.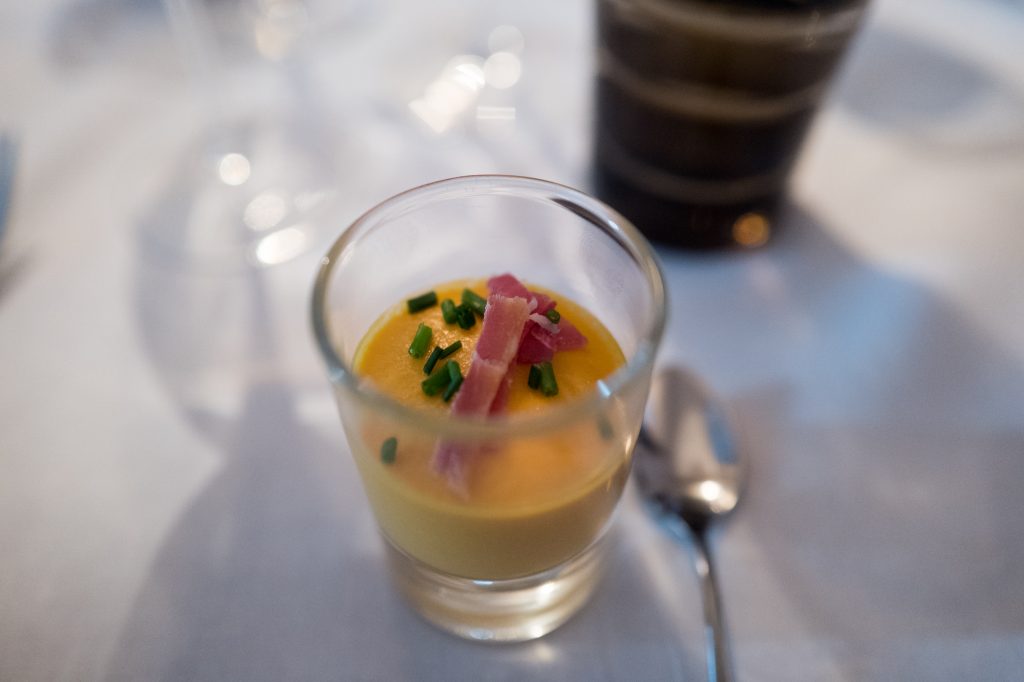 A simple amuse-bouche to start.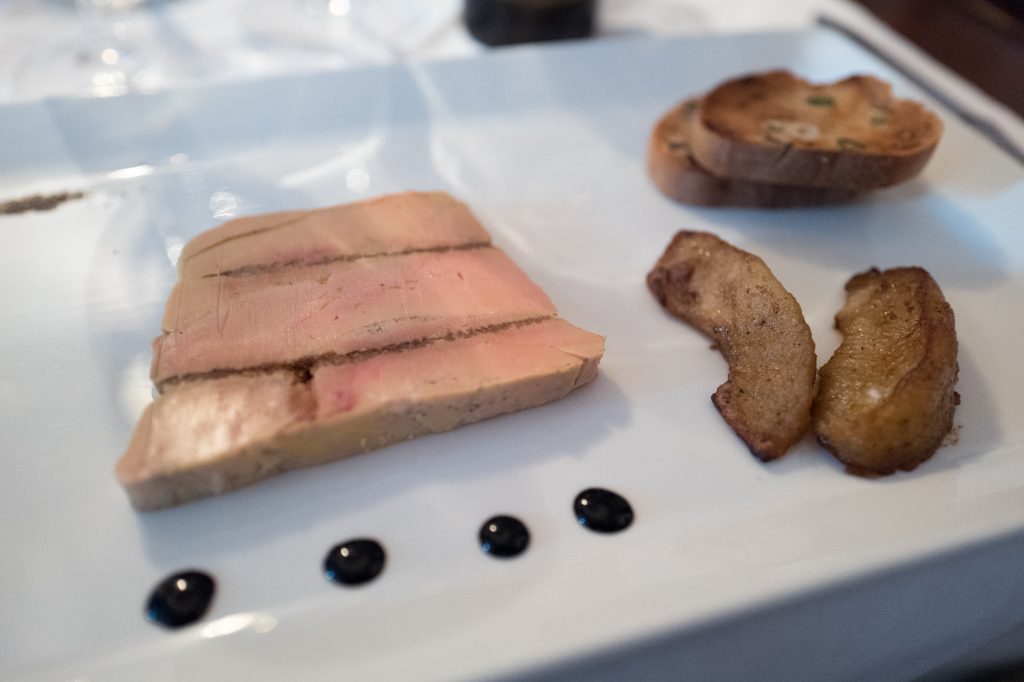 A terrine starter with bread, it was nice and well presented.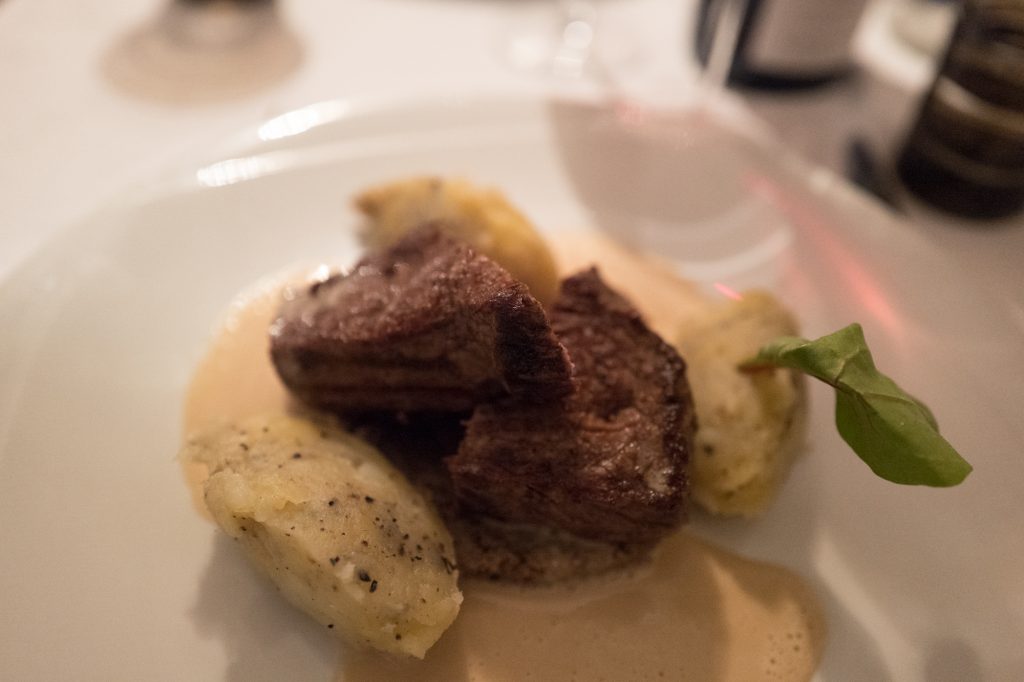 Beef with potatoes with a mushroom sauce as my main course, a bit of the heavy side for me.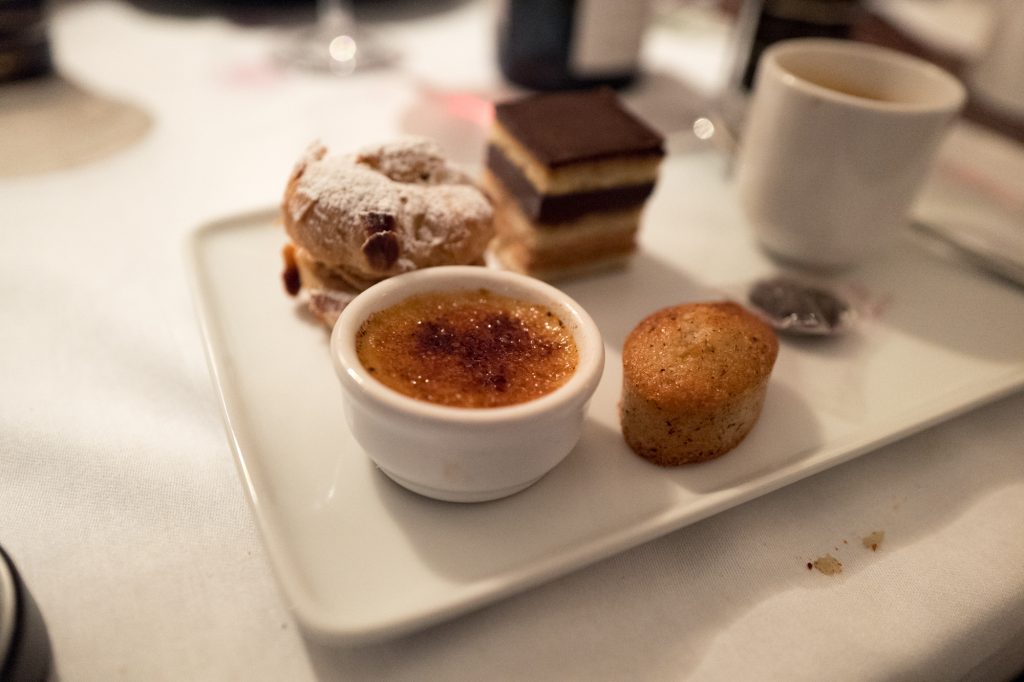 I really enjoyable selection of desserts for pudding.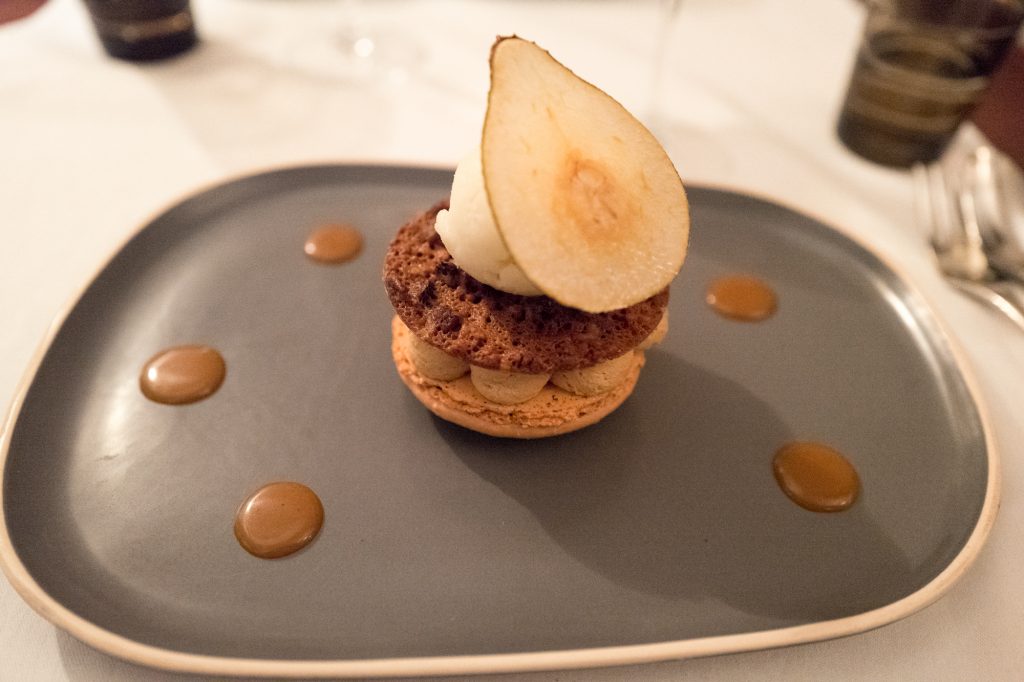 Another dessert enjoyed by our party, I preferred mine but this one looked better. To conclude a good meal but not as good as it's Michelin starred competitors.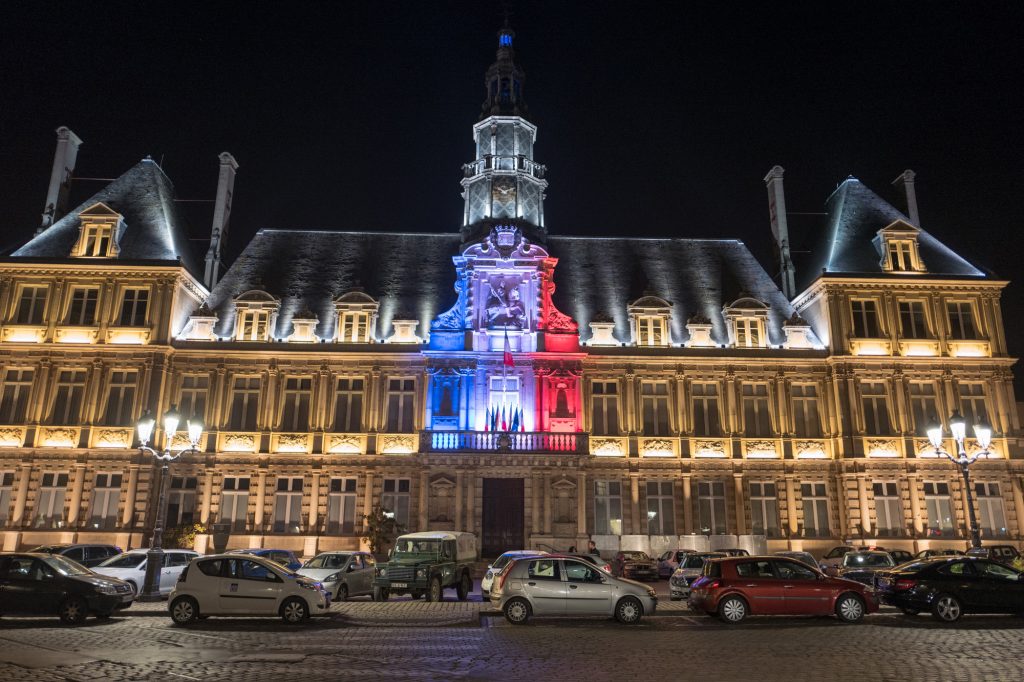 The town hall of Reims at night concludes this review of my weekend in the champagne region, if you enjoy champagne I highly recommend a visit, the area is a wonderful place to spend time in spring and enjoy a glass of cold bubbly.